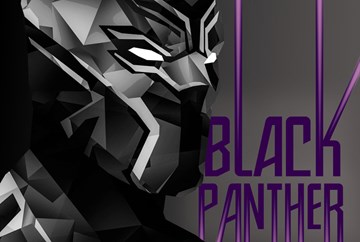 By: Mattie Alexander
March 26, 2018
In 1976, a 12-year-old black youth named Don could be seen on any given day walking through the stacks at a local comic book store. "I practically lived there," Don laughed. He had always drawn pictures of Batman and Superman for his brothers, but the hero who always captivated his interest wasn't a big, well-known superhero, but the hero who was also a king. The Black Panther began to make frequent appearances on Don's sketch paper as comic books began to stack up.
Now the classic Marvel character takes to the big screen in Disney-Marvel's "Black Panther." The long-awaited film opened President's Day weekend, and attracted moviegoers of all races and origins, but especially African Americans, who comprised 37 percent of the audience compared to their overall movie participation of 15 percent in 2016. As the box office rakes in the money, the positive and extensive portrayal of black people creates a vision of Africa and those of African descent that evokes feelings of pride. That same pride rested with Don as he eagerly read about the Black Panther years ago.
"His kingship interested me because was a ruler, you have to have stronger principles than a regular person," Don recalled as he sat down with a pencil and paper once again to sketch his beloved character. "Black Panther was a king and a hero. He was able to separate the judgment of his country with the judgment of the rest of the world. He isn't just a superhero, but a quality person and a leader."
Don is a Chicago native, and a current StreetWise vendor. He grew up in an area where gang violence was a part of every day and every night. He saw his own father mistreated in the rough neighborhood. With all the negativity that surrounded Don, he remembered thinking, "A black man needed somebody he could respect." 
"Black Panther was surreal because he was a black man," Don explained. "He put black people in a positive light. We aren't all trying to rob banks. It feels bad to be looked at in that light. This was a black superhero who had principles and stood up for them."
Forty-two years later, Don twice saw the hero and the king he has drawn and read about countless times come to life on the big screen. He gave the movie a modest rating of 12/10, and continues to collect newspaper articles boasting of the film's massive box office success. Using the newspaper pictures as reference, Don's pencil moved carefully on the paper, slowly allowing the image of the Black Panther to take form.
"I need different markers," Don explained as he drew. "I just need a gray one, a brown one and a black one."
Of course, those neutrals looked more like shades of blue for the first appearances of the Black Panther. Stan Lee and Jack Kirby decided to create a character that would give black audiences a hero to connect to. Thus, the Black Panther made his comic book debut in a 1966 "Fantastic Four."
"I came up with the Black Panther because I realized I had no blacks in my strip…I had a lot of black readers," said co-creator Jack Kirby in a 1990 interview with The Comics Journal. "My first friend was…black! And here I was ignoring them because I was associating with everybody else."
The Black Panther would go on to join the Avengers in 1968, and by 1973 he headlined on his own cover for the first time with "Jungle Action #5." The "Panther's Rage" story arc ran for two years in Jungle Action, a series written by Don McGregor and drawn for the most part by African American artist Billy Graham. The story dove deeper into the world of Wakanda, a fictional, wealthy African nation led by King T'Challa, aka the Black Panther.
Adilifu Nama, author of "Super Black: American Pop Culture and Black Superheros," reiterated  in a History Stories interview just how historically significant the creation of the Black Panther was. 
"We have to keep in mind the historical context of the superhero's first emergence—in 1966, against the backdrop of the Civil Rights and burgeoning black-power movement," said Nama. "That becomes important because in many ways [the emergence of a black superhero]…marks a racial transformation happening on a political and social level."
Black Panther's timely emergence during the Civil Rights movement came with creative and even physical risks. Jack Kirby's son, Neal Kirby, was a senior in high school when Black Panther first hit the shelves. He remembered in an interview with The Hollywood Reporter some concerns that plagued his father when the character was released.
"I remember at one time he received a letter or something happened [over Black Panther] and he was a little concerned," Kirby says. "It kind of went back to his day when he and Joe Simon created Captain America and they were receiving death threats from the American Nazi party in New York. And, as the story goes, Mayor [Fiorello H.] La Guardia put a police car outside their studio. So there was a little concern there (again). But it was a passing thing. I don't think he ever expected blowback, like the KKK coming after him or anything like that."
Being Jewish, Jack Kirby had faced plenty of anti-Semitism in his day. This racist opposition was no different. And so, along with Stan Lee and the rest of the team, they persisted.
"My father was a very socially liberal person. He would have been the Bernie Sanders of his day," reflected Neal Kirby. "He very much believed in social justice and equality, so he honestly thought it was time. Why shouldn't African-Americans have their own superhero?"
The release of the comic and the release of the film are eerily complementary. Replace the Civil Rights movement with the Black Lives Matter movement and other current conversations about race relations, and the result is a similar climate. It is a time when the president of the United States is describing African nations as "shithole countries." It is a time when African American athletes feel so unrecognized by their own country that they can no longer stand during the national anthem. It is a time when black people find themselves displaced in gentrifying cities while facing increased suspicion and abuse from American law enforcement. While time has passed, the setting the Black Panther emerges into hardly seems different.
But much like the comics, adversity is weakened by the strength of the film. "Black Panther" broke into the top 10 highest domestic grossing films of all time. It has surpassed the success of "Wonder Woman" and "The Lion King." Predictions for the film were a domestic opening between $100 million and $120 million, but the box office numbers read $242 million on Presidents Day weekend with an additional $111.7 the second weekend.
The film stars Chadwick Boseman as T'Challa, who returns to his homeland, the kingdom of Wakanda, after his father is killed in a terrorist attack, to inherit the throne. When faced with a powerful enemy, T'Challa is charged as both the king and the Black Panther to protect  the people of Wakanda and the world.
StreetWise vendor Don wasn't the only black kid who wanted to read about a superhero who looked like him. Director Ryan Coogler also spent a lot of his childhood pouring over the words and pictures of the Black Panther comics.
"I had a very personal connection to the comic book," explained Coogler, in press interviews courtesy of Marvel Studios. "When I started reading comic books in elementary school, I wanted to read about a character that was black. I had come across a few, but I was really interested in one that had their own comic book. I went to the comic book shop that was close to my school, and they took me over to the Black Panther comic."
Coogler's love for the character and his story drove his passion in directing the film. Authenticity became an important factor for the cast and crew. Chadwick Boseman trained in African martial arts – Dambe boxing, Zulu stick fighting and Angolan capoeira for his fight scenes. The costume designers conducted extensive research into traditional African attire, and the Wakandan cast also learned to speak with Xhosa accents. Xhosa is one of the official languages of South Africa.
"I felt there was no way in the world I could do the movie without an accent," said Boseman in an interview with Rolling Stone. "But I had to convince [the studio] it was something we couldn't be afraid of. My argument was that we train the audience's ear in the first five minutes – give them subtitles, give them whatever they need – and I believe they'll follow it the same way they'll follow an Irish accent or a Cockney accent. We watch movies all the time when this happens," he adds. "Why all of a sudden is it 'We can't follow it' when it's African?"
"Not often do we get to see African nations portrayed in such large budget movies," said Lupita Nyong'o, who co-stars as Nakia in the movie. "This movie has the potential to really shift popular culture and shift people's understanding of what African diversity looks like. The fact that every single creative person who was hired for this movie was so invested in doing the research to pull from real African culture and aesthetic was key."
"Black Panther" was hardly an ordinary movie experience. Like any other opening for a superhero movie, people came dressed like the characters. Last summer, hundreds of little girls and grown women turned out for "Wonder Woman" dressed as the warrior princess herself. Black Panther fans were no different. But, unlike any other superhero movie, the costumes stemmed from real African culture. The theaters were decorated with extravagant garments rich with colors and patterns representing the different cultures of Africa. Others came as costumed characters from the movie, while some simply wore Black Panther T-shirts. Soon, #WakandaCameToSlay began trending on Twitter as moviegoers posted their African best. It wasn't just a movie. It was an event.
Blair Davis, a comic book expert at DePaul University, spent his career researching comic books, classic Hollywood cinema and African-American cinema. He believes that "Black Panther" is a cultural milestone for the superhero genre.
"This is an "event" film because of its significance as a blockbuster superhero film with a predominantly black cast and a black director," explained Davis in a DePaul press release. "In our current cultural and political moment in which questions about diversity are at the forefront of discussions about race and the media, a big-budget film aimed at mainstream audiences in which black characters play a central role rather than just a supporting one is noteworthy."
Another hashtag that began trending soon after the release is #WhatBlackPantherMeansToMe. The hashtag was created by Kayla Sutton, director of online marketing for Black Girl Nerds, a well-regarded genre news site that highlights diversity in the geek world. Sutton was inspired to create the hashtag after her 8-year-old son said after the movie, "He's awesome, he's like the coolest in all of the comic books and all of the stuff. And he's black like me."
Twitter user @juliusbuzzard wrote "A world where black girls can see themselves in movies where they are not the prostitute, bystander, slave, princess, or damsel."
User @aleckai_fit wrote, "It is empowering as someone who is North African, to see Africans for once be portrayed other than criminals and in poverty. It is great to see on screen Africans in our strengths and power. Something Hollywood has failed to show for a long time."
Even Chicago native Matthew A. Cherry, former NFL wide receiver turned filmmaker, tweeted out saying, "It means that my kids and young black kids everywhere will see themselves as heroes capable of leading their own narratives."
As the "Black Panther" buzz continues, film critics are asking what this means for black Hollywood. Some like Forbes contributor Scott Mendelson say it is doubtful that Hollywood will take the lesson from "Black Panther."
"I'd like to think the likes of "Pacific Rim: Uprising," "A Wrinkle in Time," "Crazy Rich Asians" and "Overboard" means that the lessons of "Get Out," "Black Panther" and "Wonder Woman" are being heeded," said Mendelson. "But history points to lessons being learned only whun a big movie featuring minority leading men or women flops, with Hollywood then reverting to finding the next Channing Tatum."
Others are hopeful that the large minority turnout for the film will inspire more major budget films with minority casts and production leaders. For the sake of young black kids who crave representation on the big screen and adults like Don, who have waited decades for their favorite characters to be brought to life, there are a lot of people counting on Hollywood to learn a lesson from the King.
A Joyous Experience
by Tyrone Palmer, StreetWise Intern
"Black Panther" was a truly joyous experience. "Black Panther" features an almost entirely black cast, with a black director, and black screenwriters. Typically when movies get made about black people, they are about our oppression. They tell stories about slavery or fighting for basic human rights. But in "Black Panther," blackness is celebrated. Blackness is not something to overcome, but a source of pride.
The movie takes place in the fictional country of Wakanda. It is a country that is rich in resources and has remained free from colonization. It offers a peek into a world where African nations were allowed to develop and prosper.
T'Challa and Killmonger provide perfect foils to one another. Killmonger represents who we are and T'Challa represents who we want to be. The movie opens with T'Challa mourning his father, while Killmonger never had time to truly grieve. When discussing his father's death, we see a young Killmonger say, "Everybody dies, it's just life around here." T'Challa has a rich ancestral history, but Killmonger only knows his ancestors were slaves.
Growing up, I always felt underrepresented in pop culture. When I looked to movies for heroes, I saw almost exclusively white men. In "Black Panther," the heroes are men and women of color. Representation is important. The theater where I saw "Black Panther" was full of black boys and girls. They can see themselves as heroes. That is true empowerment.
Too often Hollywood tells us that the only stories we have to tell are about our pain. "Black Panther" is the rare movie that is about more than that. It is about our joy and our beauty. I am hopeful that the success of Black Panther will be the jolt Hollywood needs to allow us to tell all of our stories.
A Repeat Performance
StreetWise Vendor Steven Riggs connects Black Panther to real life
I really enjoyed the movie. I've seen it four times. It's about time they made a black superhero movie because the poor, the unemployed, the homeless, and minorities need someone to look up to. There are a lot of things a person can learn from this movie. You can use the movie to teach a child right from wrong. There is an important moment in the movie when a character is lying and stealing. He didn't think he would get caught by the king. In the Bible, it says, "Your sins will find you out." If you think you are doing something in the closet, eventually it will come to light.
It meant a lot to me to see a black superhero. The first superheroes I came in contact with were not my color. It was hard for me to identify. The beginning and end of the movie takes place in a poor neighborhood in Oakland, which also helped me identify. For a long time [Wakanda] kept its resources hidden. They knew that other nations would come kill, rape, and steal from them, which our history shows. In the end, the new king decided to give back. This made me think of some of the principles of StreetWise. We believe in making a profit with a purpose. That purpose is to give back to the poor, homeless, and unemployed. What are you gonna do with all this money if you aren't giving back? This is something we can strive for. If you never show us - these black superheroes or black scientists or poor heroes or StreetWise heroes - how are we going to strive towards it? Image is important. What comes through our eyes and ears has a big influence on us.
If you come from a dysfunctional home, odds are, you are going to be angry. I came out of a dysfunctional home. I can't think of one vendor who wasn't raised in a dysfunctional home. But something I noticed about Killmonger was that aside from the anger, he also wanted to give back in his own way. He was pissed off by the fact that Wakanda had all of these resources while people were starving. He wasn't just doing it for selfish reasons. As angry as he was, he wasn't selfish. To the StreetWise customer, as homeless or dysfunctional as that vendor might be, they aren't selfish. You can find good in anything if you dig deep enough.
The last time I went to the movie, I was invited by a running group. My nickname on the streets is "X" and that's the symbol everyone was making at the end of the movie.
To our StreetWise customers, these are some things you can share with your children after the movie. The movie posed a lot of interesting questions that you can think about. The world is a rainbow, man.
StreetWise! StreetWise! Helps the unemployed to become self-employed!
A Depiction of Minorities in a Positive Light
StreetWise Vendors Tammy K. & A. Allen reflect on the film after visiting the Davis Theater
Tammy: I liked that it was positive. It had a lot of strong women and it had a lot of hero female roles. I don't think the Black Panther would have made it as far if it weren't for all of the women around him. I liked the part about smart people building bridges, while fools build barriers. It was really cool. I could see the connections between the movie and things today, like not wanting people to come in and share our resources. It showed that we could do better. Not everything is always going to be peaceful, but if we share our resources, we are not always going to be fighting over them. Everyone is worthy of equality. It was like reality, but not reality. It was like how many cartoons have deeper lines. There are good meanings in there. They have underlying themes. That's really neat. Kids might not always pick up on them, but hopefully adults will get it. There's something more to it. It had a really deep meaning. I really loved it!
Allen: I liked it because it was minority-oriented. The black people were in a controversy just like they are in the neighborhoods now. In black neighborhoods, you have gangs that are fighting against the people. The women were also a big part of the movie. They were behind the cause and their voice was being heard. They were heard through physicality, which is uncommon. It was good to see minorities making decisions. Killmonger wanted to take these powers and use them in an evil way. But the Black Panther came in and said we have more in common than we do differences. He spoke about people being one and that everybody should work together. That is true for society as a whole. I don't care what color you are or what culture you come from. If you look at the similarities, you won't care as much about the differences. The movie really expressed that. I really liked that part.

Tammy: And he is really taking a chance sharing the resources with the rest of the world, but he decided it's worth the risk. He told his father that he was wrong. Usually you don't talk that way to your father. But by telling his dad he was wrong, it helped him come to his senses. He realized that it was right to share their resources. His father made a mistake when he left the kid after killing his dad, all to protect their resources. The Black Panther took that to heart and it made him better.

Allen: In life, you have negative influences and positive influences. The Black Panther was the positive, but Killmonger was looking at the negative side. Killmonger wanted to take everything positive and use it in a negative way. And people do that in life.  Both guys were kings during the movie and how they acted really showed their attitudes. I'm really truly glad that you allowed us to review this movie.
Tammy: Killmonger's immediate desire was to go to war and kill everybody. He wanted to be on top, while the Black Panther wanted peace.

Allen: One of the kings was proud and the other was humble. That makes a big difference. You look at our situation today, we have a proud king in Trump.

Allen: I have never seen a black superhero before. I liked the image he portrayed. He portrayed nonviolence, like Martin Luther King. He portrayed that image, and that's the type of image I like for black people to be seen as. The relationship between Black Panther and Killmonger was very similar to the relationship between black Americans and Africans. When black people here meet people born in Africa, they have different attitudes. Because people born in Africa haven't dealt with the same forms of oppression, they look at us and say, "It's not the white people that are oppressing you; you are oppressing yourself." That's the way they see it. Africans don't understand black Americans. Growing up in the 'hood affects the mind. That's the reason Killmonger had so much anger. He also valued freedom above all. He would rather die free than live in bondage. I am glad that the right thing won. So many movies portray black people in a negative light, which has an effect on people's mind. This is something positive that hopefully can carry on.