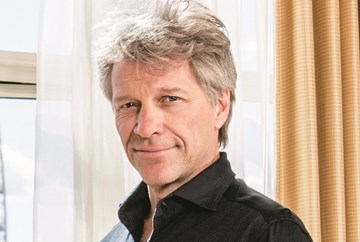 By: StreetWise Staff / Interview by Terri White / The Big Issue UK / INSP.ngo
December 22, 2016
Early last month, Bon Jovi's 13th studio album, "This House is Not for Sale," debuted at #1 in the US, Australia, and Japan and was in the top 5 in 54 countries. The band has sold 130 million records but this is its first new release since guitarist Richie Sambora left in the wake of the drama with their record label.
And in September, the band's frontman, Jon Bon Jovi, was a Clinton Foundation Global Citizen Award recipient for his philanthropy. Ten years ago, he founded the Jon Bon Jovi Soul Foundation, which funds partnerships that address hunger and shelter: temporary shelters, transitional housing for teens, permanent supportive housing for veterans and special needs populations, home ownership opportunities. It is the lead private funder for the JBJ Soul Homes, 55 units of permanent supportive housing in Philadelphia.
In 2011, he also created JBJ Soul Kitchen in Red Bank, NJ, which operates on a simple premise: eat there and pay what you can. The Soul Kitchen has served 59,152 meals, 41 percent of which were earned volunteering. He also partnered with the federal government on a mobile app to help veterans access housing and medical resources.
His work to help Covenant House open a facility for homeless youth in Philadelphia in 2012 took him back to his early career. Covenant House had another facility near the old bus station in New York and he saw its clients on his way to work. His first hit single, "Runaway," was about homeless youths he saw.
The juxtaposition of his career and his philanthropic life was not lost on him when Terri White of The Big Issue interviewed him last month in London's Savoy Hotel.
Could you talk about the changes in the band over the last few years?
Shall I lay down on the couch to start this…?
If that would help, absolutely.
It was a difficult time. There was so much turmoil, the unexpected, the shockers, all of those tent poles… I should preface that by saying please, we're talking to The Big Issue here about folks that are selling magazines on street corners, there is no pity party for me.
'This is the plight of the rock star' is not exactly what I want to promote. But I went through some surprises, some shockers: the sudden departure of Richie Sambora, the record company and I having come to loggerheads over the music business and the business of music. I found this was a unique period in my life to be vulnerable and put it into words. It is now a rebirth. I think overall I'm not at the light at the end of the tunnel but, for the first time in three-plus years, I see it.
'Coming Home' is a theme of this record—but legacy too. Is your legacy something you've been mulling over?
I think my legacy…isn't specific to this band. It's like, what do you want your legacy to be, who are you? And making records is what I do, it isn't who I am. I said when I was 50 I was not going to be writing 'bitch' on my belly and painting my fingernails black. I couldn't be the cliché. It's not rock and roll to start a foundation that feeds homeless people. It's not rock and roll to say you work for the president.
Do you think music is enough of a legacy?
 I'm not defined just by the music. That's a calling card. I'm very proud of the foundation's work. The restaurant that we created just didn't exist. It's not just standing at a microphone giving some speech about feeding the homeless; I'm down there washing the fucking dishes.
Your earlier records represented blue-collar workers—the world has changed significantly for those people.
It's changed dramatically, which makes you understand that a certain part of the demographic – the one part of the demographic that Trump [led] in – is the older, white, somewhat educated male, who was fearful and saddened because he didn't get that pot of gold, and the factory job left, and the mortgage was still there. And then the millennial on the other side of the coin that was gonna vote Bernie whose attitude was: "Well, I'm never even gonna own a house and I'm resolved to that. We have to start thinking more about our future and that pertains to an environment."
 That's the polar opposite of the first demographic I'm describing… These changes have happened in my lifetime. I haven't given up hope that technology can lead to some better things. It's just when politics gets in the way of it and greed gets in the way of it, it's heartbreaking. Because any logical mind says that money and greed are just an evil combination."
The disillusionment of that disenfranchised group is something we've been facing for years. How do you begin to remedy that and reach those people?
 Part of the Soul Foundation's work is that we have the EET program: Employment and Empowerment Team. So you have folks who are 50 years old and are trying to re-enter the workplace and they don't know how to work that computer like their teenage kids do and they don't know how to fill out that job application - saying what are my abilities, what services can I provide - and that's a scary place to be because the world has changed so.
It's going to take smarter people than I to figure it out. But until we can at least acknowledge that what separates is what needs to bring us together, this polarization is not going to get any better any time soon. This judging everyone by the cover of the book: color of their skin, religion, sexual orientation, financial backgrounds. There are so many niches; we are living in an 'us and them' society. That's just not gonna fly.
The foundation is about restoring pride in yourself and your community. Where did that philosophy come from?
It came through experience. I'm looking out a hotel room [in New York] one day and I see this guy sleeping on a grate, it's dead of winter. I think, this isn't what George Washington and Ben Franklin, the guys who were walking these streets, must have been thinking about. It all came into focus: I got it, the homeless issue.
It doesn't matter if you're white, black, young, old, Republican or Democrat, it can affect you at any time. Most people are living two paychecks away from calamity. So I met an expert in the field and she's a nun – so then the cliché is the rock star and the nun – but the rock star and the nun became fast friends. So when we went to DC, her expertise and my pretty face got us into a lot of rooms… then we compounded it to create the restaurants.
Again, the audacity was that we could empower people by bringing them together in this environment. There were naysayers, right in the community, saying: 'We're not going to support this.' Why? 'Fear.' Okay, fear of what? 'I don't wanna sit with a homeless person.' Really, that guy just cooked you a meal. That kind of lack of education, putting a face on the people who are your neighbors, is what our mission is. Slowly, we're teaching that community that the commonality, which is food, gives you the opportunity to know your neighbor. Then, 55,000 meals later in a 33-seat restaurant, bravo, you know, it's working."
How does all of this feed into your political beliefs and alliances? Or does it at all?
I'm a Democrat since my wife educated me some 30 years ago. Prior to that I was too young and wasn't paying attention, so when Ron Reagan told us everyone should have a white picket fence and two cars in the driveway (and I was 18 and didn't know any better), I was like, 'yeah I like that.' It doesn't sway me [now] because I was very objective in this election. I'm open to somebody that has a fiscally conservative agenda but yet a liberal viewpoint. I'm not so Blue that I can't listen to Purple."
But do you think you can be fiscally conservative and believe in a welfare state?
I hope so. Under the guise of doing the right thing: it's a hand up, not a handout. That right there, that little bumper sticker, is enough for the beginning of a conversation, to reiterate once again: believe me ladies and gentlemen, nobody woke up and said: 'I've got a great career path; I want to be a homeless guy in the street.' No, who the fuck wants to do that? Whatever led them to that despair, it wasn't their first choice growing up."
Bon Jovi said in earlier interviews quoted in One Step Away, the Philadelphia streetpaper, "I have been blessed both in my professional and personal life. Having the opportunity to make change is both rewarding and necessary…Each of us has the power to effect change. You needn't be a rock star. You needn't be a politician or invent the magic pill. But each of us working together in what I refer to as the 'power of we' is capable of great things."