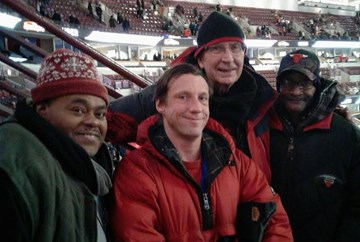 By: staff
January 6, 2017
Vince: Let me start off by saying that I have been watching the Bulls a lot lately and one thing that I noticed is that the team only has two strong shooters: Dwayne Wade and Jimmy Butler. Nikola Mirotic and Doug McDermott both scored a few but it seems like going to the basket seems to be McDermott's only strong suit. And when the teams play back to back, that's a dangerous strategy because Wade takes off a game so they will end up going from a win to a loss because the team would be relying on Butler for the second game. Until they get their shooting up they won't be able to hold up next to star teams with multiple shooters.
Russell: I agree, I watch the Bulls on TV and watch their strategy but it was different watching it in person. They scored 105 in the final, with only one three-point shot. The two shooters - Wade and Butler - both had around 20+ points apiece. So they need time to work on their defense. But the Bulls are going to be fine. Once they get a system down they will be able to move the ball around more. Miami has won in the United Center six times in a row, so it felt good to see the Bulls finally defeat them.
Bill: I've never seen the Bulls play on the inside as much as they have in this past game, which leaves me to believe that this was a strategy they were using specifically for this team.  Another thing that I noticed was that they were playing defense better than I've ever seen them play. They play really well against good teams in comparison to poor teams, and I feel that in this game they were practicing. They used a particular strategy that made them in charge of that game, and used this strategy to get back on defense better and to be quicker coming up the floor. With the rebounds that Taj Gibson secured they were playing like all-stars; including McDermott.
John: When it comes to the Bulls it's about the tangibles and the intangibles. This time last year the leader of the Bulls was D. Rose and now this year it's D. Wade. Wade is more of a player that can rally around the team. If this game would have happened under the leadership of Rose they wouldn't have won. But working with Wade is extremely different because he has championship experience and he's bringing that to the Bulls, telling them to trust him.
Vince: I agree, I feel that he's one of the older champs with experience and the younger guys on the team respect that and allow him to lead. But Wade is such a humble player, that he stepped back when he came to the Bulls and fell under Butler's leadership. When LeBron James came to Miami, Wade was already the star player but he took the backseat and allowed LeBron to be the star player.
Russell: He's a real player because he knows he's not young but he is still very effective and efficient during the games so he falls back and lets the team ask him for help when needed. I respect that he wants the Bulls to be Butler's team.
Bill: One thing we haven't discussed is the role Rajon Rondo plays during the game. He knows how to space the floor. He plays up to the front, which allows the other members to go around, which really helped their strategy.
Vince: I noticed that Rondo rarely takes shots on his own; he'll be wide open and still looks for assists.
John: Overall the game was amazing, I appreciate going with you guys.
Bill: It was truly an amazing time and the game was perfect.
Vince: Yes, the game was perfect and the customer service staff was friendly and polite, the experience was great.
John: I would love to do this again!