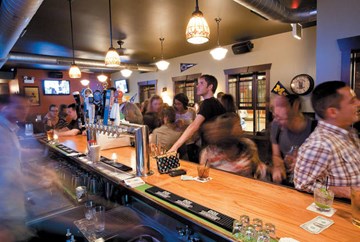 By: Alexandria Mahoney
August 13, 2018
EatWise veteran V.W. is back with another Edgewater restaurant review for her local customers. This time she visited Burke's at Broadway and Balmoral, just across the street from Jewel Osco where she sells her magazines.
After being seated at her table, she perused the menu. She decided on the fried rib tips, tossed in a barbeque-Buffalo sauce mix with seasoned ranch dipping sauce and raw carrots and a tall glass of ice water. When V.W. finished giving her order, the server asked a question that might seem odd to tourists or suburban visitors.
Part of the unwritten job description of a StreetWise Magazine Vendor is to stay up-to-date with the news. Many StreetWise vendors fulfill this duty to stay informed by attending weekly Current Events meetings in the office, watching news broadcasts, reading daily papers, and talking with their customers.
V.W. takes this duty seriously, so she wasn't surprised by the server's question, "Would you like a straw with your water?"
"The waitress asked me if I wanted a straw before automatically serving it with the beverage," V.W. said. "The plastic straws are disposable and intended for a single-use, so she asked in case I didn't want to use one. They ask this so that less straws end up in landfills to not endanger the lives of animals. I saw a story about a straw that blocked an animal's breathing. The animal was struggling to breathe, and it required human animal rescuers' assistance to remove it. Because of incidents like these, restaurants are promoting ask-first policies."
Her ice water came first "placed atop a small place mat to protect the tall cherry wood-colored varnished table from permanent wet rings from drinking glasses," V.W. described. Her flatware and silverware came next, and exactly six minutes later, her order was served.
While V.W. dunked her rib tips and carrot sticks, she took in her surroundings. She noticed the wood flooring, the ceiling fan, all the available window seats, the four 32-inch flat screen TVs, and the long wooden handles of all the draft beer dispensers. V.W. took note of the four different types of seating choices from which diners could select—a stool at a table, a booth at a table, a seat at the bar, or a spot at an outdoor table. Though she had her dinner early at 4 p.m. when the sun was still out, she saw lights strung above and across the outdoor patio, making evening and night dining outdoors possible and comfortable. V.W. has an unparalleled eye for detail, so she notices things like how many tables are square and how many are round—six and four on the outdoor patio, respectively.
"I liked the meal," V.W. said. "It was a good dining experience, and I would recommend Burke's to anyone looking for a nice outing away from home." V.W. plans to return to Burke's after she's tried a few other restaurants on her list.