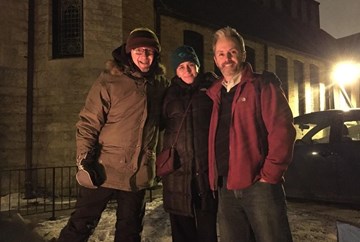 By: Suzanne Hanney
February 6, 2017
Care For Friends will host an overnight sleepout January 27-28 in the parking lot of its Lincoln Park headquarters, as a fundraiser and to give the public a sense of what life is like for people who are homeless.
"Winter is especially harsh and we want people who are sleeping out to use social media to share their experience with people in their social sphere," to tell friends that for people who are homeless, even going to the bathroom in the middle of the night can be a problem, said Executive Director Gary Kenzer.
"Care For Friends" is a new name since this summer for Food For Friends, started in 1968 by Church of Our Savior, 530 W. Fullerton Parkway. The organization has since spun off from the church; one-third of its volunteers come from outside. Last year it was known as 530 Fullerton Foundation.
Care For Friends does not take government funding in order to preserve its independence, which means that it can serve any "guest" regardless of citizenship or other eligibility questions. Guests come not only from among those sleeping in Lincoln Park but from as far south as 80th Street and as far west as Garfield Boulevard.
"People come to our program because they know they will be treated with dignity and respect and they come three days a week," Kenzer said. "People say that the homeless population is decreasing. We're not seeing that. If anything, we're seeing that people are underemployed or unemployed and it's difficult to pay for food, clothing and medicine."
The organization provides Food For Friends – a hot lunch – on Saturdays, Mondays and Thursdays.
Its other programs include Health Care for Friends, a clinic for foot care and behavioral health, and case management to see where guests could fit into other community-based programs; Clothes for Friends, where guests can receive three items a week; and Toiletries for Friends.
The sleepout will run from 7 p.m. Friday to just past sunrise Saturday at the church. Participants are asked to bring their own sleeping bags and sleeping pads. Care For Friends will supply some refreshments, tents and security.
Participants can register to sleep out or to make donations at www.CareForFriends.org Twitter updates will be live all evening at #CFFSleeps.