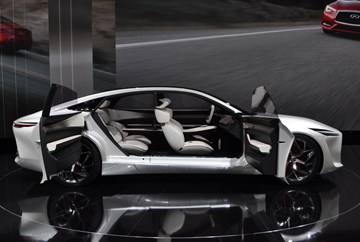 By: Dave Boe
February 19, 2018
Why February?
How come the Chicago Auto Show constantly selects dreary February to showcase almost 1,000 glimmering new vehicles every year?
The answer dates to the very first show in 1901 at the Chicago Coliseum on South Wabash between 14th and 15th streets. 
As with the Coliseum of old and the modern McCormick Place of today, the digs inside are warm and welcoming, creating a "destination visit" for cabin-fevered Midwesterners.
Burgeoning auto dealerships in the early 1900s reasoned astutely that showcasing enticing new contraptions in the dead of winter could serve as a springboard for the higher-traffic (pun intended) spring selling season.
The theory proved correct and the logic carries through to this day. While the "open air" cars displayed in 1901 bear little resemblance to what's on the show floor today, the Chicago Auto Show provides fun for a multi-generational audience.
More than 1,000 vehicles fill the plush, carpeted floor throughout the conveniently heated North and South Halls of McCormick Place adjacent to the picturesque shores of Lake Michigan. The show continues for 10 days, wrapping up on Presidents' Day, Monday, February 19. Those looking to keep the kids entertained (and informed) on this day off from school (Presidents' Day) have an automotive-inspired choice, designated as "Family Day" at the show.
Interactive displays allow detailed explanations of all vehicles while some displays (stop by the Fiat-Chrysler display in the South Hall) allow in-vehicle ride-alongs with a dedicated chaperone.
Keep on Truck'en
Earlier this year, the traditional Big Three U.S. automakers (General Motors, Ford, Fiat-Chrysler) announced big news concerning pickup trucks, which are huge volume leaders for  each company. After a seven-year absence, Ford reintroduces the mid-size Ranger pickup in the upcoming 2019 model year. 
Chevrolet, the largest-volume division at GM, revamps its full-size Silverado, now available with a diesel V-6 engine and eight trim levels. GM's Bow-Tie division celebrates its 100th anniversary of trucking (1918-2018) this year.
The 2019 Ram 1500 now rates as the most aerodynamic light-duty full-size pickup, helping boost fuel economy by an estimated 10 percent. Assisting improved fuel economy is a sub-frame, shedding 100 pounds through generous usage of high-strength steel. Overall weight savings is 225 pounds.
New on the block
Toyota introduces a next-generation Avalon sedan in the 2019 model year while Hyundai revamps its versatile Veloster in 2019. Volkswagen takes the wraps off the seventh-generation Jetta compact sedan in 2019 while Kia redesigns its compact Forte in 2019. German automaker BMW scales down its sports activity line with the all-new X2. All will be on display at the Chicago Auto Show. Expect a smattering of concept vehicles at the show as well. Concept vehicles are not road-ready quite yet, but offer a glimpse into the thought-process of design teams. The Lexus LF-1 Limitless concept, Infiniti Q Inspiration concept and Toyota FT-4X concept are now traveling on the auto show circuit.
The Chicago Auto Show at a Glance:
Adult Tickets: $13
Senior Citizens 62 or better: $7
Children 7-12: $7
Kids 6 and under: Free
Show Days: Now through Monday, Feb. 19
Show Times: 10 a.m. to 10 p.m.;
Monday, Feb. 19- 10 a.m. to 8 p.m.
Women's Day: Tuesday, Feb. 13.
All women admitted for $7.
Food Drive Benefitting A Safe Haven:  Wednesday-Friday, Feb. 16-18. Bring three cans of food and receive a coupon for $6 off a full adult admission. During the past 19 years, the show has collected more than 300,000 pounds of food for A Safe Haven. Learn more at www.asafehaven.org
Telemundo Hispanic Day: Friday, Feb. 16- Exhibitors host Hispanic-themed events.
Location:  McCormick Place,
2301 S. Martin Luther King Drive
On-site scooter and wheelchair rentals are available by calling Scootaround toll free at 773-439-9940.