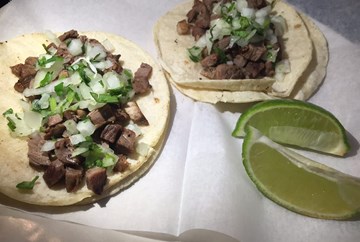 By: Alexandria Spillman
June 9, 2017
Right outside the Morgan Green Line Stop, you can often see and hear Robert Laine selling his StreetWise magazines.  This enthusiastic vendor was working at the Lake and Morgan intersection recently when he passed Cemitas Puebla. "I go by it quite a bit and it was recommended to me, so I decided to check it out."
"I favor Mexican restaurants and this one is very, very good." Cemitas Puebla has three Chicago locations: Logan Square, Hyde Park, and West Loop.  Robert visited the West Loop location at 817 W. Fulton Market. "It could probably seat 30 people.  It's not a big location, but it is very well maintained."
Robert went to the counter to place his order and he was delighted when a server brought his meal to him. "The server at the counter was extremely polite and even helpful making suggestions on different items on the menu based on personal taste."
The family-run restaurant uses traditional Poblano foods in many items. The menu features sandwiches on homemade rolls that are covered in sesame seeds and baked daily. Customers can also pick up various types of tacos, quesadillas and side dishes like rice and beans. Robert ordered carne asada tacos for $3.45 each. "The tacos come with two lime wedges for flavoring, which I thought was a nice touch. A lot of places don't do that." Customers are given the standard green and red sauce, and Robert noted that they also have a chipotle sauce available.
"Even though the menu may seem a bit limited the selection is probably still better than your average taco spot. I would put them between the little family run taco shop and the big Mexican restaurant, full service of everything. They would be right in the middle. In time, I could see them including other items and expanding the menu."
Robert thoroughly enjoyed the restaurant's atmosphere. "It is so much nicer and more pleasant than your average taco spot. "He noted that the restaurant's flooring was cement and the tables were made of a dark wood. "Most taco shops here on the North Side have a booth bolted to the floor and hard plastic seating. At Puebla nothing is bolted down. The interior is so much nicer, so much cleaner."
In the seating area, the restaurant has a 40-inch TV and the day Robert visited, ESPN was on. "I'm a big sports fan, a diehard Cubs fan, obviously," he said while pointing to his Cubs hat. "I went on a Tuesday night. But I wouldn't mind going there with friends to watch a game."
In addition to the superior food, service and atmosphere, Robert gave special mention to the strong Wi-Fi connection.  "I was able to plug in my laptop.  The Wi-Fi was really fast. I went to YouTube to stream a video and it was perfect! No hitches!" Robert speculates that the restaurant's close proximity to Google's West Loop office assists in the stellar internet connection.
"I'm a total computer geek and the Wi-Fi was my favorite part. I have a bachelor's in computer science from Indiana University." Robert was born and raised in Chicago, but finished his degree in South Bend. "I also got my associate's in mathematics while I was at it." When Robert's not selling StreetWise, he likes to spend time on his computer. Taking time to scope out news articles on the internet is a regular habit. "I'm used to getting horrible speeds everywhere I go. It was an extremely high speed. I was really impressed with it."
Robert gave rave reviews for Cemitas Puebla and recommends others check it out. "It would be a great place to go for lunch, that's for darn sure. If you are working in the area and you purchase from me then you probably have enough time to walk over there for lunch, or you can even have them deliver it."
"The service was great, very fast. The food was excellent. There are definitely a few items that I am going to go back and try."