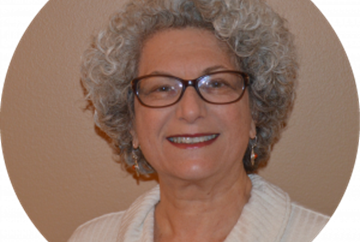 By: Suzanne Hanney
March 19, 2018
Chicago Foundation for Women (CFW) will honor six local leaders for their exemplary work increasing resources and opportunities for women and girls on March 14 at Spertus Institute's Venue SIX10.
CFW President and CEO K Sujata said, "This year's Impact Awards celebrate the diverse voices and strategies driving the movement for women and girls, whether through philanthropy or technology, as a health educator or a community organizer."
This year, CFW will honor:
Iris Krieg (Pictured), co-founder of Chicago Foundation for Women, with the 2018 Founders Award in honor of her lifetime contributions to women's philanthropy. With Marjorie Benton, Sunny Fischer and Lucia Woods Lindley, Krieg founded CFW in 1985 and served as its first board chair. Krieg also co-founded Chicago Women in Philanthropy (CWIP) in 1981 with Joy Beaton, to correct historic and persistent underfunding of programs for women and girls. Krieg continues to advocate for women and girls as a consultant and as a member of CFW's Alumnae Council.
Etosha Ottey, founder of Chicago Black Women in Tech (CBWiT): 2018 Pioneer Award. CBWiT advocates and educates to build a community of women in tech and to create functional pipelines to tech careers.
Janice Lopez, managing director of entrepreneurial services and director of the Women's Business Development Center: 2018 Impact Award. Lopez leads the Latina Entrepreneurial Accelerated Development Program, the Latina Business Program and oversees the Early Childhood Education Entrepreneurship program.
Nadiah Mohajir, founder and executive director HEART Women & Girls, 2018 Impact Award. HEART Women & Girls: is a nonprofit that provides sexual health education and sexual violence awareness programming and advocacy to Muslim communities in Chicago and across the nation.
Ellen Schumer, co-founder and executive director of Community Organizing and Family Issues (COFI): 2018 Impact Award. COFI builds leadership, power and the collective voice of low-income parents, largely mothers and grandmothers, to improve opportunities for their families.
BMO Harris Bank, 2018 Outstanding Corporate Citizen Impact Award, in light of their community investments and commitment to diversity and inclusion.
The 2018 awards recipients were selected from among dozens of community nominations by a seven-member volunteer committee: Sunny Fischer (chair), Marcy Carlin, Priscilla Levine Kersten, Anne Ladky, Maria Pesqueira, Janice Rodgers and Goli Sheikholeslami.
Additional information is available at www.cfw.org/impact.
Chicago Foundation for Women's "Talk It Out"
Chicago Foundation for Women (CFW) will focus its third annual "Talk It Out" conversation on the topic of #MeToo, the national reckoning with sexual harassment and abuse and how men and women can work together to end it.

"Talk It Out" is a weeklong, regional conversation designed to spark honest dialogue about gender bias during Women's History Month. CFW will host "Talk It Out-#Me Too" March 18-24.
Revelations about sexual harassment from Hollywood to Chicago's own Ford factory under the hashtag #MeToo have sparked a growing awareness of sexual harassment and abuse faced by women at work, at home and in the community.
"Sexual harassment is a symptom of gender bias, a problem which affects us all," said CFW President/CEO K Sujata. "A true solution will take women and men working together – and that starts with honest and open dialogue. We hope "Talk It Out" gives women and men the language and confidence to carry on the conversation beyond this week."
Anyone can host a "Talk It Out" conversation. Individuals, community groups and organizations can sign up to host a conversation online at www.cfw.org/talkitout. Registered hosts will receive a toolkit with questions to start the conversation and tips for hosting.
"Talk It Out" was launched in 2016 as part of CFW's 100% Project, an effort to increase women's economic security and end gender bias in metro Chicago within a generation. In 2017, about 100 groups in education, arts, business and nonprofit sectors participated.
Community members can join the conversation on social media using the hashtag #TalkItOut and participate in a Twitter chat at noon Wednesday, March 21.