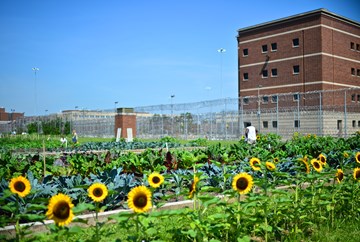 By: Alexandria Spillman
June 6, 2016
Times are hard for many Chicagoans, and the reasons are as diverse as the people. Some aren't in good health; others can't find a place to stay. Some don't have enough food; others can't find stable employment. And those are just some of the problems people with clean records are battling. As if these hardships aren't hard enough to surmount, there are people whose struggles to stay healthy and make ends meet are prolonged by pasts that continue to follow them.
Leaving the jail walls and re-entering the community labeled as an "ex-offender" hurts many people's chances of finding employment, and consequently, makes proving lessons learned during incarceration just that much more difficult.
The Cook County Jail, however, has been working to make that transition back into the community smoother, and that transition starts in the gardens.
What started as a small home-garden-sized plot of land inside the Cook County Jail walls 24 years ago now spans two very green acres. The gardens sprouted from Sheriff Thomas Dart's Urban Farming Initiative, and with its continual expansions, the gardens now include an acre of perennial flowers, a greenhouse, beehives, and a chicken coop that is undergoing some remodeling. Alongside their growing selection of greenery and delicious foods, the program also produces a fresh crop of newly-skilled gardeners.
The produce makes its way by the truckload to local restaurants, and what isn't sold is donated to local food pantries.
For any skeptics out there, rest assured that the produce that comes from the program is high quality, and anyone who has been to Yusho or Billy Sunday in Logan Square or A10 or Yusho in Hyde Park can vouch for that. After all, they've eaten it.
"The produce turns out to be really beautiful and, most importantly, great tasting," said Matthias Merges, owner of Yusho, A10, and Billy Sunday restaurants. "When the program is at full-tilt, we just buy as much of the stuff as we possibly can. And it's such a great variety of products—like five or six different types of tomatoes, four different types of kale, three different types of eggplants, all the herbs you can imagine, kohlrabi, beets, cucumbers, and pumpkins. There are all kinds of things they're growing out there, and they try to make it as organic as possible."
Merges is telling the truth when he says they have all kinds of things growing out there—the inmates working in the gardens for multiple hours each day do a lot of growing as well.
"The inmates go through very rigorous training in this program," said Kerry Wright, deputy director of inmate services and programs. "We know who the hard workers are and who are not, and if they aren't hard workers, they don't last in our program."
Wright, who took over teaching the inmates when the jail's partnership with the University of Illinois at Chicago's Agriculture School ended, sees the hard workers regularly and has witnessed their personal growth.
She explained that being a part of the program provides inmates with more than just an opportunity to work. It also provides them with a chance to learn practical skills for when they're released. While using their hands, inmates learn about nutrition, discover vegetables they may have never encountered before, and then get exposure to business when buyers like Merges start purchasing their products. Not to mention the fact that the farm is completely taxpayer-free—an added bonus to a program that already supports the community with its food donations—which adds even more dimensions to the inmates' business education.
This familiarity with a unique business model and proof of work ethic within the jail's walls could be the deciding factor that gets one of these program graduates hired.
The program also enriches the mind in another way for some inmates. As Wright points out, some are "interested in manual work therapy rather than talk therapy, which is what they get with their caseworkers and their social workers that work inside the jail." A little fresh air and new surroundings can do a lot of good for a person.
In that fresh air as they work with their hands, the inmates also have the opportunity to feel proud of what their accomplishments—a rare chance inside correctional facility walls. "These are my cilantro plants," said one smiling inmate in an interview with Homa Bash of Medill News Service. The woman continued to tend to her plants as she finished her thought. "I started them from the seed."
But what do the program graduates do when they're released and in the fresh air beyond the jail's boundaries? What opportunities do they now have?
According to Wright, some choose to re-enter the fields they've gotten to know so well—career fields, of course. Some are interested in the food industry and get connected with Merges; others show more interest in the garden aesthetic and pursue landscaping with businesses like Christy Webber Landscapes. And they are welcomed.
Casell Lewis, who graduated from the program a few seasons ago, thanked the program for the grounding it gave him. "It's hard. They put you on probation and throw you back into the world like you're supposed to stand on both feet that same day. It's crazy," Lewis said also to Medill News Service.
Lewis' experience in the program gave him a second chance and allowed him to stand back up on both feet. He even landed a job as a chef in one of Merges' restaurants.
But if you thought that was the extent of the Cook County Jail's giving back, listen to this.
The people who prefer horticulture to agriculture have no shortage of work compared to those tending to the veggies. Those who work in the full acre in the Mental Health Transition Center plant and nurture thousands of bouquets-to-be. Many of these bouquets-to-be are sold to Flowers For Dreams, a Chicago florist that donates 25 percent of its profits back to different charities each month.
"We were buying probably 10-15 buckets worth each week, and that would make probably a few days worth of bouquets," said Steven Dyme, CEO of Flowers For Dreams. "At the peak of the season, it was producing a couple hundred bouquets each week for us."
And while building a successful business is important to all entrepreneurs, those with a socially conscious business model like Flowers For Dreams have even more factors to consider when selecting their suppliers.
"It's a no-brainer for us," Dyme said. "It's well known that when ex-convicts get released, they don't have a lot of job opportunities. And the jobs they do have, the good ones at least, tend to be in hospitality like as waiters, waitresses, chefs, and like in our industry where there's a lot of temp work through landscaping. When I visited a class of inmates, they were asking really informed questions about business and the flowers. The program is really, really relevant because it teaches skills like these, and it helps make the inmates better candidates for these jobs."
Many consumers are becoming more ethically-involved when it comes to their food choices as can be seen by the growing "organic" section at the local grocery store, and while the program grows their produce as organically as possible, those involved argue that the jail's Urban Farming Initiative has a much greater significance than simply growing good crops.
"I think it's very important for people to recognize that we have a lot of people in need of a second chance," said Merges. "They need that opportunity opened up for them, and we like to make sure that they see that opportunity. If they choose the path to go back, that's fine. If they choose the path to look at something new or to come work for us, that's fine too. We're not trying to preach, but we are trying to make sure that people have more of a chance at success in life.
"Right now, we have three or four people who have come through that program," Merges continued. "Not only do we get a great product, we're helping the community, and we're giving people an opportunity to look at a different direction in life and not go back to the same situations that they were in previously."
Businesses like Yusho, A10, Billy Sunday, Christy Webber Landscaping and Flowers For Dreams do more than just support the growing program. They give its graduates a chance to grow as well.
Photo by Matthias Merges