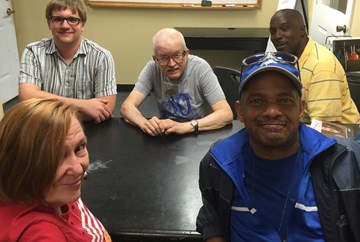 By: Vendor Writing
July 25, 2016
A. Allen
My favorite part of the summer is the outdoor festivities because the weather is nice and the city puts on a lot of free festivals including the Jazz, Blues, and Gospel Fests. We also have the Air & Water Show, Taste of Chicago, and you can also participate in fun activities such as swimming, biking, and running. As a family, outdoor barbeques, carnivals, and sporting events like baseball games are fun. Not only are the festivities and activities fun, but also the environment is much more pleasant with the flowers, trees and birds and the bees. Because of this, I think people are nicer and more pleasant during the summer because the environment is somewhat more agreeable. Summer is after the spring and it's when all of the vegetation and nature is in full bloom and the manifestation of life is in full effect. This is a good time of the year to recognize a Power greater than yourself. The heat can be a little frustrating, but don't let it get to you. Be safe, don't lose your cool, and enjoy the summertime in Chi-Town safely.
Diane Wilkins
I enjoy going to the beach with my family, barbequing, dancing, swimming, and drinking my favorite wine coolers. I love that I don't have to bundle up with lots of clothes and a coat and I can just lie by the lake and take a nap. I enjoy watching little children swimming and playing with each other. I love the warm weather and the water from the lake on my feet, especially during my nap. I enjoy all the activities Chicago has to offer during the summer months. My family and I used to take road trips before I lost my apartment two years ago. I love eating watermelon, potato salad, fried chicken, and barbecuing ribs. We sometimes bring along cold-cut sandwiches, potato chips, grapes, club sodas, and freeze pops. There is always something to do here in Chicago during the summer months. I now sell my StreetWise magazines and go to the Horseshoe Casino Boat, mostly on the weekends.
Penny Gearhart
My favorite part about the summer is the warm weather; I don't like the cold now that I am older. I love barbeques, picnics, beach parties and enjoy going to the Lincoln Park Zoo with my grandkids. That is usually the highlight of my summer. If you have children or grandchildren I recommend going to the Lincoln Park Zoo because it is always fun and it's free! They have lots of things for kids to do. They have an awesome petting zoo and a rest area with picnic tables that provide coloring books and have other activities for the kids. Chicago fests are always fun, too. The music and food are always enjoyable! That is one of the great things about Chicago summers – there is always something fun to do!
Amos Mills
My favorite part is the festivals: the Taste of Lincoln Avenue, North Halsted Street Marketdays, Lollapalooza. Also volunteering for different organizations, going to picnics, and enjoying the summer weather! I love the Hotdog Festival at the Chicago History Museum.

Keith Landers
Summertime is one of my favorite times of the year because it is the time to do many outdoor activities. I like to personally barbeque ribs, hamburgers, and hot dogs. We have many summer festivals in Chicago such as the Blues Fest, Gospel Fest, and Jazz Fest. We also have the Air & Water Show. I personally enjoy the Air & Water Show because I love to see the planes do their stunts. One more thing: Chicago, put the guns down. Please.
Lee Holmes
In summer, I love the events that are going on throughout the city because I get to experience different cultures. I enjoy the food, walking on the beaches, and people watching. It is also a great season for selling StreetWise magazines, going to start-up business meetings, outdoor cooking, being with family and friends, and meeting people from different countries.
Brenda McKinstry 
To make it simple and easy to understand, I wrote a list of my favorite things about summer: • Less time to get dressed (because we don't have to wear so many layers!) • Actually being able to see people's faces and their nice outfits • Being able to sit on the beach and watch the dogs play • Listening to the birds in the morning • Picking flowers from the park • Going boating • Riding and showing horses • Walking the lakefront • Blues and Jazz festivals, the different stages and styles • The street fairs, art shows, and carnivals • Walking through Grant Park • NOT FREEZING IN THE MORNING• Being able to take a minute and talk to people • And of course, going to the Lincoln Park Zoo and the Conservatory in Lincoln Park.

Morris Dillard
Summer recreation: traveling, water sports, swimming and fishing make up a smorgasbord of fun and leisure activities that I enjoy. I also like hanging out with family and friends. In fact, I am planning a trip down South to Atlanta for the Fourth of July where there will be a picnic for Independence Day. It will include good southern BBQ, baked beans, coleslaw, and iced tea, which are all of my favorites. You are welcome to come if you would like! And of course, I enjoy the open air and crystal blue skies while I sell StreetWise.

James Metzgar
Summer is not my favorite season since I am a winter person, but there are things I like about all seasons. Probably my favorite thing about summer is wearing my summer clothes. I have four different pairs of shorts as well as a wide variety of short-sleeve shirts, both sport shirts and T-shirts. The various short sleeve shirts are from various soirees: places I've visited, groups I have worked with, and places that I have worked including Gold Eagle Products, from which I retired after 30 years. I make sure I wear every short-sleeve shirt I have at least once and keep a log to write down which ones I have worn. I also enjoy going to the bazaar at my church, which is held every summer.