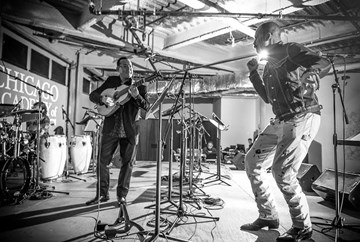 By: Suzanne Hanney
August 29, 2016
Famed Chicago jazz musician Kahil El 'Zabar grew up surrounded by music. His father was an amateur drummer who met his mom because he was a fan of her brother, drummer Leroy "Candie" Finch, who played with bebop musician Fats Navarro.
"They called him Candie Finch because he played so sweet," El 'Zabar said.
Besides his father and his uncle, El 'Zabar's grade school friend was Chico Freeman, son of Von Freeman, the tenor saxophonist awarded a Jazz Master's Fellowship from the National Endowment for the Arts. Picnic guests would include Freeman, pianist/composer Ramsey Lewis and tenor saxophonist Gene Ammons, who was the son of boogie-woogie pianist Albert Ammons and known for his accessible music, full of soul and rhythm & blues.
In high school, El 'Zabar took classes with the Association for the Advancement of Creative Musicians (AACM) at what was then called the Blue Gargoyle, 5655 S. University Ave. in Hyde Park. As soon as he graduated, he went on the road with Ammons and he's been working ever since.
Now, 40-plus years later, El 'Zabar is executive creative director of the Chicago Academy of Music (CAM), which is housed in the same building as the former Blue Gargoyle. "That's like full circle," he said.
In starting CAM four years ago, El 'Zabar sought to replicate not only the musical environment that nurtured him but "democratic exposure to the opportunity to pursue excellence" for musicians and music lovers alike. CAM Executive Director of Operations and Finance Michael Scott Carter said their goal is to create a "Midwest Juilliard" in Chicago.
"The idea was to create a place where master musicians came together," Carter said in an interview with El 'Zabar and StreetWise. "To be the place where we could enhance life and culture by transmitting your talents to other people. The dilemma was doing it in a cost-effective way."
CAM has assembled a team of people accustomed to working at the top of their fields, "so that people can run in their lanes as fast as possible without having to wonder if the other person is keeping up," Carter said. "That's one reason why we've been able to sprint at the level and pace we have. Most nonprofits don't have a building in four years."
After high school, El 'Zabar went on to Lake Forest College and an exchange program in Africa, where he took direct instruction in West African percussion language. He came home and founded the still-existent Ethnic Heritage Ensemble and then continued at Lake Forest for a PhD in interdisciplinary arts, after which he was associate professor at the University of Nebraska (Lincoln) and the University of Illinois (Chicago). He is former chairman of the AACM and he created the Traffic interdisciplinary arts series for Steppenwolf Theatre. President Clinton appointed him to the National Task Force on Arts in Education and President Obama's administration awarded him the International Ambassador's Award in the Arts.
Carter specializes in operations management using behavioral and legal economics. He has degrees in politics, economics and law from the University of Buckingham and was a PhD candidate at the University of London. He was senior economist for the Chicago Urban League's Entrepreneurship Center, an advisory board member for Illinois State Comptroller Judy Baar Topinka and a candidate for State of Illinois Treasurer.
CAM music faculty, meanwhile, include Robert "Baabe" Irving III, pianist and former musical director for Miles Davis; pianist Edwin Sanchez; trumpeters Victor Garcia and Corey Wilkes; guitarist Fareed Haque; bassist Harrison Bankhead; and Stephen Burns, conductor/trumpet virtuoso with the Fulcrum Point New Music Project.
The building to which Carter referred is the former St. Adalbert's Church in Pilsen. The Archdiocese of Chicago closed it last February in a restructuring of six neighborhood churches, (although long-time parishioners have an appeal with the Vatican). At the behest of preservationists, CAM is in talks with the archdiocese to purchase the property and has applied to the Illinois Facilities Fund and the Chicago Community Loan Fund for $16 million in loans to restore its now-scaffolded façade.
The church sanctuary would become a CAM performance center while its towers would be repositories for Latin and African Music. The convent would house visiting students and the rectory, master musicians.
"Our intention is to build a community that understands, supports and can appreciate excellence," in an era where consumers hear more synthesized than live music, El 'Zabar said. "We can't do it only by focusing on our 80 to 100 students, [roughly 1 in 4 on scholarship]. We have to also open it so our communities can experience that student and the master artist."
Students begin with individual instruction across genres – Latin, classical, jazz, world, contemporary -- before moving to ensemble work. The professional musicians monitor classes and pluck potential prodigies for personal instruction.
Simultaneously, there are as many as 50 events monthly – workshops in Latin music, jazz, classical music, various instruments, open rehearsals, master classes, lectures on various approaches – many of them free.
Chicago is the home of blues, gospel and jazz because of the Great Migration, "people who were being sucked out of their worlds, going into musicianship because you had a cluster of musicians together," much like El 'Zabar's music  mentors, Carter said.
In addition, Chicago was a centrally located, yet Northern city, where living expenses were cheaper than in New York or Los Angeles, El 'Zabar said. Musicians could afford to spend time theorizing on the architecture of music, refining their arranging and writing skills, or attending Roosevelt and DePaul universities. As a result, many became professors: Anthony Braxton at Wesleyan University; George Lewis at Columbia University; Wadada Leo Smith at California Institute of the Arts and Roscoe Mitchell at Mills College.
"These South Side guys who came from this homogeneous environment are now some of the leading theorists in the modern music world," El 'Zabar said. "Now we want to take Chicago Academy of Music to another level, where it is not genre-specific, where it is not in one area. We find that many of these great artists love the synergy of collaboration: concepts of jazz to classical to Latin to world music. We can engage our students in a more holistic experience. My faculty are all living musicians of the highest level of performance. They don't come as teachers only in theory, or only in history, they come in living experience."
The Creative Art Music Orchestra (CAMO) is an interdisciplinary, touring ensemble El 'Zabar created, with the intent of capitalizing on CAM synergies. Its musicians range from the classically trained Burns to jazz trumpeter Wilkes and bassist Bankhead. The idea is that mastering diverse genres – classical, Latin, jazz, world music—heightens their skills.
Face-to-face interaction is also the draw, for the professional musicians and young students alike. Sometimes the venue is Fabiana's Bakery on the first floor, run by Carter's wife.
"I want people to understand that this is an open process and not exclusive to prodigies," El 'Zabar said. "Our society right now is not set up with a democratic approach to the right to pursue excellence. Poor kids are left out of that opportunity."
"When we say the 'new Juilliard' we are doing that with the understanding there has to be an 'on ramp,'" Carter said. "We're saying we'll figure out a way to give you access. It may not be exactly the classes once our scholarships run out. But we'll do enough when you're in the system where you have access to it. That's why we had so many great musicians 20, 30, 40 years ago. They had access to the environment. They could stop you and say, 'I've been practicing. What should I do with this?'
"It's how Chess Records was built, how Motown was built. We have to make sure the entry level is successful to get to the C-level."