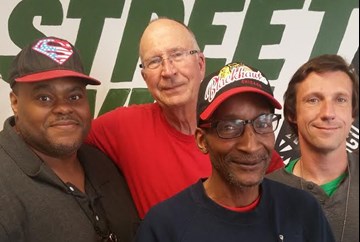 By: Staff
January 15, 2018
John: John Fox has been fired as head coach by the Chicago Bears. Now the question I have for you guys is, "who do you think will be the next coach to replace him?"
Donald: The Bears need to get someone on the staff of a winning team—someone that will change the culture and establish a winning attitude. Look at what happened in Philadephia when they hired Doug Pederson. The Bears struggle with scoring so they need someone who can come in and fix that.
Russell: I would really like it if they got Josh McDaniels from New England. He would be a good fit. The Bears have a young quarterback that he could help develop. With coaches  like John Fox, Marc Trestman, Dick Jauron, who knows where the Bears got these guys from. It would be nice to get an actually good coach, like Jim Harbaugh from Michigan. Although I have no idea why he'd want to come to this mess. They have no receivers or offensive line. I wish the Bears were more like Pittsburgh. They hire the right coaches and then they never leave.
John: I know a lot of people love to say  Harbaugh or New England Patriots offensive coordinator Josh McDaniels, but knowing the McCaskeys and Bears President Ted Phillips, there is no way they are going to hire either of them. Both coaches would want too much power. The guy who I think they are going to hire, despite him being extremely unpopular, is Jeff Fisher, fired from the LA  Rams last month. The Bears are a very defensive-minded organization. Throughout their history, their forte has been defense. They are the type of team that is inclined to play 13-9 type games rather than offensive shootouts. Fisher also used to play for the Bears, which helps. Ideally, they would also hire a quality offensive coordinator to help with that side of the ball. That might help make Mitchell Trubisky a better quarterback.
Donald: Even though he's a defensive guy, I'd watch out for Dennis Allen. He has ties with Bears General Manager Ryan Pace and was an assistant with the Saints when Pace was there. Ultimately, they need to zero in on someone who will help them find sustained success. The Bears' last blueprint of that was the Lovie Smith era and Allen might be their path back to that type of success.
Russell: Whoever they get, they better be prepared to lose. The Bears' biggest problem is not building a competitive roster. That probably is more talent than it is coaching. The Bears somehow won some tough games this year and beat a few good teams. If I was the Bears, I would get one of the guys that just got fired. It would be nice to get someone with experience, like former Detroit Lions coach Jim Caldwell.
John: The Bears need to create stability within their organization. Since Lovie, the Bears have been hiring and firing at a rate that rivals the Browns. That is not how you build a successful organization. The Bears need to do a better job scouting, both in the draft and free agency. They also need to hire someone offensive-minded. Under Fox, the Bears offense was stagnant and lacked creativity. Finally, the Bears need to let Ryan Pace succeed or fail on his own. Ted Phillips still has far too much power. He needs to take a step back and let Pace dictate the future of the franchise.