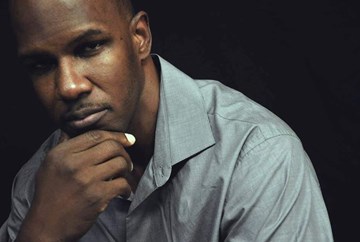 By: Stephanie A. Taylor
August 15, 2016
Will Adams, a Chicago indie filmmaker and director, will screen his film, "A 3rd First," at the 22nd Black Harvest Film Festival on August 19 and 20. The BHFF runs through September 1 at the Gene Siskel Film Center, 164 N. State St.
"A 3rd First" is a 10-minute short and Adam's seventh film project. On August 19 and 20 the short will be shown under the theme, "Love African American Style," at 6 p.m. and 8:30 p.m. respectively.
Adam's works include two feature-length films. In 2014, he also wrote and directed "Sex Ain't Love," which was set in Chicago.
Born and raised on Chicago's South Side, Adams says he fell in love with video as a freshman at Hirsch High School. He discussed how he wasn't a good student academically and how he just wasn't prepared.  "I wasn't feeling high school," he admitted.
But one day in English class changed his life. "This teacher (Joan Beaudoin) came in with this big TV and said 'Hey, I want to show you something.' And she played this crazy music video."
Once Adams found out that students like him created the video, he became intrigued by the industry. Another influence was an HBO show called "Behind the Scenes."  After high school Adams went to Columbia College Chicago and graduated in 2002. 
"A 3rd First" is a 10-minute comedy short  about a first date and a guy who tries to extend it in order to get what he wants. The woman has to follow his lead or turn him down. The film stars local actors Conchedia De Pratto and Lawrence E. Johnson Jr. Although the short is shown at the Black Harvest Film Festival, Adams says, "I don't consider myself a black filmmaker."
He goes on to say that Quentin Tarantino considers himself a filmmaker, not a white filmmaker.  And he continues to say that anyone – white or black -- could've have been in his short. The innuendos in the film are universal. 
Adams got the idea for the short while he was reading an online article about shorts. The short took one day of filming but three attempts, due to technical difficulties. There were hair malfunctions with the actress, a spider making surprise appearances in front of the camera, even serious things like gun violence and helicopters.
For more info on Will Adams visit his social media sites:
twitter.com/wwavideo
lokekey.com/
facebook.com/lokekey/
For more info on the Black Harvest Film Festival visit:
siskelfilmcenter.org/blackharvest