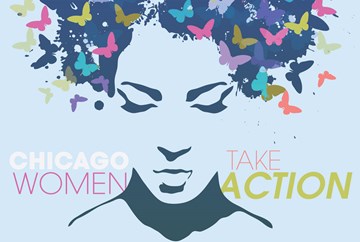 By: prepared materials
March 14, 2017
"This year's honorees represent the progress we have made for women and girls, thanks to the hard work and commitment of a generation of activists and philanthropists," CFW President and CEO K. Sujata said. "They also remind us of the work that remains to ensure that every girl in Chicago has the opportunity to grow up in a safe, just and healthy community. CFW is proud to recognize this remarkable group of women, and their contributions on behalf of Chicago's women and girls."
Chicago Foundation for Women will recognize eight women in three categories: the Founders Award, which recognizes the lifetime achievements of an individual who has made significant contributions toward the advancement of women and girls; the Pioneer Award, which honors young leaders under thirty who are already having an impact on women and girls; and the Impact Awards, which honor leaders working to improve the lives of women and girls by expanding economic security, ensuring freedom from violence, or enhancing access to health services. CFW will also honor Deloitte with the 2017 Outstanding Corporate Citizen Impact Award for their commitment to equitable workplace policies that support working parents.
Meet the 2017 Impact Awards honorees:
Esther Saks will be honored with the Founders Award for her work on behalf of civil rights, women's rights, reproductive rights, and education for girls. Over the course of her career as an activist, Saks has been involved in school integration, the founding of The Young Women's Leadership Charter School, and the Midwest Women's Center job-training program. As founding President of the Northlight Theater, and founder and director of the Esther Saks Gallery, Saks is a strong supporter of women in the arts, and the role of the arts in promoting social justice.
Natalie Braye, Sophia Byrd, Eva Lewis and Maxine Wint will receive the Pioneer Award for their work organizing the Chicago Youth Sit-In and March Against Police Brutality. Last summer, the four high school students used social media to organize more than 1,000 people, largely young adults, to peacefully protest and make their voices heard. These young women have gone on to help organize Youth For Black Lives, an organization committed to amplifying the voices of young black people in Chicago.
Anne Ladky, Executive Director and founding member of Women Employed, will receive an Impact Award for her work advocating for women in the workplace. Under Ladky's leadership, Women Employed led the fight for paid sick time in Chicago and Cook County to ensure nearly 1 million individuals can take earned sick time to care for themselves or a loved one, as well as helped pass a pregnancy fairness protection bill and the Illinois Domestic Workers Bill of Rights.
Janice Rodgers, Partner in Quarles & Brady LLP, will receive an Impact Award for her work representing and advising nonprofit organizations, including private and public foundations. She has been a champion of women's issues at Chicago Foundation for Women since its inception, serving on the Foundation's first fundraising committee. Rodgers is currently a member of CFW's Finance Committee, audit subcommittee, and Alumnae Council and co-chairs its Professional Advisory Council, in addition to her service as a board member of the Sargent Shriver National Center on Poverty Law.
Itedal Shalabi, co-founder and Executive Director of Arab American Family Services (AAFS), will receive an Impact Award for her leadership and her work on behalf of survivors of domestic violence and sexual assault in the Arab American community. Shalabi founded Arab American Family Services in 2001. In addition to providing services to Chicagoland's Arab American community, AAFS encourages cross-cultural exchange and understanding.
Deloitte will receive the 2017 Outstanding Corporate Citizen Impact Award for their focus on developing women leaders, as well as leading the charge on paid leave by offering employees 16 weeks of fully paid maternity and paternity leave. Deloitte's commitment to supporting their employees and families earned them recognition as one of the top 10 best places for working moms according to Working Mother (2016).
Since the first Impact Awards in 2005, the Foundation has honored more than 60 visionary leaders advancing the wellbeing of women and girls, including trailblazers like Ruth Bader-Ginsburg and Dolores Huerta. The 2017 awards were selected from among dozens of community nominations by an 11 member volunteer committee: Sheli Rosenberg (chair), Teri Arvesu, Hemingway Benton, Gwen Cohen, Monica George, Georgina Heard, Anna Lee, Art Moore, Denis Pierce, Melissa Widen, and Claudia Valenzuela.
Additional information is available at
www.cfw.org/2017impactawards/.