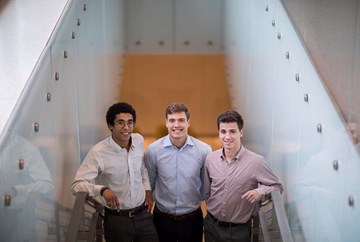 By: Suzanne Hanney
April 22, 2019
C
hicago Furniture Bank (CFB) co-founder Griffin Amdur had an "a ha" moment while staring at his grandfather's antique china. Fifty years ago, people paid the equivalent of a week's worth of wages for it, his grandfather told him, but now it was nearly worthless. The same was true of furniture, which didn't have much monetary value, even though it was still useful.
Whereas baby boomers furnished their homes lavishly, millennials prefer to spend their money on experiences, Amdur knew as a recent graduate of the University of Pennsylvania. Twentysomethings don't even want their parents' furnishings when the empty nesters downsize.
"I wondered, 'Where is all this stuff going?' and started looking at the secondary market for used furniture," Amdur said in a Penn alumni publication. "I found out that furniture is the least recycled household item. It is just going into landfills, but it still has practical use."
"A lot of these household items are just going to waste, but there's a significant need," said Amdur's classmate, James McPhail. "There are thousands of people transitioning out of homelessness or domestic violence shelters every year who are moving into empty, subsidized apartments."
Yet these people have very low income and can't spend a lot of money on furnishing their new homes, said another classmate, Andrew Witherspoon.
The trio's cumulative thinking resulted in the Chicago Furniture Bank, started last July with the help of an entrepreneurship professor and their university President's Engagement Prize.
After just nine months, Chicago Furniture Bank has already outfitted 524 homes for 1,346 people, Amdur told StreetWise. These results smashed his first-year goals of furnishing 400 apartments for 1,000 people.
Just over half (56 percent) of these clients were families, and the remainder were individuals. Nearly 2 out of 3 (63 percent) were women. Almost half (49 percent) had annual household income under $6,000; 25 percent more had up to $11,999 income and another 10 percent had income up to $17,999.
No less significant, the furniture bank has recycled more than 500,000 pounds of furniture through partnerships with more than 140 nonprofits, including Renaissance Social Services, A Safe Haven, Heartland Alliance, Housing Forward, Inner Voice, Housing Opportunities for Women, Family Rescue and Chicago House.
The nonprofits connect their clients with the Chicago Furniture Bank, where for a fee of about $50, they can "shop" its warehouse on West Roosevelt Road for a package that would be worth $1100 to $1300 in a thrift store, Amdur said. A typical bundle includes a couch, bed, dresser, table, chairs, lamps, small appliances, plates and silverware.
Shopping is an exciting experience for these clients who are gaining new homes. Amdur in particular recalls an elderly couple who had lost everything in a house fire. "They came to the appointment wearing matching Chicago Bears sweatshirts and we recently were donated a collection of Bears memorabilia/kitchenware items. They were so incredibly happy to get the Bears merch, it was great."
Handling logistics has been an important part of the demand from nonprofits. One agency wrote the CFB that it had relied primarily on community partners and donations to provide furniture for its clients. Meanwhile, the nearest furniture bank was in the far western suburbs and many of their clients lacked the transportation to pick up goods. CFB has a truck that can make curbside or in-home deliveries for a fee.
"We are in the unique situation where there is both endless demand for our service and supply of furniture," Amdur said. "Now hotel liquidators keep trailer loads of pristine furniture at their facilities and will drop off at our warehouse months down the line as space frees up." Hotels donating furniture receive tax receipts. Liquidators do not, but still find it cheaper to drop off furniture than to throw it away, Amdur said.
"We are the intermediary between those with extra furniture and those without," Amdur said.
All the indicators favor Chicago Furniture Bank's growth. "There is no reason why we couldn't furnish 15-20 homes per day if we had more capital to grow," Amdur said.
Chicago Furniture Bank schedules seven daily client appointments a month in advance on a rolling basis. However, its services are only open to people recommended by partner nonprofits.
The next best thing for the general public is shopping at church rummage sales, several of which are donating goods to Chicago Furniture Bank before and after their regular sales.
Christ Church Winnetka, whose rummage sale is celebrating its 95th anniversary this year, donated about three 17-foot trucks full of furniture, pictures, kitchen items and small housewares to Chicago Furniture Bank last year, according to Rummage Director Ann Adams. The Christ Church sale draws people from all over the U.S. to shop its 30-plus departments, "as we offer an excellent selection of affordable items that are nearly new for our shoppers," Adams said.
The Christ Church rummage sale furniture department has dressers, sofas, upholstered chairs, dining tables and bureaus from many time periods. Its French Room features high-end women's clothing, while Chelsea Gardens features fabulous ginger jars, vases, faux flowers, garden statues and more.
"Our goal isn't to make a profit," Adams said. "Our goal is to simply make a difference, to give back to the community, to help ensure equal opportunity for all.  Our motto is 'People Donate. You Shop. We Give Net Proceeds To Those In Need. It's A Beautiful Cycle!'" All net proceeds – more than $1 million in the last five years -- are donated to Chicagoland charities. Benevolence grant recipients have included St. Leonard's Ministries, Primo Center for Women and Children, Pan African Association, Good News Partners, H.O.M.E., A Just Harvest and more.
Christ Church does not pay to dispose of its rummage sale leftovers. Instead, it distributes unsold items to local charities such as the Chicago Furniture Bank, ROAR, The Kid's Pantry and St. Leonard's Ministries. "It's tough to say how many pounds we divert from landfills by accepting year-round donations but I think it's safe to say that we donate more than 100,000 pounds to charities annually," Adams said.
Winnetka Congregational Church (WCC) donated furniture after its sale last October and will do so again this year. "It is helpful in our clear-out efforts to work with fewer agencies that have the truck capacity and crew to handle the volume that is left at the end of the sale," said Rummage Co-Chair Julie Eldring. WCC will have two large rooms of furniture at its May 9 sale and there will be outdoor furniture displayed on the lawn near the tent. "Our goal is to accept items that are in usable condition and our donors are very generous," Eldring said.
First Presbyterian Church-Lake Forest collects donations all year long and so it gives its overflow to four regular partners, including Chicago Furniture Bank. "We are so supportive of their mission and have had a pick up mid-year before the sale to help alleviate our storage issue and offer goods in between all of our sales," said Rummage Chair Melissa Burger. "CFB will be at our sale May 4 to pick up the overflow at the end of the day. It is such a terrific partnership and win-win for us all. I believe we are the ultimate Reduce Reuse Recycle operation in town!
The First Presbyterian spring sale has 29 departments – "quite literally something for everyone," Burger said, from housewares to garden items, to ladies' and men's clothing and shoes. Upscale/designer clothing for women is in the French Room and for men is in the Bond Department. "Treasures and Jewelry always offer great items for the rummage shopper! We work hard all year sorting through drop off donations to pick the best items for the sale (in good repair, not stained or chipped, current in fashion or vintage)."
The First Presbyterian sale began in 1950 and marks its 70th anniversary this year. During that period, it has raised several million dollars for charities, mostly in Lake County but also in Chicago and overseas.