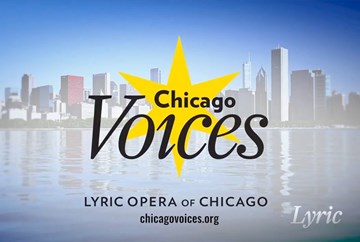 By: Suzanne Hanney
March 28, 2017
Chicago life is the stuff of opera: fighting racial inequality and violence, ageism, illness; or to be accepted as an immigrant or LGBTQ, whether young or old.
For the second year, Lyric Unlimited's Chicago Voices program has done grassroots outreach throughout the city to find Community Created Performances that would tell these stories through song – the essence of opera. Now these performance groups have been narrowed down to eight semi-finalists – and public, online voting has begun to select the final three.
"Our hope with this project is to get the entire city involved," said Alejandra Boyer, director of community programs for Lyric Unlimited, which is the division of Lyric Opera dedicated to its education and community engagement programs.
"We think it is important for everyone to hear these stories. [See opposite page] Not just the final three. These eight finalists have stories everyone needs to hear and it is worth the time to go online and see all eight videos."
Lyric Unlimited sent material to all 80 Chicago Public Library (CPL) branches and hosted four meetings at the libraries to explain the program; they also contacted Spanish-language media. The first round judges were seven CPL staff members who spent three to four hours with each application. They were given worksheets to score the strength of the story, whether it was new or enticing, whether it represented Chicago, and the enthusiasm of the group that brought the idea.
The performances community groups have in mind are not necessarily tragic: "people dying and killing themselves for love," Boyer said.
"What we found with these eight groups is they are really interested in sharing the challenges they face in today's social climate," she added. "Each group shares how they overcome these challenges, how they unite to lift each other up through these challenges. Each group has a unifying theme, a consistent theme. It's not tragic but there are some hard realities in the city and these groups aren't afraid to share those and talk about how it affects them."
Lyric Unlimited spent one hour with each group to refine their stories for the 90-second videos that are used in judging  through April 2 at www.chicagovoices.lyricopera.org/community Members of the public can vote once daily and divide their votes among their favorites. Last year over 16,000 votes were cast.
The top three vote-getters will spend 16 weeks over the summer working with a professional team hired by Lyric. For the first five weeks they will work on story-building exercises such as improvisation or group story telling. An animateur, or facilitator, will develop their story and then the scriptwriter will take over, after which the songwriter will turn elements of the story into a score. Then the staging will begin, led by the director.
All three groups will present their operas in a Sunday performance in the fall at the Harris Theater for Music and Dance.
Because of the busy stage schedule at the Lyric, there will be no other public performances, Boyer said. However, since the groups will own their works, they can continue to make them longer and to remount them.
Although opera companies mount simple productions when working with youth, the scale of these productions is unique and spearheaded by Renee Fleming, the noted American soprano who became Lyric's first-ever creative consultant in 2010. Community Created Performances was modeled after an American Voices initiative Fleming brought to the Kennedy Center in 2013, according to the Chicago Tribune.
However, Fleming also told WTTW's Chicago Tonight that other major cities did not have the historic and current voices that Chicago does. Earlier this year, Chicago Voices honored Mahalia Jackson, Mary Garden, Howlin' Wolf and Curtis Mayfield in partnership with the Chicago History Museum and Columbia College Chicago. And a gala concert in February featured not only Fleming but Maywood native John Prine, Evanston-born Broadway star Jessie Mueller, jazz vocalist Kurt Elling, blues singer Shemekia Copeland, and Brett and Ronnie Sparks, the alt-country duo known as The Handsome Family.
1. Bathrobe Heroines
Sufferers of Myalgic Encephomyelitis/Chronic Fatigue Syndrome (ME/CFS) and their advocates unite as the brand-new group, the Bathrobe Heroines. The Bathrobe Heroines seek to educate Chicagoans about ME/CFS and its severe impact on patients' lives. By creating an original music theater work, the group aims to bring public attention, greater understanding, and gravity to this little-known, chronic illness.
2. Blu Rhythm Collective
Blu Rhythm Collective is a group of Chicago urban artists pushing the boundaries of original live theater using a mix of art forms to focus on some of the city's hardest-hitting topics. Its members directly reflect Chicago and its various neighborhoods. Blu Rhythm looks to provide insight into the lives of young Chicagoans from these marginalized communities and their struggle to overcome the challenges of violence in order to succeed.
3. Chicago MU-saic
Chicago MU-saic includes artists, adults, and youth brought together by their shared desire to elevate the experiences of youth in Chicagoland through music. The group strives to build a better community, confront racial inequality, and provide robust resources for its members. Chicago MU-saic will tell the story that people do not have to be defined by where they come from, and that Chicago is a place where anyone can find the resources they need to make their dreams come true.
4. Kuumba Lynx
Kuumba Lynx is an urban arts youth development program that utilizes Hip Hop to cultivate strong communities built on a foundation of love. A citywide community of people from African American and Latino neighborhoods, this group strives to use Hip Hop as a creative alternative to drugs, gangs, prejudice, hostility, and violence. The group members see the making of an original music theater work as an opportunity to tell their own stories of life as urban youth in Chicago rather than have them told by someone else.
5. North Center Senior Center - Yolo Boomers
The North Center Satellite Senior Center group is actively engaged in different forms of creative expression including writing and improvisational acting. The group hopes to use the collective, personal stories of its members spanning decades to raise awareness and resources for the Center. Looking to bust negative stereotypes associated with age, this group intends to demonstrate what it truly means to be an active senior in Chicago.
6. Radclyffe Hall
Radclyffe Hall is a memoir-writing group of LGBT (Lesbian, Gay, Bisexual, Transgender) seniors in Lakeview who come together regularly to share their stories and the difficulties they have faced. Their story centers on the history of Chicago's LGBT movement. The group seeks to share their personal stories of celebration and suffering, and their ongoing fight for equality both within and beyond Chicago.
7. Teatro Americano
Teatro Americano is the community theater branch of Latinos Progresando, a social services nonprofit providing arts education programming, immigration support, and other resources to Chicago's Latino communities in Marshall Square, Pilsen, and Little Village. Teatro Americano strives to bring awareness to the unique struggles, including immigration obstacles and labor exploitation, experienced by its community members.The group will bring together people of all ages to tell their personal stories of immigration and relocation to Chicago.
8. Youth Empowerment Performance Project
The Youth Empowerment Performance Project (YEPP) is a Chicago nonprofit working to support the city's LGBTQ (Lesbian, Gay, Bisexual, Transgender, Queer, and Questioning) youth experiencing housing instability. The group was created to address the lack of safe spaces and resources for LGBTQ youth in Chicago. YEPP aims to create an original music theater work that will raise awareness by telling the personal stories of their participants who struggle with homelessness and discrimination daily because of who they are.