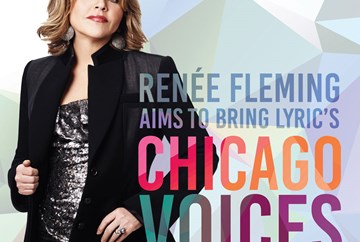 By: Suzanne Hanney
September 5, 2017
Lyric Unlimited will bring mini-operas about Chicago life to the Harris Theater in Millennium Park September 10. "Community Created Performances" developed after a citywide artist search will describe the challenges of aging gracefully and of dealing with violence and police brutality.
Community Created Performances are just one component of "Chicago Voices," which is Lyric Unlimited's most ambiguous project ever in terms of the potential to engage all of Chicago, said Lyric Opera of Chicago General Director Antony Freud at the Chicago Voices launch party at The Hideout in Wicker Park.
Freud, Lyric's general director since 2011, said his vision was to offer "an indispensible cultural service to communities throughout Chicago for which opera had little or no relevance." Lyric Unlimited began in 2012 as its educational/community engagement/new works arm and has made great strides, he said, toward broadening Lyric's community service footprint and exploring the evolution of opera.
Spearheading Chicago Voices is international opera superstar and Lyric creative consultant Renee Fleming, who developed the idea after watching "The Voice" with her two daughters. As Fleming used technical terms based on her training, her daughters said, " 'Mom, Mom, you should be a judge!' " she told The Hideout audience.
"What strikes me is the virtuosity in pop singing is so extraordinary as is the audience response to range. If a great pop singer sings a high note and especially if they sing a run up and down from it the audience goes crazy. I said, 'wow, that's what we do [as opera singers],' " Fleming said.
"That made me realize that we have been left out of this mainstream dialogue in recent years, this incredible fascination that our public has for singing. And we should be included because we have history on our side based on best practices."
Fleming, 58, sang her last performance at New York's Metropolitan Opera in April as the Marschallin, a married 30-something noblewoman having an affair with a 17-year-old in Richard Strauss's Der Rosenkavalier. She is also known for her portrayal of the Countess called upon to forgive a philandering husband in Mozart's The Marriage of Figaro and as Desdemona in Verdi's Otello.
She sang the National Anthem at the Super Bowl in 2014 and in Elvish in a Lord of the Rings film. A four-time Grammy winner, she has sold over two million records.
Fleming sang in a jazz club early in her career. As an American, she said she was exposed to many musical genres – and her daughters even more so because of the internet. But opera singers are held to rigid technical standards, so the self-professed "fanatic about singing" said she welcomed a chance to hear from vocalists in other genres.
"Rap, hip-hop, spoken word. Anyone who uses their voice to perform will be included in this project. I have a lot to learn from everyone. I want to ask great rap artists: how do you remember all those words?"
A weekend of symposia and a gala concert were two other components of Chicago Voices. Besides Fleming, gala performers last winter included Maywood native John Prine, Evanston-born Broadway star Jessie Mueller, jazz vocalist Kurt Elling, blues singer Shemekia Copeland, and Brett and Bonnie Sparks, the alt-country duo known as The Handsome Family.
Community Created Performances, however, are less about voice than about opera stories.
Lyric Unlimited did grassroots outreach to find groups with untold stories about life in Chicago. This winter, officials sent material to all 80 Chicago Public Library branches, contacted Spanish-language media and hosted four meetings to explain the program.
Library staff chose eight semi-finalists based on the strength of their stories, whether they were new or enticing, and whether they represented Chicago.
Lyric Unlimited then helped semi-finalists produce 90-second videos used in online public voting this spring to determine the three finalists:
•
Blu
Rhythm
Collective, urban artists using a mix of art forms in original live theater to provide insight into the lives of Chicagoans from marginalized communities;
•
Kuumba
Lynx, youth from African-American and Latino neighborhoods who use hip-hop to tell their stories as a creative alternative to drugs, gangs, prejudice and violence.
•
North
Center
Satellite
Senior
Center
(YOLO
Boomers), whose personal stories from writing and improvisational acting workshops bust negative stereotypes about aging.
The finalists spent the summer working with professional teams hired by Lyric. After exercises such as improvisation and group storytelling, an animateur, or facilitator, developed their story. Then the scriptwriter took over, followed by the songwriter who turned the story into a score. Finally, the director began staging the production.
Each of the groups also received a $10,000 stipend to help offset costs at their sites. Chicago Voices received assistance from the Andrew Mellon Foundation, the Ford Foundation, the City of Chicago Department of Cultural Affairs and Special Events (DCASE) and The Chicago Community Trust.
Fully staged versions of all three productions will be at 2 p.m. September 10 at the Harris Theater. Tickets are FREE while they last at www.ChicagoVoices.org