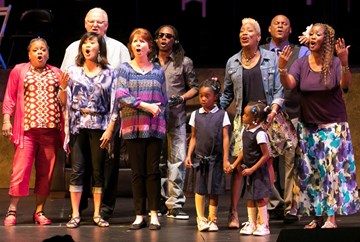 By: Suzanne Hanney, from prepared materials
February 6, 2017
Chicago Voices has a noon application deadline Friday, January 27 for Community Created Performances – original music theater works created and performed by community groups using the core elements of opera: storytelling through song.
Presented by Lyric Opera, Chicago Voices is spearheaded by its Creative Consultant Renée Fleming and is a joint project with Lyric Unlimited. Partnering with Chicago Public Library, Chicago History Museum and Columbia College Chicago, Chicago Voices celebrates the human voice, illuminates the legacy of Chicago vocal traditions and amplifies the narratives of everyday Chicagoans.
Chicagoans regardless of background or experience are invited to submit unique, untold stories of their communities. Up to 10 semi-finalists will be showcased through an online video profile for public voting. Three finalists will receive $10,000 and the help of a Lyric Opera team of professionals to bring their story to life onstage over 16 weeks. They will have access to a scriptwriter to create a narrative, a songwriter/arranger to set the narrative to music, and a director to support the design and staging of the final production.
Last year's finalists included Harmony, Hope & Healing (photo below), which provides on-site music programs in homeless shelters, outreach shelters and residential programs to families and individuals; Tellin' Tales Theatre, which described disability; and the Kirin-Gornick Band, which reflected Serbian and Croatian roots.
Applications are available at https://chicagovoices.lyricopera.org