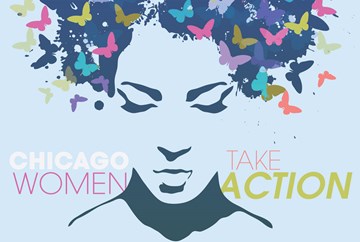 By: Suzanne Hanney
March 14, 2017
Chicago Women Take Action (CWTA) directly reflects the efforts of historic activists who created it. The group was already active in the Fight for $15, a new minimum wage, when they organized a Chicago mayoral candidates' forum in October 2014 that drew 1,000 people to the First United Methodist Church on Washington Street. Every candidate attended, from incumbent Mayor Rahm Emanuel to Jesus "Chuy" Garcia, Willie Wilson and William "Dock" Walls.
Just ahead of Women's History Month, on February 13, CWTA members discussed their views on how to achieve their 11-point platform for women. Because women are so often mothers, CWTA argues that policies focused on women actually have a broader impact on society.
MARILYN KATZ, a Chicago public relations firm owner whose activism dates to the 1968 Democratic National Convention in Chicago, said that Full Reproduction Rights is her first issue "because control of one's reproduction is critical to the ability to control one's life" and the rest of the agenda flows from there." In the last year, the group has been working especially on youth employment and gun violence.
CWTA helped win a Chicago minimum wage of $13 an hour by 2019. "Not that we're satisfied, but it was a really good first victory," Katz said.
"It's impossible to live as an individual, let alone a family, on anything less than $15 an hour, although you should know that in Chicago there are 20 communities in which the per-capita wage income is less than $15,000 a year," she added. "And those communities are heavily characterized by female heads of households."
"Economic Empowerment" is another important issue for Katz on the CWTA agenda because young millennials gravitate toward entrepreneurship. "They need the opportunity, the mentoring, the ability to go to college, the ability to have access to capital, etc. to be able to start their own businesses and get the support they need.
She also supports "Real Immigration Reform." "We are one. There is no division between us and the injury done to those of us who have the least opportunity is an injury to us all." Chicago's metro area is fifth in the number of undocumented immigrants, she said, although most newcomers are now settling in the western suburbs.
"Freedom from Violence" is also a women's issue; it can begin with dangerous husbands but can also encompass human trafficking, gun control and criminal justice reform. Violence from the police can erode trust in them, she said.
Katz says also that "erosion of the public space is an erosion of democracy.
"When some of us were young, you could go right up to a President and put a sign in their face."
Yet in the last 10 years, advocates have been marshalled into pens when trying to express their opinion. "That is not normal. One of the wonderful things about [January 21] is that nobody could have contained us, which is amazing. If you really want to stop a city, you don't have to break a window, you just have to organize enough people to fill all the streets and take them over, which sends a powerful message."   
STATE REP. ROBYN GABEL (D-Evanston) said during the meeting  that a two-year-old bill before the Illinois General Assembly, HB4013, would further CWTA's goal of Full Reproduction Rights because it would extend abortion  coverage to Medicaid recipients. Under current Illinois law, pregnant people who receive Medicaid can only access abortion care under narrow exceptions such as rape, incest, or when their lives are at risk. The bill was introduced Feb. 27, 2015 by state Rep. Sara Feigenholtz (D-Chicago) and had a second reading in April 2016 before it was referred to the Rules Committee in January.
JACKY GRIMSHAW was a political adviser on the senatorial and mayoral campaigns of the late Mayor Harold Washington in the 1970s. Consistent with CWTA's goal of transit as a Tool for Economic Empowerment, Grimshaw is a board member of the Chicago Transit Authority and vice president of policy at the Center for Neighborhood Technology, where she led its Transit Future campaign in the fight for mass transit reform in the Chicago region in 2008. The Transit Future campaign seeks to have the Cook County Board identify a dedicated revenue stream to expand transit in the county.
Grimshaw said she got involved with Chicago Women Take Action because of Katz, who wanted her to help organize women. "And at the time that was before the [last round] of mayoral elections when we first got started. And there were a lot of issues around women, particularly, you know, the Fight for 15 [as the minimum wage] was going on and all the shooting, particularly black women and black men by the police. So there was a lot of dysfunction going on in Chicago. And the thought was that, if we came together as women that we would be able to start a conversation to affect some changes. And that's what keeps me going, because I am a change agent.
"I started in my own precinct in Hyde Park and that's when I discovered the Chicago machine. I discovered these things called precinct captains and the way they used to organize elections by giving people garbage cans or chickens or bacon or any of those kinds of things.
"And so, after being confronted by one of these precinct captains in my precinct – I made a resolution to myself that I was going to learn how to organize and I was going to beat this woman at her own game. And so that started me working in my precinct talking to people, not because I had a chicken to give them, but because of their self-interest. They had children, the local school was in need of improving. Talked to them about that. They needed to have adult education. Talked to them about places where they could go and learn new skills so they could become more employable.
"So I started to talk to them about things that matter to them and I was there all the time. That was the other thing. This woman only showed up election time. I was there every week, every month, every year between elections talking to them about issues that were important. And when the next election came around, guess what? I won. 
JANE RAMSEY is the former executive director of Jewish Council on Urban Affairs; former director of community relations in the office of Mayor Harold Washington and a city planner in the economic development commission for the City of Chicago. She teaches at the University of Chicago School of Social Service Administration and is president of Just Ventures, LLC.
Ramsey said common sense gun control and criminal justice reform were a dual issue. She said CWTA members should oppose SB50 now in the Illinois General Assembly, which would legalize the carrying of silencers, also known as "suppressors," on handguns. McClatchy Newspapers and the Associated Press noted February 13 that buying a silencer has been as difficult as buying a machine gun, a process that takes eight months to a year. However, emboldened by the election of Donald Trump as president, the gun industry has made a renewed push in Congress to ease restrictions. The National Rifle Association website now says that suppressors decrease gun noise to hearing-safe levels, simultaneous to reducing recoil that can limit accuracy.
Ramsey also recommended that CWTA add its voice to the Grassroots Alliance for Police Accountability (GAPA), which will determine what a civilian review board would look like. GAPA is funded by the Woods Fund in partnership with The Chicago Community Trust, the Joyce Foundation, the John D. and Catherine T. MacArthur Foundation, the McCormick Foundation and the Polk Bros. Foundation. GAPA will reach 38 wards across the city, particularly in communities of color, through resident-led steering committees that that will plan and facilitate community conversation using the Police Accountability Task Force report as a framework and point of departure for discussion. GAPA includes 11 community organizations such as Communities United, Community Renewal Society, Inner-City Muslim Action Network (IMAN), Southwest Organizing Project (SWOP) and ONE Northside. BPI is providing technical assistance and policy support.