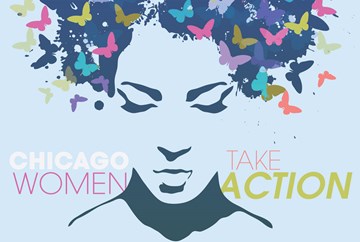 By: Suzanne Hanney
March 14, 2017
On Oct. 18, 2014, nearly 200 women from diverse communities across Chicago came together at the end of a two-month process to further debate and forge the first Chicago Women's Agenda. Some issues – like equal pay and reproductive rights – are challenges faced by previous generations of women. Others reflect more recent concerns: about democracy, protection of public assets, gun violence. The 11-point agenda is their new standard for evaluating both elected leaders and corporate actions. All agenda items are equally valued but they are numbered for clarity and ease of reference.
1. FULL REPRODUCTIVE RIGHTS – Ensure full, affordable access to health services, including contraception and abortion, as well as pre-natal and family health care services, paid sick leave, and other family-friendly policies that make real choice possible. The ability to control if and when to become pregnant is central to a woman's ability to control all other aspects of her life, such as education and employment.
2. ECONOMIC SECURITY – Raise the minimum wage to $15 per hour for a full week of work and ensure equal pay for equal work. According to the National Partnership for Women and Families, 476,550 households in the metro area are headed by women. About 29 percent of these households, or 138,676, have incomes below the poverty level. Only by ensuring equal pay for equal work, raising the minimum wage and guaranteeing a 35- to 40-hour work week, will women be assured of a "sustainable family income."
3. TOOLS FOR ECONOMIC EMPOWERMENT – Women need affordable access to high quality education and access to capital. Increasing financial aid, counseling and career guidance, and support services such as childcare and transportation, will ensure that women receive the education they need and want. But entrepreneurship among women must also grow. Between 2011 and 2013, only three percent of total venture capital dollars, or $1.5 billion out of $50.8 billion, went to companies with a woman CEO.
4. EXPANDED OPPORTUNITIES FOR YOUNG WOMEN – Increase access and funding for sports, education, good nutritional choices and health care; end objectification, including rape and sex trafficking, that stifles young women's possibilities. Despite Title IX, less than 4 percent of national funding is directed to girl-specific programs and opportunities. Despite progress, sex stereotypes and parental and peer expectations and the dominant culture too often discourage girls from full reaching their potential. 
5. REAL IMMIGRATION REFORM – Pass comprehensive legislation that protects women and reunites families. As many as 500,000 immigrants in Chicago live in mixed-status – with the security of their employment and family unity constantly at risk. Fully reforming immigration laws, granting temporary status to those here and creating a clear path to legalization will benefit those families and Chicago as a whole.
6. FREEDOM FROM VIOLENCE – Create laws and real consequences to end the violence against women, particularly young women, that affects every realm of their lives: from harassment on public transportation to sexual assaults on campus and the military, to violence at home and sex trafficking – the most egregious enslavement.
7. COMMON SENSE GUN CONTROL – Enact sensible laws that outlaw assault weapons and make guns of all types less accessible. As moms, sisters and daughters, spouses and girlfriends, women suffer first-hand the effects of the more than 11,078 homicides and 19,393 suicides that occur each year. According to the Center for American Policy, 6,410 women were killed by a husband or boyfriend with a gun from 2001 to 2012 alone. This figure is more than the total number of U.S troops killed in action during the Iraq and Afghanistan wars combined.
8. CRIMINAL JUSTICE REFORM – Decriminalize drug laws and reform police, courts and prisons to end brutality, wrongful convictions and sentences that impair lives. Today's criminal justice system is the New Jim Crow, filled with youth of color – victims of poverty, racial profiling, disparate sentencing, and too often of police brutality and wrongful conviction. Compounding the situation are laws that subsequently constrain options for gainful employment, housing and even voting.
9. PROTECTION OF PUBLIC ASSETS – Much of America's social mobility derives from the creation and protection of public assets – schools, parks, health care, roads – from which everyone benefits. The privatization of schools and the shuttering and selling off of assets like schools, health clinics, and roads deprive women and their families of needed assets, robs communities of anchors and shuts doors on opportunity.
10. PROTECTION OF DEMOCRACY – Ensure the right to vote, the right to speak and voice unpopular opinions, to gather in public places and to unfettered access to the internet. Not since African-Americans and women won the right to vote has democracy been so threatened. In the past decade there have been draconian rules passed in the wake of 9/11 that restrict public gatherings and enable the vast surveillance network of the NSA. With the advent of the smart phone, the internet can be a force for democracy, but only if all content is considered equal and access cannot be bought or sold.
11. LIVABLE CONDITIONS – Pass legislation and engage in practices that ensure the environment where women and families live is affordable, healthy, safe, with access to nutritious food. Family homes should be near employment, good schools and transportation too. Toxic chemicals and pesticides in the air, water, and Earth (cropland) are responsible for a variety of women's health risks.