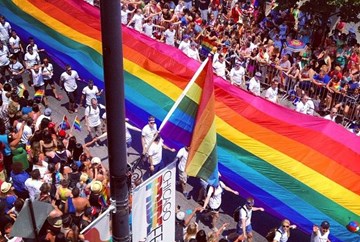 By: Jenni Spinner
June 4, 2018
PEARL HART & HENRY GERBER
Attorney Hart (1890—1973) fought for the rights of children, women immigrants, and gay and lesbian people. She helped found the gay-rights group Mattachine Midwest, where she encouraged gay people to assert their constitutional rights. When hospitalized with terminal cancer, Hart's partner, novelist Valerie Taylor, was denied visitation.
Gerber (1892—1972) was institutionalized for being gay in 1917. When the US entered World War I, he was given an ultimatum: continue to be detained as an "enemy alien," or enlist. He chose the latter—while serving in Germany, he discovered a gay-rights organization that later inspired him to establish the Society for Human Rights in Chicago in 1924.
BILL KELLEY
Kelley (1942—2016) joined the American Civil Liberties Union while still in high school. He came out publicly on a nighttime radio show on WBBM in 1966 and later helped organize the North American Conference of Homophile Organizations (NACHO). Kelley founded Homosexuals Organized for Political Education, an organization advocating for broader awareness, understanding and support for LGBTQ rights. He attended the first White House meeting on gay issues in 1977, served for 12 years on the city's Advisory Council for LGBT Issues, and donated to Gerber/Hart Library and Archives.
REED ERICKSON
Erickson (1917—1992) knew early on his identity didn't match the gender he was born with; in high school, he began asking to be called Eric, rather than his given name Rita. In 1963, he had his name legally changed to Reed; two years later, he had gender-affirming surgery. Through his Erickson Educational Foundation, he gave millions to various LGBTQ rights organizations, funded education for transgender studies, and supported information and counseling resources for the transgender community.
VERNITA GRAY
While attending the famous Woodstock Music and Art Fair in 1969, Gray learned about the Stonewall Riots and the gay liberation movement. Inspired, she brought the ideas back to Chicago and started organizing groups at local colleges and having discussions in friends' homes for lesbians to gather. She also developed a phone hotline for LGBTQ Chicagoans and served in the Cook County State's Attorney's office for 18 years, where she helped LGBTQ crime survivors and served as an outreach worker on community issues. She and her partner Pat Ewert were the first lesbian couple married in Illinois.
JIM DARBY
After high-school graduation, Darby (b. 1938) was drafted into the Navy and served four years. He founded the Chicago chapter of Gay, Lesbian and Bisexual Veterans of America after placing an ad seeking members in the Windy City Times. When he and partner Patrick Bova attended memorial ceremonies, they faced resistance from other veterans and local police. After more than 50 years together, Darby married Bova the day the Illinois Marriage Equality Act was signed into law in 2014.
CHUCK RENSLOW
In 1958, Renslow (1929—2017) and his then-partner Dom Orejudos bought a Gold Coast Show Lounge and transformed into one of the first bars in the world catering to the leather community; contests at the establishment grew into the International Mr. Leather Competition, which is still going strong. He also published a number of gay magazines and newspapers, got active in local politics, and co-founded the Leather Archives and Museum in 1991. On May 19, the city renamed a stretch of Clark Street near his Full Kit Gear store "Chuck Renslow Memorial Way."