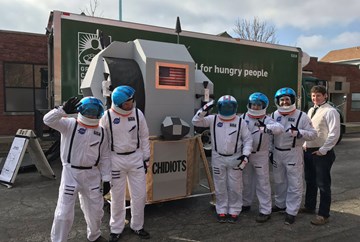 By: prepared materials
March 28, 2017
More than 500 costumed shopping cart mushers were given nods from Mother Nature as they raced through Chicago's streets March 4, all in the name of fighting hunger.  In its 12th year, the CHIditarod once again put the fun in fundraising by raising more than 22,000 pounds of food for the Greater Chicago Food Depository (GCFD) and $45,000 for the CHIditarod Foundation as of end of race day tallies - with slightly more still expected. Since 2006, the rollicking yearly shopping cart race has raised more than 160,000 pounds of food and more than $200,000 to alleviate hunger in Chicago.
The CHIditarod is a race like no other, and possibly the world's largest mobile food drive. This year, 113 teams of five created costumes and decorated shopping carts in themes of their choosing, while gathering food and raising donations. Each team contributed at least 69 pounds of food to participate, with prizes awarded for the largest food and monetary contributions. On CHIditarod day, the teams raced – at the mercy of the elements and thankful for sunshine – to local venues, competed for prizes and glory, while their donations go to serve those in need.
Some of 2017's notable award winners include:
• Most Food Donated - Hot n Ready Samurai - 1,530.8 pounds of food
• Food Drive, 2nd Place - CHIvengers - 1,300 pounds of food
•
Food Drive, 3rd Place - Alternative Facts - 985.6 pounds of food
• Most Epic Fundraiser - 3 GS&T - $7,812
• 2nd Most Epic Fundraiser - CHIditos  - $7,270
"This year we raised more money for our grant program, more than in any other race year. We are continually amazed at how Chicago comes together to help solve hunger locally," Devin Breen, founder of the CHIditarod and Musher in Chief of the CHIditarod Foundation, said. "Over the past 12 years, the CHIditarod has blended raucous fun with giving back to all corners of our community."
"The CHIditarod is a strong partner in our fight to end hunger," said Jill Zimmerman, Food Depository vice president of development. "Since 2012, generous participants have collected nearly 125,000 pounds of quality, shelf-stable food for our hungry neighbors."
The CHIditarod experience is a spectacle for participants and spectators alike. Teams are encouraged to plan ahead and be creative, with special recognition bestowed upon those teams that turn the volume up to 11. A separate category for special "art carts" and performances by genre-bending marching band Environmental Encroachment keep participants and volunteers coming back for more.
Donations can be made to the CHIditarod Foundation (www.chiditarod.org) to benefit local nonprofits working to alleviate hunger in the Chicago area.
-prepared materials