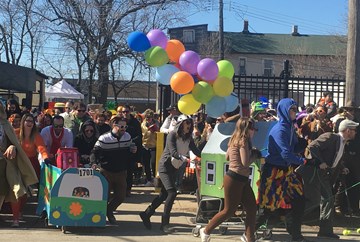 By: Mattie Alexander
April 9, 2018
On the afternoon of March 3 in the Wicker Park and Ukrainian Village Chicago neighborhoods, an unsuspecting bystander might have been surprised to see a group of people in over-the-top costumes and a shopping cart. They might have been even more surprised to know 96 other groups were doing the same thing.
CHIditarod is a charity fundraiser and food drive named after the Alaskan Iditarod (though with no affiliation). Each team needs a shopping cart, five individuals (four pullers and one musher), at least 69 pounds of non-perishable food donations and a theme. Together, they must race through the streets, stopping at five checkpoints along the way to get to the finish line. It is Chicago street theatre at its finest.
Of course, another key element is the volunteers who make the event possible. This year, over 250 volunteers helped make the event possible, and I was one of them. Curious about the event and what it took to coordinate 97 teams of five who run around the Ukrainian Village for a few hours, I decided to enlist as a general volunteer.
When race day arrived, I saw upon arrival that I had already failed in my duties as a volunteer. I had somehow missed in the volunteer emails that the volunteer theme was "Post Apocalyptic Rainbow." As I walked into the "Yard" where the volunteers were gathering shortly before registration began, I quickly realized I was a little out of place. Temporary face tattoos, glitter, wigs, decorative leggings and any other rainbow-colored item decorated the Yard, toned down only by the occasional steampunk-styled accessories to appeal to the post apocalyptic side of the theme. My black winter coat had no place among them. So after applying some glitter tattoos and enjoying a complimentary breakfast, I was ready to begin my job on the registration team.
The registration team is a well-oiled machine that processed the racers into the yard, where they hung out until the gates opened and released them into the streets. In the process, they checked-in, received cart numbers, took reference photos for possible tomfoolery and glamour shots for keepsakes. I assisted with reference photos, writing numbers on white boards and holding it by the handle bar as a way to determine which cart belonged to whom. As the competitors started flooding in, the post-apocalyptic rainbow seemed weak in comparison to the intricate costumes and decorum pushing into the Yard. Batman and Robin came in with Batman riding on a bicycle next to a shopping cart which acted as Robin's side car as they chased the Riddler, Joker and Catwoman. A team dressed as Bob Ross ran with an easel where they could entertain throughout the day by painting. A Jurassic Park squad ran motivated by a giant wooden dinosaur attached to the cart, which was designed to look like a Park Jeep.
After registration ended, volunteers went out the back to line up with spectators to see the beginning of the race. Then, the big moment: racers charged out of the gate and ran in all directions to their first checkpoint. The crowd cheered them on, but also mainly took photos of the ridiculous scenes. After a few minutes, the Yard had been emptied and the racers were off.
CHIditarod is a fun, light-hearted event working to relieve a heavy issue in Chicago. According to Feeding America's Map the Meal Gap study, 1 in 7 people in Cook County will experience food insecurity this year. In several communities, more than half of the population is food insecure. To overcome this issue, CHIditarod serves as a food drive for the Greater Chicago Food Depository and asks participants to fundraise money to be donated to Chicago-area nonprofits working to combat hunger. This year, CHIditarod participants provided 14,476 meals and raised more than $56,000 for the hungry.
For more information about CHIditarod, visit chiditarod.org.