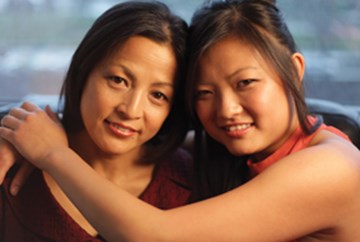 By: Suzanne Hanney
January 25, 2012
When Jian Ping's parents were Communist Party officials persecuted during China's Cultural Revolution of the 1960s, her metaphor for resilience became the mulberry tree, growing in poor soil yet blooming each spring after the Siberian winter.
In 2008 Chicagoan Jian (aka Jennifer Hou Kwong) published her book, Mulberry Child, as a legacy for her daughter, as a means of self-healing and as a Chinese history lesson for Americans. A little more than two years later, Mulberry Child is also a movie that will be screened January 21, 24 and 26 during the Gene Siskel Film Center's Stranger Than Fiction documentary series.
The book is a memoir of Jian's family struggle during the Cultural Revolution, while the documentary uses their story to bring Jian closer to her daughter. American-raised Lisa Xia, now 26, was reluctant to read her mother's manuscript but she does so while traveling around China during filming.
Interspersed with their visits to family and archival photos of the Cultural Revolution are scenes of mother and daughter at the 2008 Beijing Olympics, which was so important to the country's image on the world stage. The Games seem to be almost a finale to the historic struggles in the film.
The Cultural Revolution (1966-76) was an attempt by Chinese Communist Party Chairman Mao Zedong to purge the Party of his political rivals and make officials prove their loyalty, Jian said. Mao's revolution had started among the peasants, so he was particularly suspicious of educated people, she added.
Jian's father was deputy governor of Baicheng prefecture in northeastern China; in 1967 he was detained by the local army and was forced to write self-criticisms. He was also subjected to 70 "struggle meetings," where he was made to bend over and to wear a dunce hat and chest placard listing his alleged crimes as he was humiliated before a crowd of people.
Jian's mother, who was top administrator at a middle school, was also forced to write "confessions" about her alleged "petty bour¬geois habits" by the Red Guards, the youth who carried out Mao's directives. Her mother was kept at the school furnace room on and off for months, made to sweep schoolyards and clean toilets, and paraded on the street with a "capitalist roader" placard around her neck.
The family was moved out of their home in the government compound and relocated in a mud house without a toilet, heating, or running water.
Her sisters and brothers were sent to the countryside to be "reeducated" among the peasants, which meant tilling fields by out¬dated, labor-intensive methods and living in chilly, primitive houses. Afraid of appearing unsympathetic to the revolution, neighbors ostracized the family. Schoolmates bullied the children, calling them names like "shitty dog" and even throwing rocks at them. Seven-year-old Jian was forced to denounce her father in a school assembly. Her mother, meanwhile, was urged to divorce their father. Her refusal earned her the epithet, "granite head."
The Cultural Revolution reached its peak in 1968 and officially ended with Mao's death in 1976, but it was no longer violent in its last few years, Jian said. By 1969, her father was sent to a coal mining city 100 miles away; he returned to his deputy governor position in 1972 and the family moved back to the government compound.
In 1977, the Chinese government resumed university entrance exams after 10 years. Jian had been studying English via records and an old textbook. She took the exam in 1978 and was accepted into top-ranked Jilin University in northeastern China, where she received a bachelor's degree in English. She married, had her daughter and became a translator in Beijing.
But a lack of job satisfaction led her to return to school, this time in the United States. She left her daughter with her hus¬band's parents and went to Ohio University, where she received two master's degrees: in film and in international affairs.
Although she intended to receive her degrees and return to China, "when I was studying here, I tasted the meaning of independence and freedom for the first time in my life," she said. A professor at the university told her to choose the sequence of courses that most interested her. "I could choose what I was interested in, and in the sequence I saw fit. I marveled at the concept and opportunity," she wrote in the book.
Lisa joined her mother in the U.S. at age 4 and for 20 years, Jian worked as a work¬ing mother in corporate America. She traveled twice yearly on business trips to China, a job perk that allowed her to visit family – and to work on the book for eight years.
Ellis M. Goodman, a long-time friend and mentor to Jian, (who had also served on the board of Cinema Chicago, and as chairman of the Chicago International Film Festival in 1994-95) brought Jian's book to the attention of Susan Morgan Cooper, who had written, directed and produced An Unlikely Weapon, an award-winning documentary on Vietnam War photographer Eddie Adams.
As screenwriter, director and producer of Mulberry Child, Morgan Cooper says in the production notes that the subject and the historic period interested her. Not until Good¬man introduced her to Jian and Lisa in September 2009 did she find the angle for the film, however.
"They were blood family, yet their characters had developed in polar opposite worlds," Morgan Cooper said. "I was fascinated by the complex dynamic between this mother raised in the repressive atmosphere of Communist China and a daughter she raised in the freedom of the United States."
Welsh-born Morgan Cooper said British culture is repressed to a lesser degree than Chinese culture, so that she had an affinity for the mother-daughter struggle. "Through these women we see distinctions between the effects of Communism vs. a free society. Jian Ping was taught to be insignificant, small and invisible. Her daughter Lisa was taught that she was the whole world. Anything is possible. She is free-spirited, independent, a wild card. Trying to understand one another is a process. Through the making of this film, both have told me that they've begun to communicate on a deeper level."
Starting in January 2010, filming included mother-daughter interviews in Jian's Chicago apartment. There's also gorgeous shots of the Chicago skyline, of the two women shopping and of Lisa partying with her friends. She works in public relations, with corporate social responsibility and sustainability for Fortune 100 companies.
Since Jian's family photos were limited to a few faded black and whites, Morgan Cooper used newspaper photos shot during the Cultural Revolution by Li Zhengsheng, who wore a red armband that gave him access enjoyed by the Red Guards and then hid the negatives for 40 years.
Besides filming Jian and Lisa with their Chinese family, Morgan Cooper shot scenes of the countryside so that she could recreate the family's mud house and the mother's school furnace room on her own property in the Hollywood Hills. Live action narrative was the final piece. She held auditions in her home for Jian's parents, grandmother, and siblings and hired all first-time actors.
The movie was screened at the Palm Springs Film Festival earlier this month. It became a buzz at the festival and both screenings were sold out. The film will be seen next month in Sedona International Film Festival. After Mulberry Child's final screening during its world premiere at the Heartland Film Festival in Indianapolis, the sold-out audience gave it a standing ovation.
As a result, Jian now sees it as more than her memoir, but as an insight into immigrant relations, Chinese and women's history. "For me it's a completely evolving process," she said. "When I wrote the book I wanted Lisa or people like Lisa to take away a deeper understanding of where we come from, of Chinese culture, recent history and family ties. For the American general audience, I want them to have an insider view of a Chinese family. Many Americans still feel mystified about China. A faraway Communist country. I remember a close friend in my writing group said 'I was struck that communists have feelings, emotions,' because people think communists are cold, not human."
"Once when I gave a talk at a women's leadership summit, two nuns came up to me. They came from Poland and they were crying. They said, 'I'm so glad you told that story because Americans have never experienced that kind of political persecution. They don't know this kind of life. It's important to tell this story so it doesn't happen again.'
"It was so rewarding to me. I hope for people watching the film, it will give them more courage and hope to move forward and help them bridge cultural and generational differences."