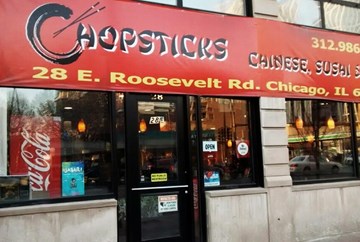 By: Jhan Knoble
July 19, 2016
Louis Hale and I went on a date. A perfect first date. We saw the movie A Perfect Match, the irony not lost to us. Afterwards, within walking distance of the Icon Theaters is a little Chinese restaurant called Chop Sticks. It's located on the north side of Roosevelt Road between State and Wabash.
When we walked in the door, the first thing we noticed was the kind-looking woman who appeared to be overseeing everything. She greeted us with a smile, her knowing eyes appraising our happy springtime demeanor.
The second thing we noticed was how spotlessly clean every surface was. Though there is limited seating, there's a flat screen on the wall that kept us entertained. Heavenly smells wafted from the kitchen like a fragrant morning mist.
We placed our order at the counter and took seats in a cozy corner. Some CTA canine security cops were our dining companions, just finishing up their evening break meal. That in itself was reassuring as it's rumored that law enforcement personnel know where all of the good eats are.
A pleasant girl brought our orders to the table and we were surprised by the amount of food that was in our containers. They were bulging and heaped full with standard but expertly prepared fare. When it's my first time at any restaurant, I usually play it safe by ordering a simple, well- known dish. If they get that right, then you know that you can usually trust the more complicated offerings to be good as well.
My shrimp egg foo yung was hot and freshly prepared with nice large patties and a thick brown gravy that didn't have the usual greasy after taste. The shrimp fried rice was piled high with lots of visible baby shrimp and a few large pieces to boot. The shrimp-to-rice ratio was just right and most notable was that the food wasn't too salty. My vegetable egg roll was crispy and hot too, with tender, steamy cabbage and other veggies wrapped in a crunchy wonton wrapper.
My guy had a combination of chicken, beef and shrimp fried rice with extra meat for $1 per item. His container was also filled to the brim and he expressed how tasty it was throughout the meal. The meat was tender and I regret not sampling it, but I was distracted by two things: my own delicious bites and his good looks.
All of this for under 20 bucks for two. We had no trouble keeping our conversation going as good simple food is known to facilitate that. As we were eating, another couple slid into the space next to ours. I wondered if they were also at the beginning of a romantic journey. Some may call this a cheap date but I like a man who has his priorities straight. We had great food at a decent price. Now we can have more fun and enjoy the summer. Stay tuned...