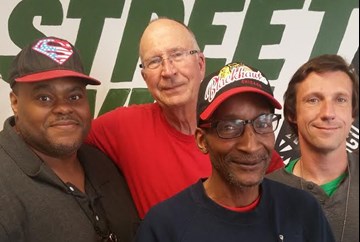 By: Staff
August 22, 2016
John: I would absolutely rather see my team have a blow-out win. A loss is a loss if you have a team that you're a die-hard fan of. If it's a close 3-2 game and you lose, then that could be the difference between a division title and being out of the playoffs. If I were to be objective, I would want a close game, but as a fan, I want to see my team win.
Bill: So you wear both hats?
John: Yeah, I wear one when I watch my team play, and the other when I don't watch my team play. Like in football, let's say UCLA blows out USC—that would be more entertaining than seeing UCLA lose in overtime to them.
Russell: I would rather see my team win because I play to win. If it's a close 3-2 game, all you gotta do is "pop": base hits, pop ups, strikeouts. I don't care what the score looks like, I want my team to win.
Bill: As both of you are talking, I'm thinking about how there are so many different situations. If you're in the pennant race at mid-season in baseball, it's one thing if your team is in contention. Being a White Sox fan my whole life, I'm used to us not being in contention, so I really like to see a close game more than I like to see the Sox win in a blow-out. That's generally speaking, but I've got to admit, if we were in the playoffs or the pennant race, then oh yeah, a win is a win. I haven't always felt this way though, especially with basketball. It used to be that the second half of the game was terrible because they didn't have 3-point shots and there was no way you were going to win.
John: There's one exception. I don't know if you read the History of College Basketball, but back in 1963, the Cincinnati Bearcats were going for their third consecutive national basketball title. They were always good at holding the ball. I think they had a 15-point lead against Loyola late in the second half, and Loyola kept pecking away, pecking away. They eventually tied it up and went into overtime where they beat Cincinnati at their own game. There were even times back in the day when you could come back from deficits.
Bill: Right, but the stall late in the game was just terrible. I like the clock, and the 3-point possibility makes it so you can be behind 20 points and still come back in a quarter. Frankly, I would rather not have a 3-point shot because it changed the game completely. When I go to games, I mostly go to see the players, but you guys are die-hard fans. I knew when we got this topic going that Russell would certainly rather win, right Russell?
Russell: I watch a lot of baseball, man. I watch a game every night. Three-two count, bottom of the ninth, my team got four runs, and they won the game. That's what I'm talking about. We didn't give up. It wasn't boring AND my team won.
Bill: Well there's a difference too, late in a baseball game because you've got a dominant pitcher and it can be a close game, but it can just break loose when a guy gets tired and walks a couple guys. That can turn into a couple homeruns and can turn the game around fast.
Russell: Like [The White Sox's] Chris Sale, right?
Bill: Yeah, like Chris Sale—he lost the game. Sounds like the shift has gone from Jose Quintana not getting the runs to Sale not getting the runs. Well, an interesting thing about the game July 31 when [the Cub's John]Lester came in, didn't he tie the game with a walk-off bunt? Am I right about that?
Russell: Yeah, he won it against the Mariners in the 12th inning.
Bill: It's just amazing how the game can shift.
Russell: That's how baseball can be.
Bill: Well there's a lot of injuries happening too, even little ones you can't see that change the game too. They call 'em the "dog days of baseball." When it's hot, and you can win or lose a couple games and it won't be the end of the season. When that happens, you can see some blow outs that aren't really that interesting.
John: These are the dog days of August, and you're going to see which teams are going to fight and which ones are going to give up.
Russell: Yeah, and I like pennant races, so I'm ready for that.