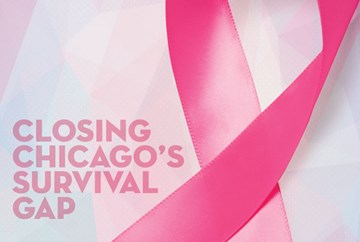 By: Suzanne Hanney, Carrie Bensfield assisting
October 24, 2016
In 2007, Chicago's breast cancer survival gap between African-Americans and Caucasians was among the worst in the U.S. Black women were dying at a rate 62 percent higher than white women, even though they were getting cancer less often.
Chicago's mortality rates were higher than those for New York City or the U.S. as a whole, which suggested that biology between races was not the problem. Rather, the problem was unequal access to health care.
The Metropolitan Chicago Breast Cancer Task Force was formed that year and ultimately focused on three specific factors behind the higher death rate:
•less access to mammography
•lower quality of mammography services
•less access to and lower quality of treatment
"Capacity and geography" were to blame for the disparity, according to "Beyond October: How Far Have We Come?," an October 2014 report by the Task Force. There were not enough machines or (at the time) enough fellowship-trained radiologists and specialized radiology technologists to adequately screen every woman over 40 annually. "Black women are less likely to have their mammograms read by breast imaging specialists; more likely to present with later-stage cancer; and more likely to experience delays in diagnosis and treatment compared to white women," according to the report.
Among Chicago's 77 neighborhoods, 17 of the 20 with the highest breast cancer death rates from 2006-10 were predominantly African-American. Simultaneously, Chicago has nine American College of Radiologists' Breast Imaging Centers of Excellence, but only one of them is located in one of these high-mortality neighborhoods.  (See chart opposite).
However, by 2010, Chicago's disparity had been reduced by 35 percent – the equivalent of 25 black women's lives saved.
The Task Force cites no one factor for the decreased disparity amid a wide array of activities. Comprised of representatives of health care providers from around the city, it continues to act on its finding that geography drove inequities in health care. It formed the Chicago Breast Cancer Quality Consortium to measure breast care quality among Illinois Medicaid providers. Those who submit their data can receive higher reimbursement for mammography.
In the first year, 160 different facilities submitted data on 584,245 mammograms statewide -- 80 percent of the state's Medicaid-reimbursed mammography. By the time of the October 2014 report, the number was 650,000: "a first-in-the-nation effort to build such an informative mammography surveillance system."
"Quality" is measured via 11 benchmarks for two factors: "radiologist" and "follow up." Metrics for the former asked whether cancers were found when small, whether too few or too many women were recalled after screening mammograms, whether too few or too many abnormal mammograms were cancerous, whether too few or too many biopsies were cancerous. "Follow up" measurements asked whether providers kept track of their patients between stages of treatment such as the diagnostic mammogram and biopsy. Delay can be deadly.
Advocacy has also been part of the Task Force's arsenal. In 2010 it launched the Screening Lives campaign with the goal of increasing funding for the Illinois Breast and Cervical Cancer Program (IBCCP). The IBCCP provides free mammograms and Pap tests to women aged 35 to 64 who are uninsured or underinsured.
Women of color rely on the IBCCP more than do other ethnicities because they are more likely to lack health insurance. In 2012, for example, 57 percent of Illinois women with insurance were screened for breast cancer but only 37 percent of those who were uninsured, according to American Cancer Society prevention/early detection data cited by the Task Force. If a woman was diagnosed with cancer and was uninsured, IBCCP would enroll her in Medicaid.
Even with the Affordable Care Act, officials say that because of literacy, language-related barriers – or because they have been dropped for inability to pay for coverage -- more than 75,000 Illinois women remain uninsured and still eligible for IBCCP services. Still other women need the program because of geographic isolation, lack of provider recommendation or simple access.
But even though the IBCCP served 90,372 Illinois women from 2009-14 (and detected 634 breast cancers), its state funding has always been threatened, even as its federal funding has remained constant. Last year's state budget did not fund the IBCCP at all. This year, it received only $4.9 million – less than one-third of its earliest state allocations (see chart opposite).
Demand for IBCCP services remains so high, however, that the Task Force terms it underfunded. In the two years previous to the October 2014 study, the IBCCP ran out of funds for screening within the first three or four months of the state's fiscal year. In FY2014, the program served 27,142, while in FY2013, its clients numbered 34,442.
Task Force officials say that the screening programs not only improve the lives of Illinois women, they are cost-effective -- which is important when considering the Illinois caseload on Medicaid. The average cost of treating undetected late-stage cancer is $120,000, while treatment in Stage 1 is $20,000.
Mammograms are only a fraction of the cost. People without a "medical home" for their records are more likely to keep using hospital emergency rooms for every health issue. However, once a woman finds herself in breast cancer care, she may consistently use the same provider. 
"Dismantling the IBCCP will cost taxpayers as vital health infrastructure for at-risk women disappears," Task Force officials said in prepared material. "Rebuilding the existing network in the future will be a costly, time-consuming project. Maintaining existing successful programs just makes sense."
A significant number of mammograms come courtesy of metro Chicago hospitals. More than 1 in 4 (27%) of Chicago's 37 hospitals with mammography facilities donated the screening tests to the Task Force last year.
Task Force advocacy has also included work toward state legislation in partnership with the Susan G. Komen Illinois affiliates and the American Cancer Society. Signed into law by Gov. Bruce Rauner in August 2015, the Breast cancer Excellence in Survival and Treatment (BEST) Act requires all Medicaid health plans to include American College of Radiology Breast Centers of Imaging Excellence and Academic or Comprehensive Commission on Cancer Accredited centers in their networks. The centers of imaging excellence were the ones mostly like to hit more of the Consortium's original 11 benchmarks regarding radiologist quality and timely follow up.
The BEST Act also ensures that magnetic resonance imaging (MRI) as recommended by a physician is covered by insurance in Illinois. And it establishes a program to help women navigate the healthcare system.
Two navigation programs established in the last two years are yet another tool the Task Force is using to ensure that women follow up with suspicious mammograms and cancerous biopsies. "Extra Help Extra Care" provides a nurse who works across multiple community hospital networks to keep women on track with treatment. "Beyond Enrollment" works with low-income, minority women who may have been uninsured until the Affordable Care Act. It helps them find high-quality primary care providers and breast care referrals.
Another Task Force advance toward improving breast cancer outcomes for low-income metro Chicago women is extra training to improve the skills of mammography technologists at "safety net facilities," which serve a disproportionate share of low-income, uninsured people. The training is in collaboration with Northwestern's Lynn Sage Breast Imaging Center.
On November 12, IBCCP will host its annual Beyond October event, 10 a.m.-2 p.m. at Hermann Hall Conference Center, 3241 S. Federal St. on the Illinois Institute of Technology campus. There will be free health screenings, massages, manicures, line dancing, tai chi, Zumba, nutrition demonstrations, mammography signups, workshops on financial literacy and planning, men's health, free food, raffle prizes (including a 40-inch TV) and more.