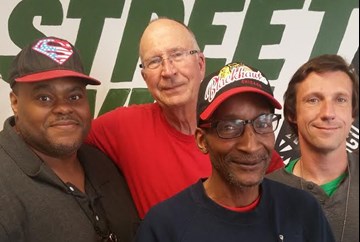 By: Staff
November 20, 2017
Donald: There are a lot of good teams heading into this season. I'm focused on the Big Ten. There's a lot of strength in that conference.
Russell: I'm glad it's finally college basketball season. I'm not going to make my predictions because it's still too early to tell, but I can tell you my favorite teams. I have coaches that I like to follow. Roy Williams from North Carolina, Coach K [Mike Krzyzewski] from Duke, Tom Izzo from Michigan State, and Bill Self from Kansas are my four coaches and my favorite teams. If I had to pick an extra team, I'd go with Wisconsin or Gonzaga. One thing I will predict is that there are going to be a lot of interesting upsets early in the season.
John: The teams I would love to see end up in the Final Four are UCLA, North Carolina, Villanova, and Texas. Michigan State has a great shot too, as long as Tom Izzo is their coach. He has them ready to play. Even in their down years, you can't count them out. Kentucky always rounds into form late in the season with all of their one-and-done players. Duke is always going to be there. College basketball always comes down to recruiting. Local schools like DePaul had a chance to keep a lot of the Chicago talent here, but unfortunately they leave to go to Duke or North Carolina. As far as conferences go, unlike in football, the Pac 12 has a lot of interesting teams. I have my eyes on Arizona, USC, and UCLA. The ACC, with Duke and North Carolina, will always be interesting. The ACC has Notre Dame and Miami, as well. With their recent legal issues, I wouldn't count on Louisville doing well this year.
Donald: Duke is an awesome team. They always make it and this year they have the future #1 NBA draft pick, Marvin Bagley III, a 6-foot, 11-inch power forward from Arizona and California. The dude was a monster in high school and we will see how he does in college. They will find themselves in the Elite Eight or better, like always. They typically value defense and passing, so we'll see how the new talent fits in. They have a lot of speed and athleticism coming in. I can't wait to see how they fare against Kentucky and all of their talent.
Russell: I agree with both of you on Duke. They, along with Kentucky and Kansas, always scoop up all of the Chicago kids. I wish some of that talent stayed in town. Speaking of that, I have to give a shoutout to Northwestern. They are ranked Number 19 by the Associated Press coming into the year. Finally! I'm so excited for the season to start. College basketball is always better than the pros. In the NBA, you can tell who's going to win. In college, a #1 team can fall at any time. I'm looking forward to a great season.
John: I love the tournament. There is nothing like it, except for maybe the Super Bowl. March Madness is filled with upsets. And there needs to be a parade in Evanston. Give a shoutout to the Wildcats. Top 25 for the first time in their history!