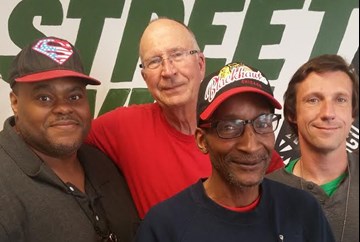 By: Staff
December 25, 2017
Donald: I am really looking forward to the Music City Bowl between Northwestern and Kentucky. I can see either team pulling it out. I give Northwestern the edge, but their defense is suspect. Notre Dame vs. LSU is gonna be fun too. LSU has not been great this year, but they have a ton of talent.
Russell: I can't wait to see who will finish the year as Number 1. It used to be decided by the coaches, but now we have a playoff. I'm satisfied with the four teams that made it this year. I'm excited to see Alabama and Clemson battle for the third year in a row. There are a lot of teams that could have made it in. The only undefeated team was UCF, and their conference is weak. If Wisconsin had beaten Ohio State, they would have made it. Even with two losses, Ohio State fans still think they should've been in. Auburn and Central Florida is gonna be a fun bowl. UCF is finally going to get tested. Regardless of who you root for, bowl season is a fun time of year.
John: I am expecting Oklahoma and Clemson winning their playoff games, with Oklahoma winning the National Championship. My favorite team is UCLA, but I don't really find their Cactus Bowl matchup with Kansas State intriguing. UCLA has been a bad road team, so I am not expecting much. I am really looking forward to the Cotton Bowl between Ohio State and USC. I don't know why they did not make it a New Year's Day bowl, but they should have. Both teams would have made the playoffs if it weren't for one big conference loss—Ohio State to Iowa and USC to Washington State. They both had enough talent to go all the way if they put everything together. The Orange Bowl might be very entertaining this year. Wisconsin, who fell just short of the playoffs, and Miami, who faded down the stretch. I see Miami winning because it is being played on their own field. I also think Wisconsin is mostly a product of their weak schedule.
Donald: My prediction for the champion is Clemson. They are the most complete team in college football and that defensive line is nothing nice. I think their semifinal matchup with Alabama will decide who wins the championship. Whoever wins their matchup will crush either Oklahoma or Georgia.
Russell: This year, the playoffs are just teams from the south. That region dominated this year. My playoff prediction is that Oklahoma and Clemson will play for the title. I'm not ready yet to make a prediction, but it's going to be a fun matchup. Another bowl game I'm looking forward to is Northern Illinois vs. Duke. I gotta pull for Northern, although that should be a good one. And my girlfriend likes Duke, so it's on.
John: One last thing, Iowa vs. Boston College in the Pinstripe Bowl is one I am looking forward to. They play that one in Yankee Stadium, so that's always fun to watch. I believe Boston College will pull that one out. The main day I am looking at is New Year's Day. There are five big games that day.