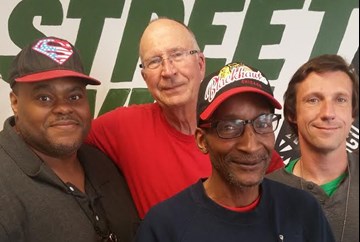 By: Staff
October 1, 2018
John: Alabama is basically going to beat everybody. It's too obvious, even Clemson to some extent. But among the teams that may join them for the playoffs this year, I'm looking at Ohio State. They come off a nice impressive win just recently over 15th-ranked (at the time), TCU. Now the other teams that might be in the picture are Oklahoma, LSU, and even Notre Dame. The thing about Notre Dame is that all three of their wins were at home. They won against Michigan, Ball State, and Vanderbilt. Now let's see if the Fighting Irish can win at Wake Forest, which should be no problem. Then they've got two tough games coming up. Home against Stanford and a game at Virginia Tech. For the most part, Notre Dame's schedule looks relatively manageable. So if they keep on doing what they're doing, there's going to be a playoff spot for them. I think LSU is going to be in for a rude awakening. Yeah, they won at Auburn, they beat Miami, but they've got Florida, #2 Georgia, #14 Mississippi State, and #1 Alabama and at the end of the year Texas A&M. LSU is going to be the one team on the outside looking in along with Notre Dame, Stanford. Notre Dame and Stanford play each other in a few weeks. I'm looking at Georgia to come out of the SEC. They look like they have a winnable schedule, except for LSU in a few weeks. You're going to have some matchups that are going to play out. The regular season is going to be like a playoff. The losers of these games will be out.  If you ask me who it'll be, I say Alabama, Clemson, Ohio State, and perhaps Oklahoma.
Donald: Let's all remember that football is what it is. College football is no different than the rest of the games. You must keep all teams, everybody, all positions healthy. Everything should be healthy no matter linebackers or whoever. As it was said about Alabama, Georgia, Clemson, Oklahoma, Ohio State, Oklahoma State. Oklahoma, to me, seems to be the most interesting team. To have such a schedule and be able to produce such a winning streak almost every year speaks for itself. There's a lot of teams that probably need to catch up: LSU, Stanford, Notre Dame. Interesting combination there when you go eight seeds down from the number one spot, Alabama, you got Notre Dame and that may be the team that a lot of people have to fight against. There's going to be big upsets going on this year. A lot of sacks are going to happen, a lot of people are going to be stopped in their tracks. Placekickers are going to be stopped, balls are going to be stopped, and there's going to be games turned upside. New teams are going to win.
Russell: I'm going to make it short and easy. Everybody else, Georgia, Mississippi State, Notre Dame, LSU, they're okay but they are not in my top four. My playoffs would be Alabama, Clemson, Oklahoma, and Ohio State. I pick Alabama to win. I mean you've got Nick Saban. Nobody can beat them, they keep getting better. Other teams are Notre Dame and Penn State. I don't like LSU. I'm sorry. LSU is okay, I don't think they're going to lose too many games. I wanted to see Penn State and Ohio State play each other September 29, just one good time. I want to see University of Central Florida play somebody decent so they can stop crying about being number one like they were last year. They play for a weak conference. If you want to be recognized, go to a good conference. It matters about the schedule. The way I see it now, Alabama will be champions again.
Donald: Look for a lot of changes coming in football.
Russell: I want to say, in college football anything can happen. Enjoy the college football games.