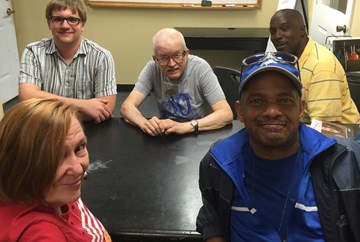 By: Staff
August 22, 2016
A. Allan
Building relationships between community and police should start with grassroot concerns of dedicated responsible citizens: community citizens stepping forth and coming to the table with police and discussing problems with drugs, guns, gangs, mental illness, violence, etc.
Community and police can discuss preventative measures to the problems and they also can discuss ways of training officers to be effective, sensitive, and less impulsive to killing in crisis situations. Both sides must communicate the problems and solutions along with alternatives to deadly force. There are solutions to the problems between community and police, but they must be discussed and worked on with rigorous and sincere efforts by both parties. Participation is essential and necessary in order to bring about change.
Ed Cephus
We can build better relationships by having more events that show that police are people too, but I also think they need to go back to serving and protecting. Sometimes people feel that it is "them against us," but if the police lived in the districts they worked, they would be respected more by the community.
Diane Wilkinson
To build a good community, you must get involved with what's going on in your community; get to know the alderman, attend the CAPS (Chicago Alternative Policing Strategy) meetings, and stay on a straight path. If you attend the CAPS meetings you will get to know some police one-on-one and form personal relationships with them. Remember, police officers are people too and everyone should be treated with respect. Also, I think police should also live in the community they serve because it will bring down the crime. 
John Hicks
First, I believe that we should confront the government about drugs coming into our community. I also think we should police our own neighborhood until we have peace and talk with the government.
Steven Riggs
Host community meetings
Police should live in the community
Training on how to deal with the mentally ill
Talk to the police
Report crime