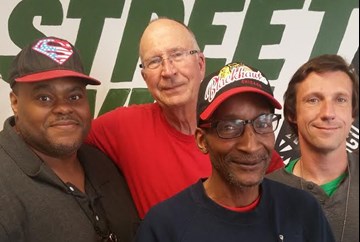 By: Staff
September 26, 2016
John: I feel there is a lot to do with parity. I mean with this free agency in the past 20 years that's all the NFL has been about. You don't have teams that can stock-pile talent. In 1993/1994 the collective salary cap came in. This affected the amount of money that the teams were eligible to spend on talent; it wasn't permissible to spend over a certain amount on one player or to keep that one player on the team. So the talent pool evened out more and players were moved to other teams, such as Tennessee, during the last quarter. They would be down and out but they will have a chance to be a one-year surprise. The same principles apply to teams such as Jacksonville or Green Bay. One of the best comebacks I've seen is when Oakland came back from being down 17 and beating New Orleans. Even more so is Kansas City beating San Diego after being down 21. One amazing comeback happened in four minutes, it was the game between Minnesota and Arizona. This was back in 2010; Brett Favre led the Vikings back to score two touchdowns in four minutes of regulation. Then in OT the Vikings came back to be the winner. So you see a lot more of those comebacks than blowouts and I feel it has a lot to do with free agency and a lot to do with the salary cap.
Russell: I believe in the old saying that it's not over with until it's over with. So there are a lot of teams that are too laid back now and comfortable. I feel that the points or games themselves are rigged because of the people who are betting on the games. The points scored per player are bet and those bets in turn are made by affluent members of society, so when they make bets per points the teams are receiving a lot of that money back. This would affect how many comebacks and blowouts there are in games.
John: I do not feel that the players themselves realize the point bets…I know a lot of the gamblers do, but….
Russell: No, I'm not saying that they do but I feel that they play a major role in the bets themselves in general.
John: A lot of gamblers would keep track and notice when a team is up by seven points and that to win a touchdown or a field goal is needed and but instead the team will take a kneel.
Russell: Well, yeah some of these guys aren't all the way right, they'll rather take a kneel for a bet than to win for the team. It's a lot to continue in football during a game; there's a lot of hitting, tackling and pushing and not everyone is suited to keep going on and they would rather take a kneel than to finish strong.
John: The Bears can hardly hang anymore. It's not like it was back in the day when the Bears were dominant for a year even over the Cowboys and 49ers; Vince Lombardi even said that if you're up by 28 aiming through the first quarter you were going to win a game or you were secure enough. Nowadays you can throw that out the window…especially because more teams are passing now, not a lot of them are running the ball. Back in the day they used to have running backs run 25-30 times a day.
Russell: It might be time for a changing of the guard. We need new quarterbacks. Peyton Manning just left and Tom Brady isn't going to be able to be on the team forever. We need to let the new era of quarterbacks demonstrate that strength to do as you said: start running the ball more.
John: Carson Wentz? I mean give him like a couple more weeks and if he begins to progress then maybe he could be the next Tom Brady or Peyton Manning but we're going to have to see.
Russell: Well this season has started off pretty well, I can say that much.