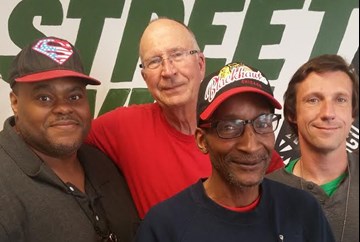 By: Staff
April 23, 2018
Donald: Loyola's season was fascinating. I can't wait to see where they go from here. They are keeping a lot of their good players and they've got a bunch of good recruits coming. They don't have a roster full of NBA- type players, but they play well together. I'd like to see the Loyola Ramblers help teach the Bulls how to stop underachieving.
Russell: Congratulations to Loyola! They had a great year. Hate to see it end, but they got further than anybody expected. It was good for the city of Chicago. It brought everybody together. They're a nice young team and they'll be back next year. They just need to start recruiting. Go down to Simeon and some of these South Side schools and West Side schools. Get some of these good players. It seems like every great team has a player or two from Chicago. Maybe one or two of them will choose Loyola. There's no shame in losing in the Final Four. It's good for the city. Maybe DePaul or UIC could follow their example. Get a good coach and play team ball. Loyola lost to a good Michigan team. They were just outmatched. We'll get them next time!
John: Loyola's season started well before the tournament. When they went down to Florida and beat the Gators, that really put them on the map. People started taking notice after that. Then they went and won the Missouri Valley conference. They really overachieved this year. Before the season, no one had them even winning the conference, never mind making it to the Final Four. Once they got to the tournament, they had a bunch of buzzer beaters. My favorite was Donte Ingram's against Miami. Loyola not only brought pride back to Chicago, they also served notice to the other Illinois teams. A potential concern for Loyola is if Porter Moser leaves. There are going to be a lot of teams after him. The question is, will the money be enough to get him to leave or will he choose loyalty?
Donald: I hope Coach Moser stays. He's already made a big impact at Loyola and he's really turned the program around. One issue that Loyola might face next year is not being able to schedule power conference teams. I don't see teams wanting to play them next year.
Russell: I really enjoyed this Loyola season. They played some good basketball this year. I'd rather watch the Ramblers play than the Bulls! I don't know what happened to them in the second half against Michigan. Maybe they got tired. Michigan's got some big dudes. But still, I'm proud of them. Northwestern last year, Loyola this year, maybe DePaul next year.
John: I'm very proud of the year Loyola had. People say Loyola choked in the second half, but I didn't see it that way. Loyola simply got outplayed. We should still be proud of them. They inspired their city. I hope we can carry some of that inspiration into StreetWise.