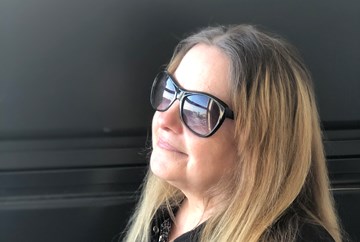 By: Kathy Gregg
April 30, 2018
Connie envisioned a better life in Chicago when she left her circle of support, her friends and apartment in Nashville to come to the city with one of her sons.  Lured by a persuasive radio advertisement for a house- flipping seminar that assured success and by Chicago's vivid music scene, Connie hoped to fulfill her lifelong dreams to become a singer and to become financially stable. Connie left without much money in reserve since she had supported herself selling the Nashville street paper.  She figured she could support herself selling StreetWise in Chicago until her house flipping enterprise took off.
What Connie didn't anticipate was that the house-flipping seminar was only an introduction to an expensive educational course, and the fast pace of people downtown.  She didn't know about Chicago's street vending ordinances that would adversely impact her style of selling. In Nashville she was allowed to sit in a chair near a stop sign outside of a big box store to sell papers.  People would stop and chat with her at the exit and learn about the paper. "People move so quickly here." She was discouraged to have so many people just pass by without looking at her. "I'm not shy, but I'm also not overly assertive either."  
StreetWise vendor code of conduct includes abiding by city ordinances.  Vendors are trained to be 10 feet away from business entrances and to not sell near the street.  Also, the weather presented Connie with a problem. While she hails from Michigan, she had not been up north during the winter since she developed rheumatoid arthritis and degenerative disc disease. The cold made her bones ache and standing and selling was really tough.  She couldn't stay out too long which meant she couldn't support herself. Before long, Connie ran out of money, had no roof over head and she became disheartened.
"I came from a large family and am the oldest of 14, and I have 13 children of my own.  For as long as I can remember I have helped to keep a roof over the head of my family and keep them fed."  Connie was used to pinching pennies and doing whatever it took for her kids. Connie said, "Thankfully Chicago has a more resources than most cities but, but still, it was extremely hard to go to a shelter and accept that help, but I did it for my son."  
In Chicago, in the middle of winter the assigned beds are spoken for.  Connie and her son had to stand in line out in the cold for a bed in the shelter every day alongside people that frightened her.  "They often fought and threatened to kill each other." She recalled a time when her husband left her with no money and she had to fend for herself.  She sold door-to-door with six of her children in tow, it was tough, but somehow she made it fun. Standing in line at the mission for a bed, just waiting around, she felt very out of her element.  "There, even a smile could be the wrong thing to do."
"Thankfully StreetWise offers much more than a just way to earn an income.  They didn't have social services back in Nashville. StreetWise offered me two hot meals and a safe and warm place to be during the day.  Everyone was so welcoming and supportive, I didn't feel ashamed for the spot I was in." A StreetWise's social worker found a shelter in Uptown where Connie and her son had bed assignments and a locker. Her son enrolled in S.T.E.P-StreetWise Transitional Employment Program and he soon found a job, but after he earned enough money, he left to go flip houses in California.  
Connie remained in Chicago to work on fulfilling her dreams.  "Chicago has so much to offer, so much opportunity." StreetWise continues to help her improve her situation and has found her a place in a single room subsidized apartment.  Our field supervisors are also helping her with her pitch and to find her a neighborhood location that better fits her warm personality and laid back approach to selling. This spring she looks forward to selling papers again in better weather and to continue to audition for singing gigs.