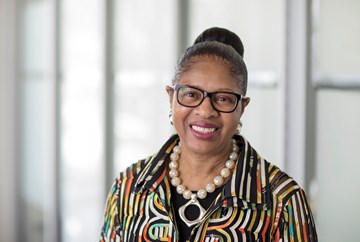 By: Suzanne Hanney
April 2, 2018
Also a keynote speaker at the Expand Your Horizons conference, Corlis D. Murray is the top engineer at Abbott, a $20 billion global health care company, where she is senior vice president, quality assurance, regulatory and engineering services, responsible for those functions in more than 150 countries. She also sits on multiple Abbott executive committees.
A product of Dallas inner city schools, Murray went on to earn a bachelor's degree in mechanical engineering from Southern University in Baton Rouge, LA. She began her career at Abbott in 1989 and has held a number of senior roles, including senior manufacturing engineer, production manager, and engineering manager. She represents an extreme minority as an African-American woman in the engineering industry: 10 times more rare than a woman in Congress.
"We can't pretend that women and minorities don't face extra systemic barriers that may discourage them from pursuing these career paths," said Murray in an interview with The Hill. "I believe in the value of diversity; if there aren't many people like you in your chosen field, you have the opportunity to offer a new perspective."
"At a certain point in my career, I felt a strong urge to pay it forward," Murray said of her efforts to initiate Abbott's STEM (science, technology, engineering and math) high school internship program for underrepresented students in 2012.
You have said that your mom was an inspiration to you but so was your grandfather. Even though he didn't know what your career as an engineer entailed, he had a love of math and encouraged that study. What do you want to say to parents and young women in your keynote address?
I will have the great fortune to address parents both locally at the University of Chicago, and on a national stage on April 7 in Washington D.C. at the USA Science & Engineering Festival, the largest festival of its kind for students interested in pursuing STEM careers.
To parents, I say you have an essential role in helping your daughters reach their full potential.  When I hear things like only 10 percent of girls say their parents encourage them to consider engineering (Harris Interactive for the American Society for Quality), that's so telling for me.
We must enthusiastically encourage our daughters to explore the STEM fields as career options. We must go out of our way to point out women role models who do math, science and engineering. We must help demystify the fields for them by connecting them with women who can explain what the job truly looks like, day-to-day, and who can show them the impact their jobs have on people's lives.
At Abbott, we literally change lives with the products we engineer.
People with diabetes don't have to prick their fingers dozens of times with a needle anymore, because scientists and engineers figured out how to calibrate blood sugar testing technology in the factory. People with chronic pain don't have to take addiction-prone drugs, because scientists and engineers figured out how to build a device that manages the pain instead. People are alive today because scientists and engineers figured out how to build cutting-edge stents that keep arteries clear and tiny devices that help close up holes in hearts.
What adversity did you face in your formative years and how did you overcome it?
I was one of very few African-American women in my field. Even though I was extremely fortunate to have an African-American man as my mentor during my high school engineering internship, I didn't see hardly any women who looked like me. And when you don't see someone who looks like you, that can be a signal that maybe this field isn't for you. Maybe you're not meant to succeed.
I often say I'm lucky I'm stubborn – and that being one of very few like me wasn't a deterrent as much as a catalyst for my stubborn nature. But too many women turn away from the field – even some who make it as far as to study it in college and enter the entry level engineering ranks. I want to show young women that this is a field for them. Math and science and engineering need them. That's why I'm so committed to investing in these young people, with the help of the science-based powerhouse company I work for, Abbott.
You have talked about how when you started in engineering, you "had to remind myself that the things that made me different from other engineers also gave me a perspective they didn't have and I had to dig deep to figure out what that perspective was." What perspective did you find when you dug deep?
The perspective of an African-American woman who refused to fail – who had completely different life experiences than anyone else around me.
What made you start the high school internship program at Abbott? 
A high school engineering internship changed the trajectory of my life. I very much believe in an "each one, reach one" philosophy – which means I have no choice other than to give back to young people, especially young women minorities, like myself. There are young people in school today who have no idea what engineering is, no idea what fun math or science can be – young people who, through a single positive experience, could be impacted for a lifetime.
Our high school STEM internship program demystifies engineering and science for these young people and makes it a real, viable career option. These minds will invent the next breakthroughs in life-changing technologies.
I believe that we are standing on the shoulders of giants that have gone before us and we then have to pave the way for those that will come behind us. I feel extremely fortunate to be working for a company that makes these things possible for our community.
Many of our students started at inner city schools and now, after our internship program, are attending the top engineering schools in the country: U of I, MIT, Purdue, USC, Rice. Many are the first in their family to go to college. So far, we've had almost 90 people in the program, 97 percent of whom go on to pursue STEM degrees or jobs.
You have said that your own internship at age 17 led to another one a year later, which ultimately launched your corporate career. But what about young people who come to STEM later? What can they do so they are not left behind?
The reason I reach out to students as young as 15 for our high school internship program is because the more we can open their eyes to potential STEM dreams young, the more they can explore and pursue during formative years. That said, if you discover an aptitude and passion for a STEM field later in life, that does not mean you shouldn't pursue it. The age at which you start learning is irrelevant if you truly have a passion for something.
In the end, regardless of our age, race or gender, we make our own odds. Be aware of your strengths and weaknesses; study hard; make connections with people who can teach you and advocate for you; and ultimately, sell yourself by demonstrating your aptitude in a creative way and knowing the business or organization you're pursuing inside and out.
Your Abbott STEM program is a praiseworthy private sector solution to helping diverse people access the jobs of the future. What more can the private sector do? And what about the public sector?
My sincere hope is that more companies do what Abbott is doing, investing in young people by providing robust high school STEM internship programs – and other STEM programs. Abbott has invested more than $50 million over the last decade with the goal of helping to inspire and support tomorrow's inventors who will create the world's next life-changing technologies. It's such a benefit, both to these young people, and to our company as we develop a top-notch pipeline of people who know the value Abbott brings to people's lives – and are excited to join a culture of innovation where they know their ideas could someday be on the shelf, in a doctor's hand – or in a patient's heart.
In the public sector, my hope is that our country continues to invest in STEM education. Our youth have the talent, but we still are struggling to get key demographic groups like young women and minorities to sign up for and stay with STEM classes and extracurricular programs. I believe in the value of diversity; if there aren't many people like you in your chosen field, you have the opportunity to offer a new perspective. However, we can't pretend that women and minorities don't face extra systemic barriers that may discourage them from pursuing these career paths.
Did you have a mentor and how did it help you?
Yes, I've had many mentors in my career. But the most impactful was my mentor during my high school internship, an African-American man who taught me how to troubleshoot technical issues with mainframe systems – essentially the brains of room-sized computers. But he also looked like me, and his example reinforced that I, too, could be an engineer if I wanted to.
We once heard of a woman engineer 20 years ago or more who was tossed a piece of equipment in an interview to prove that as a woman, she could assemble it. Since you were also a trailblazer in your industry, did you ever have a similar experience? How did you deal with it?
I've not been tossed or tested in that manner. I would say that very early in my career, I worked as a manufacturing engineer supporting electro/mechanical assembly operations. My projects and production lines often seemed like a heavier load. At times, this was frustrating but I learned to embrace it as a challenge. Maybe it was intended or designed to be a test but for me, successfully passing tests didn't end with college. I learned how to manage my time, how to assess the lines I supported for opportunities to help them to operate more efficiently ultimately reducing costs and risks.