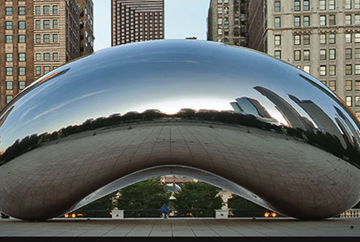 By: Dave Hamilton
July 12, 2016
The City of Chicago seems to be facing some insurmountable odds. It is considered by many to be one of the most violent cities in the United States. The Chicago Public Schools face criticism and constant cuts, having amassed a debt of $63 billion and counting. For these reasons and more, Crain's Chicago Business hosted the first "Crain's Future of Chicago Conference" on June 15. The purpose was to convene civic, business, government, and education leaders to address current problems and move Chicago into a positive future.
EDUCATION
Education was the first topic covered, and as it turned out, the basis of all that followed.
The first panel featured Elaine Allensworth of the Chicago Consortium on School Research; John Deasy, former Los Angeles school superintendent; Beatriz Ponce de León, executive director of Generation All, a citywide initiative to revitalize public high schools; Dan Montgomery, president of the Illinois Federation of Teachers, and moderator Linda Lenz, former Chicago Sun-Times education writer and founder of Catalyst magazine.
The panel tackled questions from the audience via Crain's mobile website. Topics included closing the gap between charter schools and public schools, school segregation, even a possible state takeover of CPS, to which Deasy asked, "Does [the state] have a history of doing well?"
Another point of contention was non-educational staff and high-quality teachers. Ponce de León said staffing at all CPS schools was "bare bones" and there are very few non-educator roles in the CPS system. Montgomery stressed the need to re-invest in quality teachers, to de-emphasize the current teacher evaluations, and to make a teaching position harder to acquire in the first place.
Allensworth seconded that thought, stating the loss of African-American teachers (who are more likely to teach where they are needed), stems from these evaluations. "It is easier to look like a good teacher when you have good students," Allensworth said.
Their consensus was that early education is key. Deasy and Ponce de León said it is most important in training children for future schooling. Allensworth agreed. She said high-quality pre-school is expensive, but prevention could save money.
Mayor Rahm Emanuel
Mayor Rahm Emanuel echoed many sentiments of the education panel, despite a handful of protesters who stood up and heckled him as he was introduced. Emanuel focused on CPS statistics such as an improved graduation rate (from 57 percent in 2011 to 73 percent in 2016). He said that a child falls off the college track in 3rd grade, which is why there needs to be a focus on pre-K and early childhood education.
Emanuel also slammed Gov. Bruce Rauner. "The idea that you would take your economic engine and run it down. Do you know of another governor anywhere in the country who talks about their major economic city and runs it down?"
The protesters focused on the proposed "Keeping the Promise" ordinance for City Council oversight of the Chicago Housing Authority: reconstruction, full use of housing vouchers, the sale or swap of CHA-owned land. Half the City Council supports it.
Liz Brake of the Chicago Housing Initiative (CHI) said Emanuel has not kept CHA's promise to rebuild after its Plan for Transformation. "Unless the Mayor changes course, he will deepen the City's affordable housing crisis, which is displacing people of color. Our loss of black and Latino families is why Chicago is losing population overall."
Emanuel pledged to meet with CHI leaders regarding the proposed ordinance.
ECONOMIC DEVELOPMENT
Raise Wages. That was the consensus of the economic development panel featuring Harrison Steans of Financial investments Corporation and the Steans Family Foundation; Garry Embleton, VP of global operations at Method Products; Rhymefest, Academy and Grammy Award-winning rapper/producer; and Juan Salgado, president of Instituto Del Progreso Latino. Moderator was Teresa Cordóva, director of the University of Illinois at Chicago Great Cities Institute.
Embleton praised the City of Chicago for its work in bringing Method's new plant into the historic Pullman neighborhood. Method committed to hiring and training locally, and many employees have quickly moved up the ladder, he said.
The most outspoken on the panel was Rhymefest (a.k.a Che Smith). He agreed about the importance of education, but also stressed a need for the arts. The arts can engage the community and bring business and talent to the Chicago area, he said, but all artist "incubators" are located downtown and on the North Side.
"We keep divesting from our art programs and it can be, and is, a major economic, viable pathway for young, black, Latino, white men and women all around the South and West sides of Chicago," he said.
FISCAL CRISIS
Kevyn Orr, former emergency manager for the City of Detroit, was quick to say, "Chicago is not Detroit" on a panel that also included Laurence Msall, president of the Civic Federation; Richard Ravitch, former Lt. Governor of New York; William Black, managing director for City National Rochdale Municipal High Income Fund; and moderator Melanie Shaker, senior VP with Sycamore Advisors.
If not Detroit, Chicago might be closer to Puerto Rico, Ravitch said. But the entire panel agreed the state budget impasse must end now.
"If you don't have a budget, you can't manage," Msall said. Another major problem with Chicago's finances, Black said, is using long-term debt to pay for short-term needs, essentially borrowing time and time again to move payment further down the road.
CRIMINAL JUSTICE
The criminal justice system needs reform when the number of people in it would comprise the second largest city in Illinois.
Panelist Nicole Gonzalez Van Cleve, a Temple University criminal justice professor and author of "Crook County: Racism and Injustice in America's Largest Criminal Court," told horrific stories of unfair officials. Judges are elected by the public, and she said more Chicagoans should do their research before voting.
Other panelists were Corey Brooks, pastor of New Beginnings Church of Chicago; Kofi Xola of Black Lives Matter; David Kennedy of the National Network for Safe Communities, and moderator Paula Wolff of the Illinois Justice Project.
Xola suggested a Civilian Police Accountability Council with elected members to oversee police activities in all 21 districts. Brooks, once again, pointed to poor education as a pipeline to prison and stressed that, "jobs stop bullets." Kennedy was quick to point out that Chicago is often called the most violent U.S. city, but per capita, there are more dangerous ones. He encourages the police to "Protect more, incarcerate less, and build the community's confidence in the police."
SUPT. EDDIE JOHNSON
Chicago Police Supt. Eddie Johnson started his speech with the amazing fact that since the beginning of the year, the Chicago Police Department has taken a gun off the street every hour. Johnson also acknowledged racism in the department and stressed his intolerance for this behavior.
He desires to promote transparency within the CPD and to build trust with the community. He said more counseling and social services would reduce arrests.
Change does not happen overnight, Johnson said, but CPD is at a crossroads and must take positive steps.