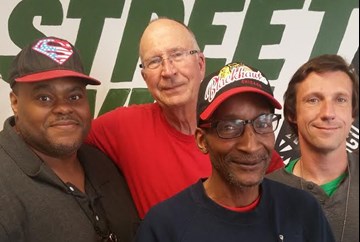 By: Staff
August 4, 2016
John: The Bulls' dynamic has changed.. They've acquired Rajon Rondo, who has been with many teams and has won a championship, and D. Wade. For the Bulls, they have a backcourt with a lot more experience, and whatever rebuilding occurs, is going to be centered on Wade or Rondo. Pao Gasol went to San Antonio and it would be interesting to see if he would have re-signed with the Bulls or still chose San Antonio if he knew Wade was going to sign with the Bulls. Personally, I think he still would have gone to San Antonio, because of Tim Duncan's recent retirement. He is able to fill a void that Duncan previously filled. Kevin Durant to Golden State is also interesting and I don't know if that will work out. The Knicks have D. Rose and Carmelo now, so it seems there are a few teams that are capable of winning it all, while the others have no chance.
Bill: It interests me that the Bulls got a coach that had a philosophy that didn't fit the team that they had, so they attempted to get a team that matched the needs of the coach, and then they get players to fill voids that they created by letting people go who are younger than the people they acquired. It may make sense, we don't know, it depends on how the Draft goes- what new players the Bulls get, how young the players are, and how many minutes the players will play. Last year, D. Wade didn't play a whole lot- he played many games, but he played less minutes. I think Rondo will be the same way. It will depend on the second guys coming in behind them, and if they can grow and mature to develop a team that can prosper. It'll create a situation in which we can move our guard, Jimmy Butler, back to his natural position where he can become a team leader and consistent guy on the court. And you can't forget they got Lopez, a big center, so that makes the Noah and Gasol loss not as bad. I don't know if it's just me, but I will really miss Joakim. I think Noah will add a lot to New York, if Jackson and the coach play the way they used to, which is to play a game that fits the players they've got.
Russell: When I first heard about the Dwyane Wade trade, I was surprised because I didn't think the Bulls were going to get him, especially with all the money these players can get. Wade agreed to two years, $47 million, and turned down a three-year, $50 million offer from the Nuggets. They have Jimmy Butler and guys who couldn't play together, and now Dwyane Wade brings championship experience and can be the new team leader. He has the capability of saying, "If you wanna win rings, ya gotta do it my way." It's going to be hard because so many people want the ball: Rondo, Wade, Butler... Rondo will pass the ball, he led the NBA in assists last year, so that could work out. It would be good to slow the game down a little bit, since everyone wants to just keep shooting without playing defense. We have a good offense but now we have to work on our defense. I know Butler plays defense and Taj Gibson is good at it too, but we need more, or else the game scores are going to end up being 145-144! Overall, I'm just worried about these big contracts and I feel like it's destroying the game. What happened to the old days when people just wanted to play ball? People used to have passion behind their game but now they just want the money, and it's hard to understand why. Look at Golden State-best record in the NBA, all these big contracts, but did they win the championship? No! Sometimes money doesn't matter, it's in the heart. So if the Bulls can get together and play together as a team, they'll be okay, but until then, "Hey Cleveland, how is it up there at the top?!" I'll always be a Bulls fan regardless what happens and regardless of if they have a good team or a bad team, because that's what being a Chicago fan is all about!