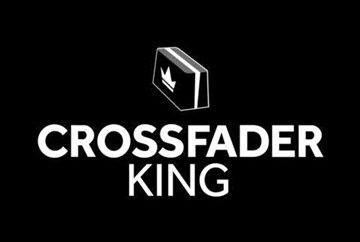 By: Brittney Langmeyer
June 26, 2013
"Crossfader King wears a couple of hats… we're a DJ agency, but not in the sense that we represent multiple individuals. We don't manage their careers. We just have opportunities and we extend them to people that we trust and care about," said Matt.
While Emilio and Matt may be the only "signed" DJ's under the Crossfader King record label, the duo sets itself apart because of their unique focus on promoting the talents of the collective DJ family; they work to make sure their fellow DJ comrades have opportunities to share their music and make a living by regularly contracting them to gigs throughout the city of Chicago.
Matt's start as a DJ happened sort of "by accident," as he tells it. "I moved into an apartment after college with a friend that had one turntable and it was kind of my first experience actually touching records and being able to scratch and get my feet wet," he said. "So I eventually bought a mixer and taught myself to DJ in that apartment."
Matt and Emilio came together in 2005 when Emilio saw Matt playing a gig at Tuman's Tap (2159 W. Chicago Ave.), a spot where Matt had become a regular and also the place that he credits for giving him his start as a DJ.
"[Emilio] popped in one night. He used to DJ at the other bar, Max on Division and Wood and he came in and basically said, 'Hey, you're good, but there are a couple things that if you worked on, you'd be a really good DJ.' So the story of our whole relationship is him challenging me to be better at what I do," said Matt.
But a few years after Matt and Emilio met, Emilio would face a heaping challenge himself when he was diagnosed with cancer. "It took [Emilio] quite some time to beat that back, but CK kind of stemmed from him not giving up and not being able to take the opportunities that were being offered to him as a DJ at the time. So he started extending them to a close-knit group of guys he trusted and I was one of those people," Matt said.
Crossfader King officially became a business – and partnership between Matt and Emilio – in 2008. The members of Crossfader King have expanded since the birth of the company and in addition to Emilio and Matt, the team also includes Business Manager and DJ Dan Wagner (DJ Shield Your Eyes), Ben Stepnowski (DJ Step) and "The Princess" Joanie Faletto, who handles CRM and social media.
A native of Hartford, Connecticut, Ben – the "Young Gun" of the group, as they playfully refer to him – joined Crossfader King four years ago as a freshman at DePaul University.
"When I came here, I didn't really know what I wanted to do with myself, but I liked being [in Chicago]. I liked the city," said Ben. "I was a freshman and I would go to venues and check out parties and listen to House and Dance music, because – up until maybe a year ago – it didn't really exist yet in the suburbs of Hartford. So I never really heard most of it before."
Ben's future became clear one night when he ventured out to a dance party at Lincoln Hall (2424 N. Lincoln Ave.) on a Wednesday night. "A lot of DJs that were playing there were big names in the city and that's the first time that I saw someone DJing and that happened to be Matt Roan," Ben said.
Ben got the itch and decided that if he were going to dive into the DJ industry, he'd need a guide. And why not Matt, since he was his very first inspiration? "I just kept sending emails to them and saying, 'How do you do this?' or 'What was that one song?' And after awhile, either they got sick of hearing from me all the time or they saw to opportunity to get someone to work for them, so they offered me an internship working there," said Ben.
"In retrospect, now that I'm a DJ, it's one of the most annoying things when someone hangs out with you when you're playing. It's like if you're in your cubicle and someone is sitting there watching you do your work," explained Ben, looking back on how he might have cooled down his approach. "But I think they realized the situation and I was just really excited. So that's how I started there and its kind of grown exponentially."
Ben is 22 now and – in a mere three years – his knowledge of DJ techniques has indeed grown tenfold and spans the gamut, from the simple skill of matching the beats of records to the intricacies of scratching to editing and producing his own tracks on his laptop. He describes his music as "based in Hop-Hop with a Dance/House music influence, infused with samples of pop culture." He said, "I like being able to take bits and sound bites of shows or things that I really loved growing up. Say I'm making a '90s mix, I'll throw that in there and make it more fun."
Ben also credits his DJ talents to his musical background; he's played trumpet since elementary school, which helps him more easily recognize certain keys of songs in order to mix and blend them together. And while he just finished his undergraduate degree in Communications with a minor in Spanish from DePaul University, his time with Crossfader King has made him sure of his future career as a professional DJ.
To teach a younger artist how to navigate through DJ tools and techniques takes a great deal of time, but Matt asserts the Crossfader King mantra that it's not about the money or self-gain and all about art. "I know that if people had not given me the opportunity, I wouldn't have any clue as to how to dig into this world. So this was our opportunity to get involved and help build those DJs' careers," said Matt.
"And we're really dedicated to our clients," added Matt. "We're beholden to them first, so we work with venues and help them book DJs. Then we make sure that the DJ feels confident when they go in [to play], that they do a great job, that they look the part, that we get them to resources they need to make [the whole event] run smoothly and make sure that our client is happy with the music."
In a city like Chicago, Matt adheres that it's a tough scene to crack namely because of the small number of venues and ever-growing number of DJs looking for work. That's why a contracting agency like Crossfader King is so essential, because they help professional DJs find work and make a living.
"In a sense, the opportunities are less… but I think if you do come up and figure out a way to make it in Chicago, it's impressive. [DJing] as a career is a truly challenging thing, but that's where Crossfader King steps in. We're trying to do this for the rest of our lives," said Matt.
In a city where so many successful people have had to pull themselves up from their bootstraps, working DJ's are no exception. "I feel like [because] Chicago is a blue collar sort of town and I think that [DJ's] who are actually good enough have to prove that they have the skills to get it done," Matt explained.
And CK isn't done yet; they have many and more plans to keep growing and further deepen their House music footprint into the cracked streets of Chicagoland by working more closely with the owners of top venues. "With the help of our talented business manager, Dan Wagner – who also DJs and makes music under the name "Shield Your Eyes" – we are going to try to really start picking clients and getting involved in some of the other big restaurants that need this music solution," said Matt. "It's one thing to book a DJ, but it's another thing to book a month of DJ's for three nights a week. CK handles all of that."
While they book their circuit of DJ's to many renowned clubs in the city, they also make note of the progression in the state of House music as it is today. "[Just] in the last year or two, there's been a huge Progressive House takeover of the clubs, the radio. Dance music is at an all-time high," said Matt. "I feel like this kind of cooler, hipper Deep House sound seems to be what a lot of the new producers are making [and] the people who are new to dance music are enjoying. [Plus], pop music is becoming so dance-centric that you can get away with playing deeper stuff, because it sounds like stuff they know."
Though the lovers and listeners of House music try to block out "haters," DJ's often have to address the critics who claim that making music on a computer isn't really true musicianship. "When I'm trying to make music and remix new stuff, I have a mini-keyboard and I'm playing chords and taking down melodies. It's an extremely difficult process," said Matt. "And it takes a lot of time to figure out what it takes to make something sound great. [It takes extreme] engineering experience to do that."
Ben emphasizes that the euphoria that the job of a DJ can bring overshadows any fleeting criticism. "Genuinely, when I first saw Matt DJ, I thought, 'He's making everyone's night right now.' People are going to leave here and think, 'For one night, I can forget about all the stuff that happened today and I can just be in the moment.' That's literally the best part about the job," said Ben. "Because you're basically taking everyone on a journey for the night and getting paid to change people's lives."
The DJ's of Crossfader King plan to continue on their live-changing, bass-thumping, party-rocking mission of keeping fellow DJ's on the path to success while also continuing the tradition of House music in Chicago. "House music is growing exponentially as far as output. Every day, I'll go on SoundCloud and I'll see 60 new songs just uploaded in the past hour [tagged] as 'House' … because [almost] everyone has the tools [to make this music]," said Matt. "House has democratized music in a way that I don't think we've seen before and it's only going to continue to grow."