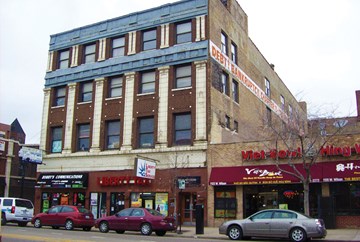 By: Ethan Ross
May 15, 2013
Two cubicle hotels – one downtown and one Uptown – are some of Chicago's most affordable housing options, and both are threatened by a proposed Chicago City Council ordinance.
 "Leave these guys alone," said Michael Bush, manager of the Ewing Annex at 426 S. Clark St. "They need this. They need this house… We're serving a big purpose. Just like we did in the past, in the '20s. People are working but they're still poor. They're not getting 40 hours a week."
The cost to live in a cubicle at the Annex is $15 a day, $90 a week and $300 a month—an affordable rate for the local work force in area restaurants and stores, he said. Larger, enclosed rooms are also available for an additional cost. Many tenants are disabled, having been placed there by organizations such as Thresholds, Sisters Outreach and Salvation Army. Others are retired. Students of traditional age from 11 area colleges also reside here. Of the 210 rooms, all but nine are in use. Some tenants have lived at the Annex for over 30 years. The average stay is eight years.
The Annex was formerly known as the Working Man's Exchange—the home to not only weekly tenants, but the location of city council meetings, film shoots (Batman), and more recently, a site for historical tours, Bush said.
"When I first took over, I tried to relocate some of these men, because they qualified for a senior house," Bush said. "A couple of them came back. Said they didn't want to live there. They had friends here. They liked it here."
The Annex management is working with the Chicago Coalition for the Homeless (CCH) in hopes of fighting the ordinance. They, along with many veterans who reside there, intend to visit the Chicago City Council Committee on Zoning Landmarks and Building Standards to oppose the ordinance once it is called for consideration.
In the past few months, the Annex has installed new windows and renovated its electrical system in the cubicles with new circuit breakers.
"It's clean in here," Bush said revealing a white bathroom shared by 16 men. "People call this their home, so they don't want to trash the place."
In response to city allegations Bush said, "We dance to the city's music. They come in and say, 'This is the wrong light bulb, you need to change it.' We change it. 'This is the wrong door,' then we take that door down and put the right door in."
Tyrone Boulware, a four-year resident of the Annex, realizes he may be forced to look for a new place soon. "Me being a veteran," Boulware said, "I have options. Either I'll end up in one of the vet buildings, or senior housing." But "some people don't [have options]. They'll end up in the street."
Boulware feels "comfortable" and independent in the Annex. "This is our house… We come and go as we please… It beat being on the street. When I go back there and I fall asleep, I don't be looking over my shoulder. I don't need a bunch of people around me so one of us can stay up."
"Why you wanna displace people?" Bush asks. "They work in the area. I enjoy the area, I enjoy living here."
If the Ewing Annex were to close, 44 percent of its residents would be homeless, according to a CCH survey of 100 men living there. Of those remaining, 21 percent said they were unsure of their plans, 13 percent said they would move somewhere else and 13 percent had no answer. Another 5 percent would move in with a friend and 3 percent said they needed help.
The largest demographic of those surveyed at the Annex is black (67 percent) and then white (22 percent), with 6 percent declining to answer and the remainder divided between Asian, Latino and "other."
Men ages 50 to 59 are the largest age group (41 percent) followed by those under 49 (28 percent) and those 60 to 69 (14 percent); the remainder are over 70 or declined to answer.
Twenty-three percent of the Ewing Annex survey respondents are employed and 29 percent are veterans. Exactly half of them receive SSI disability payments. However, more than half said they had some disability: 20 percent cited a mental disability, 19 percent a physical one and 14 percent said they had both.
The Ewing Annex Hotel and the Wilson Men's Hotel, 1124 W. Wilson Ave., are the only remaining cubicle hotels in Chicago. In the 1920s and '30s these hotels, and many others, served as temporary housing to workers of the Stockyards, factories and steel mills.
Each cubicle in the Wilson is 6-by-9 or 6-by-10 feet with chicken-wire ceilings separating one from another. The Ewing Annex Hotel rooms are a little smaller. Some cubicle rooms are slightly raised above the ground, forming a gap between the walls and the floor. The restrooms are communal and shared by all men on a floor—sometimes as many as 60.
Duane Rajkowski, desk clerk and resident of the Wilson, has lived there since the '60s when the rate was $1.50 a day and $33 a month. "It was the cheapest rent on the North Side," said Rajkowski. "We had anybody and everybody." He remembers in the '60s, '70s and '80s when day laborers lived there to do "the jobs no one else wanted to do."
Now that day labor has moved to the suburbs and immigrant neighborhoods, the remaining residents of the Wilson are mostly those with disability payments of about $710 a month or those who work minimum wage jobs at local businesses.
"When these kind of places started disappearing left and right, the Wilson [went from] being a day-labor dormitory type of setting to more of a residential apartment hotel," said Jason Metzger, a StreetWise vendor who has lived in the Wilson Men's Hotel for 12 years. "They're really not made to be apartments at all." Jason plans to work with StreetWise to find a new home should the hotel be shut down.
Other tenants of the Wilson have similar fears. John Perry is a three-year resident who relies on Social Security.
"I'd be on the streets," if it weren't for the Wilson, Perry said. "Because I'm on Social Security and with the rent being…as high as it is, I couldn't afford anything other than this place here. Rent's only $280 a month so can I afford that with the other bills I have."
Both Perry and Metzger said they feel that Ald. James Cappleman (46th ward), co-sponsor of the ordinance, is motivated to close the hotel because he believes it to be an "eyesore."
Tressa Feher, Cappleman's chief of staff, told StreetWise in a telephone interview that the alderman wants to get rid of what she called "cage hotels," because they were grandfathered into the city's current building codes.
"He wants to bring all residences up to the same standard," Feher said. "He doesn't feel that because someone is low in income they should be living at a lower standard than everyone else in the city, in cages."
Ray Sailor, a 10-year tenant of the Wilson, would also face a housing predicament should the hotel be closed. "I only get Social Security," Sailor said. "$630 a month, so I can't afford to pay some of these studios, they want $600 or $700 a month… They'd take everything I got."
Sailor has been on the waiting list for senior housing for years. In the meantime, he believes the Wilson is his only option.
Currently, the Wilson is struggling to keep its residency up, and the remarks made in a January Sun-Times article that the Wilson and Annex are "sub-standard" and "downright dangerous" likely deterred potential tenants.
Cubicle hotel residents Rajkowski, Metzger and Bush said they were mostly offended that the coverage referred to historic information – deaths at the Wilson during the 1995 heat wave – rather than the current situation.