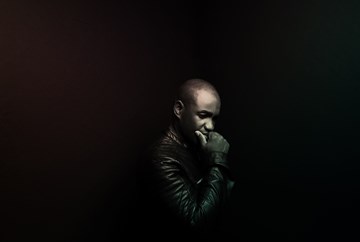 By: Suzanne Hanney
February 26, 2018
It seemed to international opera star Lawrence Brownlee that cases of deadly force against African-Americans – Trayvon Martin, Sandra Bland, Michael Brown -- were in the news almost weekly.
"As I've watched men of color endure undeserved aggression, incarceration, brutality and even death, I've been forced to consider what it means to be a Black man in America today and how we as a people are viewed and treated," he said in a telephone interview.
Then in 2014, while the tenor was singing in Los Angeles and driving a rented car, he had his own Black Lives Matter experience that informed a recital he will perform in Chicago, Philadelphia and New York.
Brownlee had moved out of the way of an ambulance just as he was about to make a right turn at an intersection. Since Brownlee was following his GPS, his car was slightly angled in the crosswalk when a police car approached. The policeman had not seen the ambulance but he noticed Brownlee, a Black man, at the wheel.
"He yelled at me in quite an upset manner to pull over and I did, and kept my hands at 10 and 2." Then he procured his driver's license and rental agreement, Brownlee said.
"He came to me and said, 'what is wrong with you, what are you doing?' And I explained I had to move out of the way, I am not from here, I was following GPS."
The policeman took Brownlee's information, found out Brownlee was in the clear and threw his papers back in his face.
The cop tried to reduce Brownlee to nothing but, "I know I am worth something. I made a decision to let it slide."
Indeed, Brownlee has a master's degree in music, he's traveled to 40 countries, sung before presidents and kings, and in the major opera houses of the world (Lyric Opera of Chicago, New York, London, Vienna, Berlin, Milan, Zurich, Paris, Madrid, Barcelona, Salzburg) and been Grammy-nominated.
"I am still here today and not in jail because someone who came to me on the wrong foot tried to provoke me. I felt I had to be smart. I am the father of two kids and want them to have a comfortable life, respect the laws of the land. But I feel he would not have done it if I were a 50-year-old, gray-haired white man in a Mercedes Benz."
Brownlee kept notes about his police encounter, which informed "Cycles of My Being," a recital intended to speak to "the day-to-day life of a Black man in the United States, and the thoughts and questions he experiences as he moves through the world." The piece will premiere with Opera Philadelphia February 20, and then in a one-night-only Chicago performance at the DuSable Museum (740 E. 56th Place) at 7 p.m. February 22. Its New York opening will be April 24 at Carnegie Hall.
"These are divided times," Brownlee said in prepared material. "But the goal of this piece is neither to widen those rifts, nor to reopen old wounds; the goal is to foster mutual respect, understanding, and communication across races and generations. History unfolds in cycles and with this work, we hope to balance the stark challenges of our present reality with a resolute resilience and an unwavering hope for a better future."
Brownlee explained, for example, that he is proud of the U.S. Constitution. "If what it says applied to all of us equally it would be so much better. I hope we're going in the right direction."
Brownlee, whom the Associated Press described as one of the world's leading bel canto (Italian for beautiful singing) tenors, collaborated with MacArthur genius grantees Tyshawn Sorey, composer; and Terrance Hayes, lyricist, to bring the work to the stage. Hayes noted in prepared material that President Trump's first 200 days in office inspired his work on "Cycles." Co-commissioned by Lyric Unlimited, Carnegie Hall and Opera Philadelphia, the latter was a natural first stop for the work because of Brownlee's role there as artistic director, with a mission to broaden the audience for opera. 
Right now through February 28, he is starring at Lyric Opera of Chicago in Vincenzo Bellini's "I Puritani," set during the English Civil War. Lyric describes it as "a 17th century Romeo and Juliet – with a happy ending."
Bel canto is challenging, even athletic, because the singer must hit high musical notes without amplification. But Brownlee said that singing gospel for his choir director father prepared him because it required him to run up the musical scale and to improvise riffs, so that he can make the same treatments fresh today in the opera genre.
Brownlee first gained attention with a church solo at age 12. The response was so overwhelming it embarrassed him, especially since he had two older sisters. But people continued to push him throughout high school and a program for gifted music students at Youngstown [Ohio] University.
Then, in 1994 during the summer of his freshman year, he discovered bel canto was perfect for his voice. And after the Three Tenors (Luciano Pavarotti, Placido Domingo and Jose Carreras) performed live at Dodger Stadium, he sang along with their tape in his car.
More recently, Operawire.com called both him and the late Pavarotti "Kings of the High C's" for their ability to hit those notes. And the International Opera Awards named him "Male Singer of the Year" in 2017.
As an artist, Brownlee says he wants to believe that bel canto composers like Bellini would have written operas for a voice like his, even if he is not European.
"Human interaction crosses all ethnic and class barriers. And the music is so beautiful and compelling, it doesn't matter what color you are."
Tickets are $15 at lyricopera.org