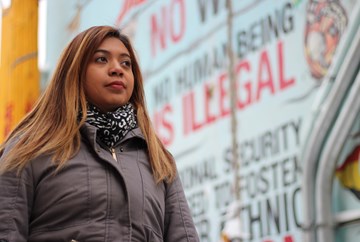 By: Suzanne Hanney & Wendy Rosen
March 26, 2018
Andrea Aguilera is a 21-year-old DACA (Deferred Action for Childhood Arrivals) recipient, a Dominican University student pursing a degree in sociology and Women and Gender Studies. Andrea came to the U.S. from Mexico as a 4-year-old with her mother and two older siblings to join her father, who had come to Chicago with the family business.
DACA was set to expire March 5, after President Trump put a six-month expiration date on President Obama's earlier executive order. However, on February 26 the U.S. Supreme Court delayed action for up to a year when it sent a DACA case back to an appeals court in California.
Andrea renewed her DACA papers five months ago – the third time since she has been here – so she was already set for the next two years. But when she was in seventh grade, she watched her older siblings ponder their futures.
According to the U.S. Department of Education, only 5 percent to 10 percent of undocumented students pursue higher education. No federal or state law prohibits admission of undocumented students to public or private colleges, according to the College Board, but they cannot access federal financial aid.
The summer after high school graduation, Andrea did not know where she would go. But Dominican University was one of her top choices and also welcoming of undocumented students. Erie Neighborhood House helped her get scholarships and to connect with a private donor who helped with the $30,000 tuition. Dominican let her pay her enrollment fee after the deadline and attend the very last orientation.
Andrea has continued to help students with academics at Erie Neighborhood House and to be an overall role model/mentor. Last summer she was hired as the GoCPS application coordinator; she worked with all Chicago Network 4&6 schools, and Erie participants, to fill out high school applications.
She is also president of the Dominican Immigrants' Students Collective, which meets weekly at the university to raise money for scholarships for undocumented students. She helped organize a rally and press conference and went to Springfield to advocate for a bill that would allow public universities to give grants to undocumented students.
In December 2016 she participated in the "Dreamers Without Borders" program that took her back to Mexico for the first time since she was 4;  she was able to meet family in Guanajuato.
Being in her situation can impact mental health, "which is why I try to stay away from negativity," she says. "I am here and I am here to thrive." That's also why she is helping a friend with a campaign that focuses on the good things about immigrants and the things that bring them joy. Their YouTube videos carry the tagline, "Define American."
After telling her story to media during her senior year of high school through Erie Neighborhood House, Andrea considered a career in photojournalism, but then realized her true passion was social justice: "fighting for what is right, fighting for basic human rights that everyone deserves, being a voice in the community that doesn't have that voice."
Since President Trump first announced his intentions on DACA in September, "I try not to look at the news because I do know it might be gone forever. I was thinking what am I going to do after I graduate. Will I be able to work, to fulfill my career? Sure [I am afraid of being deported], but that is not the only thing on my mind.
"I love Mexico and that is my hometown. Going back in December 2016  we went a few places where people built themselves from the bottom up. I felt good; if anything happened, that would be a place to go to.
"But this is my home. I don't know if I see myself in Mexico. Maybe to visit but this is where I grew up, this is where I see my future. Maybe to retire in Mexico, that's the only part I see in my future."