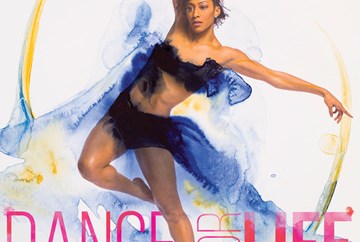 By: Suzanne Hanney
August 6, 2018
Begun as a response to the HIV/AIDS crisis, "Dance for Life is in the business of taking care of our own," says Harriet Ross, a founder. "That's the proudest thing I can say. We take care of our own and create a beautiful artistic event, the likes of which is not seen anywhere."
The 27th annual Dance for Life will be 7:30 p.m. August 18 at the Auditorium Theatre of Roosevelt University, preceded by a gala reception at the Hilton Chicago (see sidebar). Proceeds go to the AIDS Foundation of Chicago and to The Dancers' Fund, which now offers assistance not only to those with HIV/AIDS, but with other health crises and the issues that arise from them. These health issues could be acute, such as an injury; or chronic, from a condition like diabetes, said Kevin McGirr, president of the board of directors of Chicago Dancers United, which oversees The Dancers Fund.
"Let's say you're strapped because you're no longer getting a weekly paycheck," said Phil Reynolds, executive director of Chicago Dancers United. "You have health bills, car payments, rent payments. We'll help you out in whatever way will make you more resilient and get you back on your feet -- literally -- and moving again. Ultimately our vision is to sustain a healthy community for dance in Chicago."

Many young dancers cannot afford health insurance, Ross and Reynolds said. While the major dance companies provide insurance, many smaller companies do not. And still other dancers work as independent contractors. Over time the fund has expanded to include not just dancers but others in the industry: piano accompanists, backstage people, lighting directors and more.
"We don't think of it as charity," Ross said. "We think of it as the right of young artists to participate in the world of dance. We wanted to make sure we were an insurance policy. We were insuring them so if anything happens we will be there. And we are always there."
Applications are intentionally kept simple, Reynolds said. "If someone needs help all they really need to do is demonstrate that they are in fact working professionally in the field of dance here in Chicago, what the health issue is that contributed to their stress, and how we can help."
The application is then reviewed by a committee of the board of directors. The committee aims for a turnaround of two weeks or less before paying the bills, McGirr said.
One of the thrills of serving on the board, he said, is knowing that they have created a structure to aid dance professionals in a career that can be short by nature. "They have given up a great deal by choosing a career that is very physical but also artistic. They are athletes but also artists."
The annual limit to each dancer is $4,000. Last year, the Dancers Fund made 11 grants and its officials would like to do more, Reynolds said.
"One of the things we're challenged with is knowing there's need out there. Sometimes it's hard for people to ask for help."
The Dancers Fund is replenished each year by Dance for Life, which has been a success from the very beginning, when Keith Elliott came to Ross with the idea. Elliott was a student and a member of the Joseph Holmes Chicago Dance Theatre, of which Ross was associate director. She was later general manager of the Joffrey from its beginning in Chicago in 1995 until 2006.
"In 1991 they were dying all around us," she said. "Basically we were just saying good-bye to most of the males in the company. It was a bad, sad situation. And we were helpless. There were no medications, there were no answers. It was mysterious and there was all kinds of bad information out there about what caused the disease. We were all feeling very defeated. When Keith came to me with the idea of putting on a concert, I thought 'This is useless, but we need something to feel better.'"
Elliott obtained the participation of the Joseph Holmes company and Ross used her contacts to draw Chicago's two major companies at the time, Giordano Dance Chicago and Hubbard Street Dance Chicago. The latter could not participate because it couldn't get out of a contract, but its dancers voted to donate one day's salary.
Giordano and Hubbard Street became annual participants in Dance for Life. After it located here, The Joffrey Ballet became the third partner company that performs each year.
The inaugural benefit resonated with the dance community because every company had faced the same situation, Ross said. "They had to do something and this was what they could do. They had no money. Dancers don't – ever. All they had was their ability to dance."
River North Dance Company, Joseph Homes Chicago Dance Theatre and Muntu Dance company performed at the inaugural Dance for Life in June 1992 at the Organic Theatre. Ross and the other organizers were shocked to sell out the 400-seat theater and all the event T-shirts.
The next year was again a sell-out at the 900-seat Athenaeum on Lincoln Avenue. Ditto for the third year at the new Skyline Stage on Navy Pier, even with 100 portable chairs added to its 1,200 seats.
In its 20th year, Dance for Life went to the Auditorium Theatre. "We not going to find a bigger venue, so we stayed," Ross said.
Over the years, Dance for Life has raised more than $5 million: "money that was raised by poor dancers who didn't think they had any power," Ross said. In a city that now has about 200 companies, it is perhaps the major dance event of the year. Not just a fundraiser, Dance for Life is a chance for people new to dance to see six or seven companies in one night. It is also a networking event for dance professionals, McGirr said. In particular, he mentioned the annual piece choreographed by Randy Duncan that features around 20 artists, both freelancers and members of diverse companies, large and small.
Camaraderie is the essence of what Dance for Life creates, Ross and Reynolds said.
"There is nothing like Dance for Life happening anywhere else," Ross said. "This is something Chicago and its people created because we are unselfish and have such a sense of community."
"What makes Chicago unique is that sense of community and that we're in it together," Reynolds said. I believe that Dance for Life and the Dancers Fund and all the work Chicago Dancers United does contributes deeply to that and has for 27 years."
As Dance for Life brings dancers together to ensure the health of their community, you can see the emotion, Reynolds said.
"This is the only event in the year where our most prominent dance companies take the stage with many small- and medium-size companies, so it becomes a real demonstration of how broad and diverse our dance community is here. You can see the energy backstage. They're not in their dressing rooms. They're all in the wings watching their friends perform. It's such a great event. There's nothing quite like it. It's a rollicking good time, an excellent evening of dance. The energy, the enthusiasm. The love, the care that is backstage that night is wonderful."