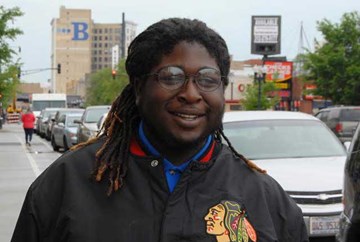 By: Caris Bing
June 15, 2017
I came to StreetWise a year ago after living in Florida for some time. I was born and raised in Chicago, and even though I have been to 33 states, I always find my way home. I was living in a shelter when I got back from Florida and needed help finding work. The people at the shelter referred me to StreetWise and ever since I enrolled in STEP, I have received a lot of assistance with building the necessary skills to find employment.
Going through the STEP program has allowed me to land various employment opportunities such as warehouse work, retail at Garret's Popcorn, and different labor services. I appreciate the flexibility that these jobs offer, whether permanent, part-time, or temporary. It's all a matter of taking in your options and pinpointing what you are looking for at the time.
In order to find these job opportunities, StreetWise helps me edit my resume and practice my communication skills. The biggest challenge I faced after coming back from Florida was interviewing and talking about my skills and achievements. I am not a very talkative person so interviews and talking to people is difficult for me. Through STEP, I have learned more about interview preparation and am now more comfortable during interviews because I can predict the types of questions I will receive. By practicing, I develop strong answers that make me feel even more prepared. My most important takeaway from my experience with StreetWise is the importance of developing communication and people skills. These skills are what land the job.
I plan to stick with StreetWise because the programs offer opportunities that I would never encountered in the past. I believe it is better to get help when it is offered and to remain dedicated so you can have guidance throughout your journey to success. You are much better off having that stable support so you can continue on a positive path rather than fall off and need assistance later. It could be too late at that point. Overall, StreetWise has been 99% helpful in my professional and personal growth—I say 99% because I believe there is always room for improvement. Nobody is perfect.
In the future I would like to become a certified contract worker and start my own contracting business. I am currently doing small labor work. In the past, I have done snow removal, demolition, plumbing, and installation of natural gas lines. Through these job opportunities, I have gained a lot of experience, but I want the chance to be certified to further my skills and expand my possibilities for the future.
An interesting fact about me is that I love all genres of music such as country, rap, hip-hop, R&B and gospel. I record, make beats, play the keyboard, and play the drums. I do anything dealing with music and its technology. If I can't do it, I'm going to try and learn. I am passionate about audio-video production. If my goal of starting my own contract business does not work out, I'd like to take the time to further my music. For me, it is not very important to be famous, it's about making the music. I'd be perfectly happy with being recognized in the local community. As long as I am making music for people who enjoy it, I will have succeeded.