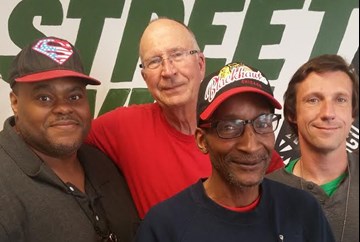 By: Staff
July 19, 2016
Russell: I'm not sure how it's going to affect the Bulls, it didn't hit me as hard as many people thought it would. I watched Derrick Rose as he grew up and I'm really proud of the guy- he's done a lot. He won championships, he took his college team to the NCAA Finals, and then he got drafted by the Bulls. Chicago has been really tough on him, and this city was expecting too much from him. He won MVP, he got the Bulls to two NBA records as far as wins, and then he got hurt, and it was decided he was no good anymore. People forgot all that he was able to accomplish for the Bulls. I think the Bulls will be okay, and no one will beat Cleveland anyways, so it doesn't really matter! It's not about the trade, it's about how you finish the trade.

Vince: At first, I thought that I was cool with the trade, but now that it's been a while, I'M PISSED OFF! I am irate, I am furious, I am mad at the Bulls forever! This is stupid. First of all, the Bulls have not had a superstar since Michael Jordan, and Derrick Rose is the first superstar since. Everybody says Jimmy Butler, and he's a great player, but I'll be honest with you- he's very overpaid. He is a 21-point scorer, he's a B guy and definitely not the A guy on the team. He's a very good B-guy. Scottie Pippen was a B guy, a very good one. Derrick Rose and Jimmy Butler needed to learn how to be the A guy and the B guy, but they didn't and that was the problem. I wouldn't feel so bad if the Bulls got something of value, but Robin Lopez? He looks like Sideshow Bob from the Simpsons with that hair, man! Lopez has been in the game for nearly 10 years and hasn't done much. The guy can't bust a grape in a wine factory. The Bulls let go of Derrick Rose and essentially got nothing in return. I'm not happy.
John: I don't think the trade is going to affect either team too much. The Knicks have a "me" guy already in Carmelo Anthony, and now they have another "me" guy in Derrick Rose. Two "me" guys on the same court at the same time is going to cause them to whine about who lost the basketball. There will be more battle about that than playing as a core team. If the Bulls would have gotten Jeremy Lin out of the trade, then maybe it would have been a decent trade.

Russell: I must say, part of me is very upset, but it is what it is. Rose is in New York now and I hope the man does well. I'm a big Derrick Rose fan, but not a Knicks fan. I wish him well and I wish the Bulls well. I don't know what the Bulls are going to do because they don't have a team right now and they traded away the entire court. We will see what happens and it should be interesting.
Vince: I may always be a Derrick Rose fan, but I will never be a Knicks fan- It's not happenin', Captain! But if the Knicks are able to find someone who can pull off possibly getting Rose, Carmelo Anthony, Noah, and Kristaps Porzingis, who is 7'3" and plays a Power-Forward, then things may get interesting. In that case, we'd be talking about a team that could possibly threaten Cleveland, with the right backup squad, in the Eastern Conference Finals.
John: All that matters is that if LeBron James stays in Cleveland, the Cavs are the team to beat, especially in the East. I cannot see any possible way that any team is going to beat Cleveland with a healthy LeBron. There's no way that the Knicks can upseed them.