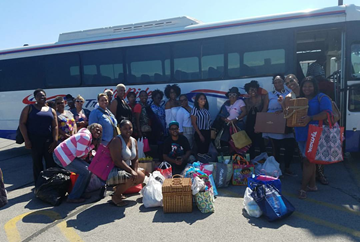 By: Suzanne Hanney
May 7, 2018
Tameka Grant follows the conventional wisdom that "'you could pay more but why?' And while rummaging in wealthy neighborhoods may bring some big-time scoring, you can also get a bang for your buck in not-so-favorable neighborhoods, so don't count them out."
Grant's rummage "finds" have included couture shoes by the Italian designer Giuseppe Zanotti, whose designs are hand-sketched, hand-finished and embroidered, inscribed with his signature. She's also found a Gucci Boston satchel, a two-piece Fendi knitted skirt set, a Sonia Rykiel blouse, $300 Rag & Bone pants (for $2!) and a king-size Victorian bed set.
Stores where friends have scored include the Salvation Army at 4052 W. Grand Ave., with its Wednesday bag sale, priced by the pound. Grant also recommends Crookid Kiss, 65th and Cottage Grove; Upscale Downscale Resale Store, 76th and Jeffrey; Sole Resale at 2413 W. Madison St. and Silver Umbrella consignment boutique at 5305 S. Hyde Park Blvd.
Grant, a mom of two, is the creator of the Sassy Thrifters social media platform, as well as the design specialist at Sassyriez and brand ambassador of Hand Candy Couture, a mentor, influencer and fashion blogger. She's also a foodie and a world traveler.
Grant lives a life of fabulousness and opulence, and she wants people to know you don't have to break the bank to join her.
"My mission is to dispel the myth that thrifting is a poor man's sport," she said. "That's far from the truth. Anything and everything you want you can find at a thrift store or rummage sale to have the quality lifestyle you want."
Shopping this way, she says, shows savvy thinking: a consciousness of recycling and of strategic spending to build a better life. 
"Don't put all your hard-earned savings into material goods. You can take that $2500 you would have spent on a Gucci bag and get your credit up, put your kid in an after-school program. Build your legacy and be as proud as if you went to Saks."
Buying items all over and selling them online is also a profitable trend, she says. She once made it her mission to purchase only blouses at a $15 bag sale in a resale shop. When she got home, she Googled the 20 labels inside and found she had scored about $2,500 worth of clothing.
Internet research like this helps people to set prices for lightly used items they would resell, on websites such as eBay, Poshmark and thredUP, she said.
Or, you could try your hand selling goods at Sassy Thrifters' live "Fleek Market" every other month, where the public can rent 10-foot by 10-foot spaces. The group builds excitement for the market by following a theme, from "spring fling" to Mardi Gras. Food vendors sold Creole cuisine at this market and a live marching band played New Orleans-style music.
Sassy Thrifters is testing locations and may do an outdoor Fleek Market in June. Details will be posted at www.sassythrifters.com
Hot items to sell right now, Grant said, range from oversize mirrors, paintings and candles to picture frames, high-end purses, glassware and jewelry. Anything "retro" – cameras, typewriters, record players – will also move. Individuals buy them for their personal décor and so do photographers, to use as props.
Shooting your own clear photos of items for sale is the first tip Grant has for resellers: a white summer ensemble on a darker background, for example. And there should be no clutter.
Social media promotion comes next, on Facebook, Instagram or whatever platform you regularly use. You can build excitement ahead of time, Grant adds, by posting a video as you head into a sale with the tagline, "Stay tuned…"
On the actual sale day, merchandising counts. Clothes should be clean and folded neatly; don't use wire hangers. Signs should answer all questions about price and size.
But if a shopper has a question, answer it with a smile. Good energy makes you approachable.
Keep a mix of cash on hand. And don't be afraid to bundle items at one price when people make a large purchase.
Bundling items also works for rummage sale shoppers. Grant's other tips include:
• always have bags in the trunk of your car
• carry a screwdriver in case you have to disassemble something, plug it in and test it
• bring bug spray if you are afraid to bring an otherwise great item into your house.
The Sassy Thrifters Facebook page allows members to boast about their bargains – and to tip off other members. A Sassy Thrifter "gets HIGH on LOW prices…makes frugal look fierce and doesn't give the public a clue "that she may have spent absolutely nothing because she's creative, crafty, and posses the ability to flip it with flair," Grant says on the Sassy Thrifters website, in a quote from author Toni Bailey.
Grant started the social media platform in April 2015 with thrifting-in-Chicago bus tours. Now Sassy Thrifters has 30,000 followers and has evolved into so much more. There's four subgroups on Facebook: Sassies Travel; Sassies Read for book club meet-ups; S.W.E.A.T for fitness and Sassies Care for philanthropy and resources.