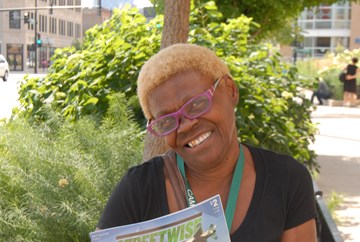 By: Madeline Cohen
September 19, 2016
I sell StreetWise on Foster and Sheridan in front of Mariano's. I've been selling StreetWise for exactly a year on the 23rd of July. I first started selling last year down at Target, but I was also at a Starbucks on Lawrence and Broadway. Now they're doing construction at that Starbucks so I'm not able to work there, but once they finish their construction, I'm going back. I didn't notice any real difference between working at my different locations.
I was initially raised in Mississippi. I first came to Chicago when I was 5, but then over the years I went back and forth between Mississippi and Chicago.
One day, I hope to get a position working at StreetWise. I love being out on the street meeting different people every day, but I also would like to work here at StreetWise because I love everyone here, the whole staff. These people are my family, and they give me so much support. I first was brought to StreetWise by one of the other vendors-- we call her "V." She had befriended me because we were in the shelter together and she told me that she did StreetWise. She invited me to come to the office and sign up for it too. I hesitated a little bit, but she told me I could choose where I wanted to work. I thought about it for about five days, and then I came to StreetWise. And I passed the test. My secret for selling StreetWise magazines is that you need to have patience and understanding, because there are some people out there who are very friendly and there are some out there who are very hateful. To them I say, you do what you do, but I'm selling StreetWise and I love it. I love my job. I'd like to tell my readers to keep buying StreetWise, stay loyal to me because I'm going to be loyal to them. And I'd like to let them know that StreetWise really is the best place in the world.   
UPDATE: After a year of struggle, only two weeks after this interview, Diane moved into her very own apartment! She is currently obsessed with decorating and planning a housewarming party. If you see Diane, make sure to tell her congratulations!