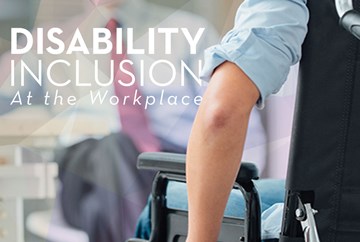 By: Suzanne Hanney
July 31, 2017
Being able to hold a job can keep you from being homeless. Work is also a way to connect with other people, to preserve a sense of self-worth and to feel like a contributing member of society.
The Americans with Disabilities Act (ADA) is a federal law passed in 1990 that prohibits private employers, government agencies and labor unions from discriminating against people with disabilities. Instead of the old view that people with disabilities should be shunned or shut away, it is civil rights legislation to help them live their lives to the fullest.
But employment still lags for people with disabilities. For example, 75 percent of Illinoisans ages 21 to 64 are employed, but the number of working people with disabilities is just half that rate.
The Chicagoland Business Leadership Network is a legacy of ADA25Chicago, a yearlong initiative that leveraged the 25th anniversary of the ADA to expand disability inclusion in Chicago. The CBLN was relaunched in 2014 and is affiliated with the Chicagoland Chamber of  Commerce and the U.S. Business Leadership Network. Its members are mostly large national and international businesses, such as AT&T, Allstate, Blue Cross Blue Shield of Illinois, BMO Harris, Comcast, Deloitte, EY, KPMG, McDonalds Corporation, Northern Trust, Walgreens.
The CBLN gathers experts and recommendations so that companies can become more inclusive not only in their workforce, but also in terms of their customers with disabilities and in terms of businesses owned by people with disabilities that are part of their supply chain.
"What we're trying to do is bring businesses together to share best practices, to create a network, to talk about strategies that work toward increasing disability inclusion and to employ more workers with disabilities," said Laura Wilhelm, CBLN director.
"We want businesses to build disability inclusion strategies within their organizations not just because it's the right thing to do but because of their larger business strategy," Wilhelm added. "Disability inclusion makes sense for the businesses' ROI [return on investment]. The way we talk to our members and the reason they want to participate is that they see disability inclusion as a piece of their larger diversity strategy. They understand the value of diversity broadly. Diversity is valuable for a lot of different reasons: different perspectives, different ways of looking at things."
One challenge is that disability is a broad category: from people who use a wheelchair to people with visual impairment, chronic illness, intellectual or developmental disability.
"It's absolutely not a one-size-fits-all approach," Wilhelm said. "That's why there's real value in bringing businesses together to talk and share what they're doing, what works and what doesn't. There's real value in networking, partnering, rather than trying to do it alone."
The CBLN has hosted two annual Disability Inclusion Opportunity Summits, with a third planned for October 13. Topics covered have ranged from "Buy-in at the C-Suite Level," or getting cooperation from chief executives, to working with university career services to find stellar job candidates with disabilities, to the challenges and successes of working with veterans.
Although employers and human resource personnel were a large part of the targeted attendees, the opportunity summit was also intended "for those within companies who service clients; design products, systems, and services; spur innovation – all who push performance and profitability," CBLN officials said in the program flyer. 
CBLN also hosted an April breakfast on supporting workers with neurological differences, such as acquired brain injuries and autism. Traumatic brain injury accounts for up to 20 percent of all survivable injuries during times of combat, but the leading cause of brain injuries in the U.S. is falls (28 percent). Motor vehicle crashes account for another 20 percent of brain injuries and assaults for 11 percent. In other words, brain injury victims include not only soldiers who sustained blast injuries in Iraq but motorists hit by drunk drivers, victims of domestic violence and people who fell and hit their heads, according to the Brain Injury Handbook by Sherry Stock, executive director of the Brain Injury Association of Oregon, which was cited at the CBLN breakfast.
The accommodations to help a brain-injured person on the job can simply be those used by a meticulous worker, such as a notebook and calendar to record important information in order to compensate for memory deficits. Stock also emphasized taking a partnership approach with the brain-injured person in terms of planning, breaking the task into small steps and keeping their environment free of distractions.
Indeed, more than half the accommodations to disabilities that could keep someone working cost nothing and the remainder are less than $500, Wilhelm said. There are also tax credits that help pay for them.
You can find an A-Z list of disabilities and solutions companies have used to facilitate employment at askjan.org, which is the Job Accommodation Network, a service of the Office of Disability Employment Policy at the U.S. Department of Labor.
Even vision and hearing impairments are not insurmountable. The Job Accommodation Network website notes that Optical Character Recognition (OCR) and the Kurzweil-National Federation of the Blind Reader can scan documents and read them aloud. For a janitor with low vision, the website described a light affixed to his vacuum cleaner.
In working with people who have hearing issues, the suggestion was to type messages back and forth on a computer keyboard, or to meet face-to-face so that the worker could lip-read. A quiet room was also advised to minimize distractions and extraneous noise.
Another challenge for businesses is that they may not know how many workers they have with disabilities. And because of the ADA, they cannot easily ask. How do companies create a culture where people are comfortable discussing their disabilities and asking for accommodations rather than hiding them and being silent?
"From our perspective the message that the company is inclusive needs to start from the top down" -- the chief executive officer – "that proactive," said Robin Jones, director of the Great Lakes ADA Center.
"Companies need to hold disability awareness on a regular basis for their employees so that disability is viewed as part of the culture of the organization. Just as they do around ethnic or religious diversity, they need to do the same for disability," Jones said.
Granted by the federal government in 1991, the Great Lakes ADA Center offers assistance and consultation to individuals, organizations, companies, educational institutions and local government in Illinois, Indiana, Michigan, Minnesota, Ohio and Wisconsin about their responsibilities under the ADA. The Center also informs individuals with disabilities about their rights.
"If management expresses support and then it's being modeled and not expressed as a big burden, it totally changes the dynamic," Jones added. The next step is training supervisors and employees so that when they see someone sitting down on the job they do not see them as lazy, but simply working differently. The CBLN website likewise stresses the dependability and low attrition rate of people with disabilities.
"People are afraid to ask for accommodations because they are afraid of being seen as less able but if they see it modeled in the organization through the provision of reasonable accommodations, they will be more likely to ask and that will make them more productive," Jones said.
Another ideal in larger companies is affinity groups for people with disabilities, just like those for women, LGBTQ, Latinos, African Americans, and other minorities.
"We want companies to include disability as part of their overall strategy for inclusion and diversity, not 'something special,' because disability cuts across all those groups," Jones said. "There are people with disabilities who are also LGBTQ or minorities. When you see it as different it often gets lost or doesn't get treated the same."
The CBLN cites census figures of 649,000 Illinoisans ages 21 to 64 with a disability and another 75,000 ages 16 to 20. Yet overall, there are 1.4 million people in the state with disabilities.
The aging population is one sector that may not count itself as having a disability even if they are just starting to have problems with vision, hearing or mobility – as in getting up after sitting a long time, Jones said.
"They don't identify with disability. They say, 'That's somebody else, not me. I'm just getting old.' They're not aware because they have not been acculturized, that they have rights and could ask for accommodations."
There are nearly 40 million Americans over age 65, or about 1 in 8 people, according to the Job Accommodations Network. Among their attributes are experience, reliability, and diversity of thought in the workplace.
While aging is not itself a disability, it can bring limitations from health conditions such as arthritis, diabetes, or heart disease. The website addressed issues such as fatigue and gross motor impairment in a variety of ways, from providing a closer parking space to making the work station wheelchair-accessible, to providing a power cart and compact lifting device. The latter was for a person who delivered mail in an office building and whose high blood pressure restricted him from lifting or pushing more than 25 pounds.
Technology -- voice recognition software, texting, even an app that can identify $5 or $10 bills for a blind person – is making accommodation easier, Jones said. It's just a matter of finding the right piece and a company's willingness to explore options and to discuss what is needed.
"People want to continue to participate in their everyday life and activity, their church, their family, their friends. It's about having dignity and being a contributing member of society," Jones said. "For many people, work is their value."
Similtaneously, she sees people with disabilities as a viable market for goods ($1 trillion in purchasing power, according to the CBLN). What's more, the differently abled world respects efforts to keep people with disabilities productive.
"Research shows that when questioned, people who saw people with disabilities working in a business reacted more favorably to the business because they did employ people," Jones said. "And employees felt more positive about their employer because they saw it could be themselves someday who needed an accommodation and the employer was willing to accommodate."