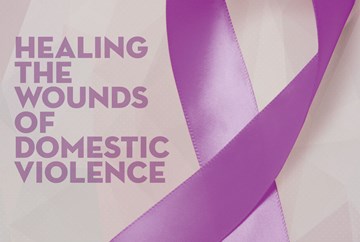 By: Suzanne Hanney
October 28, 2019
Learning that domestic violence (DV) was a significant problem among his parishioners led Father Charles Dahm to a second calling.
Father Dahm, O.P., was pastor of St. Pius V Church in Pilsen, which provided a variety of social services, ranging from immigration assistance to parenting, when one of his pastoral counselors told him that almost all of her clients were domestic violence victims. "I had no idea," said Dahm, who had thought he detected depression among the women and alcoholism among the men. He asked the counselor, Dolores Tapia, to tell him how to investigate and how to respond.
Tapia advised Dahm to first ask a woman how she was being treated. Did her husband hurt her or call her bad names? Always believe her, the counselor said. She's the one who has to make decisions, so talk about options. Together, Dahm and Tapia developed HOPE Family Services, the largest parish-based domestic violence program in the United States.
Soon afterward, a male parishioner came to Dahm with a request that the priest talk to his wife. She was being unfaithful, the man said, because he came home and the back door was open. He was sure another man had just left.
Separately, Dahm asked the wife if her husband had always been this jealous. "Oh yes," she responded. "But I thought once we were married we would be together day and night and the jealousy would disappear."
The husband's behavior wasn't jealousy, Dahm told her. "This is his way of making you feel uncertain, insecure about yourself. He gets into your head so that in everything you do, you are wondering how he will react."
Dahm then brought the man back into the room, presented his wife's story to him and referred them to separate parish programs: the husband so he could understand his abusive behavior and make changes, the wife so she could identify the dynamics of abuse and resist it.
Dahm also began preaching about domestic violence. In 2007, when he became associate pastor of St. Pius V, he started traveling to parishes throughout the archdiocese of Chicago, delivering homilies on domestic violence at all weekend masses. In 2011, the late Cardinal Francis George saw what he was doing and suggested to the archdiocesan head of family ministries that they hire someone to do this work. The response was, why not Dahm himself?
There was no salary, no job description, "but keep doing what you're doing," Dahm was told. "Make up your own title."
Now, as director of the Archdiocese of Chicago Domestic Violence Outreach (ACDVO), which is the only program of its kind in the United States, Dahm has preached in 156 parishes, roughly half of the Chicago archdiocese, and in other cities as he is invited. In June he was also part of a rally at St. Katherine Drexel Church along with the Rev. Jacques Conway of the Northern Illinois United Methodist Church; the Rev. Tennille Power of Trinity United Church of Christ; and Black Women Say No to Domestic Violence, an ACDVO initiative on the South and West Sides. The rally marched seven blocks along Stony Island Avenue and 91st Street, to represent the seven times most women attempt to leave before finally doing so.
"But I am not a counselor," Dahm said. "My role is to be a door for people to get service. I welcome them, assure them they are not guilty, they don't deserve it and that there's help."
Until they hear his homilies, many women may not recognize themselves as abused because they have never been hit. But domestic violence, Dahm emphasizes, "is any pattern of behavior that uses power and control of one person over another."
Sometimes the men do not see themselves as abusers, either. One man who joined a parish men's group told Dahm he simply talked to his wife the way other men did.
Dahm's five-page sermon itemizes various types of domestic violence. There is emotional abuse, with its insults and foul language. Economic abuse creates the need to grovel for money. Sexual abuse is "forced intimacy or the lack of it" and infidelity.
He stuns his listeners when he says the Catholic Church does not expect a victim of domestic violence to remain in an abusive marriage. "I say it twice in my homilies," he said.
It is a little-known fact that U.S. bishops wrote a pastoral letter in 1992 that said, "We need to state as clearly and strongly as we can that violence against women, inside or outside the home, is never justified, and it is a sin and often a crime. We emphasize that no person is expected to stay in an abusive marriage." The letter was updated in 2002 and 2018 but its essence has not changed, Dahm said.
Dahm likes to ask what Jesus would do if He encountered a woman with a black eye who told Him she had been beaten. Would He say, "You have to go back to him and work it out" or "Come with Me and I will make you safe?"
"I think that is what He would say and that is what we have to say to victims of domestic violence. Obviously, you can and should try to save your marriage but your safety and the well-being of your children is the primary focus. The primary focus is not to save the marriage and that is the Church's position."
Occasionally Dahm receives pushback from people who say children in the congregation are too young to hear a message about domestic violence. He disagrees.
"They are exposed to violence almost daily, through TV shows, movies, video games and songs, even cartoons," he said. "Raising their children in a violent home is one of the worst things a parent can do for the children. The boys grow up learning how to abuse women and the girls grow up learning how to be submissive to abuse."
Denise Murray and her children, for example, had been abused every way but sexually in her 20-year marriage, even though they projected an image of traditional values. Because Murray considered her marriage sacred, she resisted ending it -- and her own priest had given her no support.
Murray's turning point came when both her son and daughter reached dating age – and picked abusers – which led to her son becoming suicidal, as she told St. Anthony Messenger magazine. She received help after she went to a church where Dahm preached and then found a new parish with a pastor who had taken Dahm's training.
After his guest homilies in the churches, ACDVO forms a parish committee focused on raising awareness and connecting victims to services; as of last October, more than 90 such local ministries had been formed. At one Mundelein parish recently, 30 people, half of them DV victims or people who had worked with them, showed up at the initial meeting. One of the parishioners invited a member of a DV agency. A counselor is now committed to visit the parish one day a week, with the possibility of two days if demand warrants it.
In addition to preaching so that couples can recognize abusive behavior, there are many things faith communities can do to improve response to domestic violence, said Dahm, who was also a member of Mayor Richard M. Daley's Interfaith Office on Domestic Violence, which was eliminated in budget cuts. They include:
• Palm cards with Illinois and national hotline numbers in women's restrooms of the church
• Prayers offered at weekend church services
• Short articles on domestic violence in the church bulletin
• Providing meeting space for Chicago Police Department representatives or service providers speaking on topics such as the impact of domestic violence on children
• Collaboration with neighboring churches into a ministry
Since 2016, Cardinal Blase Cupich has also presided over an archdiocesan-wide mass for domestic violence awareness and outreach during October, which is Domestic Violence Awareness Month. "Many times violence in the streets begins at home," the cardinal said in prepared material. "Adults and children are traumatized and alienated from the love and support they need by the violence they witness. We must respond to this tragedy."
St. Benedict Church in Northcenter has one of the 90 parish domestic violence ministries. In July, they joined the domestic violence committee at Queen of Angels Church in Lincoln Square for an outreach event supported by both Dahm and Cardinal Cupich. Congregations throughout the 40th and 47th wards – both Catholic and non-Catholic -- were invited, said Anne-Marie Finger, who chairs St. Benedict's domestic violence committee and who previously headed an archdiocesan women's committee that brought the issue to Cardinal George's attention.
Speakers included Phil Andrew, archdiocesan director of violence prevention; Kate Lawler, director of violence prevention at Swedish Covenant Hospital; Chicago Police Department Officer Monique Giannoni, domestic violence subcommittee of the 19th District; and Greg Finger, a Chicago Public School teacher, as moderator. The outreach event at the Sulzer Regional Library drew 45 people, including representatives of both Ald. Andre Vazquez (40th ward) and Ald. Matt Martin (47th ward), Father Steve Kanonik, pastor of St. Benedict; Monsignor Jim Kaczorowski, pastor of Queen of Angels; Father Sergio Romo, pastor of St. Andrew Church; and Father Michael Shanahan, pastor of Our Lady of Lourdes Church. Comments from attendees ranged from "I never knew any of this!" to "What wonderful speakers!" Finger said. 
St. Benedict's committee members started small with their ministry, by buying an ad in the parish bulletin that listed the domestic violence hotline number run by Catholic Charities, 877.863.6338, as well as the national one: 1.800.799.7233. They also put up palm cards in the women's restroom with the hotline numbers and gave both numbers to the church rectory in case victims called there for help. Meanwhile, a counselor is available at Queen of Angels to members of both parishes.
In February, the combined committees are planning a talk on healthy relationships for pre-teens. Kids as young as 12 need to know about dating and violence, Finger said, because it involves the same thing: manipulation and control.
"Young people especially must be made aware that right from the beginning of the relationship, you have to set boundaries," she said.
CPD REINVENTS DOMESTIC VIOLENCE PROTOCOLS
Chicago police responding to domestic violence (DV) calls in the 3rd, 4th and 14th districts (Grand Crossing, South Chicago and Shakespeare) are using a more proactive procedure involving a standardized query about the victim's experience, and then referral to DV agencies.
This method "flips the script a little bit," said Stephanie Love-Patterson, executive director of Connections for Abused Women and their Children (CAWC), which is the referral agency in the 14th district. "It's more specific than just giving them a list of phone numbers. Instead, they say something like, 'with your permission I am giving your information to these direct service agencies, which can help you.'
"The police have made a direct link to organizations they know will pick up the ball to help with the next steps," Love-Patterson said.
Using computer tablets to input the information, police follow a consistent script that asks the DV victim – male or female – standardized questions that can show if the violence against them is escalating. Was a weapon used on them or was there easy access to one? Were drugs involved? Are they afraid the alleged offender will return? Was an ambulance called and did they go to the hospital? Did the perpetrator attempt to choke them?
"We're really intentional with language," Chicago Police Department Domestic Violence Operations Coordinator Aileen Robinson said. "We really want people to understand how very serious this is."
"Choke" is the word used rather than "strangle," for example, because victims relate to it more readily, Robinson said. Even if the victim doesn't show bruises, putting a hand on someone's neck is extremely dangerous to them. The pressure can create a blood clot that can break loose and cause a stroke. If the victim vomits, gastric acids and undigested food can eat at the lungs and cause a potentially fatal pneumonia.
An attempted choking also correlates to a 750 percent greater chance of a domestic homicide than someone subjected to a lesser degree of violence, Robinson said. As examples, she cited the University of Texas clock tower gunman in the 1960s, who already had killed his mother and his wife; Juan Lopez, who killed his ex-fiance, a physician at Mercy Hospital in Chicago, and then himself; and the gunman at the Pulse nightclub in Florida.
Citywide last year, there were 150,076 calls to the 911 emergency number. Roughly 1 in 3 of them (52,131) resulted in active cases, including 1,047 in the 14th district, 3,495 in the 3rd district and 3,431 in the 4th district.
Among these active cases, 495 victims have completed the computerized assessment in the 14th district; 1,830 victims in the 3rd district and 1,592 in the 4th district. "This is 3,900 people we have a better chance of connecting with services," Robinson said.
Begun in 2015, the standard computerized assessment was Mayor Rahm Emanuel's idea, she said. Police initially tried to do the triage work themselves and then realized they needed the social service agencies to make it happen quickly, so the partnership began in 2016 with the 3rd and 4th districts and Family Rescue; CAWC started providing services in the 14th District in January. On November 18, the program will expand to the 12th District (Near West) using CPD's own advocate, who will still refer victims to other agencies for services.
The police department would like to see it go citywide, "but we don't have the resources to make it happen," Robinson said. They are in conversation, however, with their partners: the Cook County State's Attorney's Office, the office of Adult Probation, Lifespan, which provides legal services; and the City of Chicago Department of Family and Support Services.
CAWC's protocol is to call domestic violence victims within 24 hours after receiving the referral, Love-Patterson said.
Their first concern is the victim's safety. The standardized assessment helps counselors understand how to respond to increased risk. Can the victim stay in their home or do they need shelter? They might need counseling or an order of protection. They have the right to say, "No, thank you."
"In the domestic violence community, we do not tell anyone when they should leave, even if we have extreme fear," Love-Patterson said, as in the case of gun use or choking. The turning point for some victims, however, might be new violence or the realization of how it affects their children.
"Children don't have to be directly abused," according to the CAWC website. "Witnessing the abuse of a parent is itself trauma and abuse."
CAWC can help with an order of protection and can even accompany the victim to court. Some victims will want to know how they can press charges.
Undocumented women may fear deportation. However, under the federal Violence Against Women Act (VAWA), a victim of battery by a U.S. citizen or lawful permanent resident can self-petition for lawful permanent residency without the abuser's consent, as long as they are cooperating with a law enforcement agency, Robinson said. 
CAWC will offer referrals for services such as mental health, substance abuse or battery intervention that it does not directly provide. It's important to leave the door open, Love-Patterson said, because trauma can diminish the brain's ability to grasp details. The victim's first reaction may be, "why do I have to leave my home?" They may also fear the unknown.
But with time – or escalated violence – the pieces will fit together for them. Statistics show that a victim might leave and return seven or eight times before they are fully done with the relationship.
"We provide them a toolkit of resources and they are in control of how we use it," Love-Patterson said. "Sometimes the client will say, 'you guys are the first ones who ever listened.'"
Leaving the home immediately could also mean the victim loses cherished items or important documents. In the interim, the agency does a safety plan directed by the victim until a space opens up, in either a Chicago or suburban shelter, or with friends and relatives.
The safety plan could mean that if the abuser knows the victim travels west and then north on the CTA, for example, social workers will suggest she reverse it and go north first, then west, Robinson said. They might also suggest code words that family members can use. Or they might tell the woman to prepare a bag with clothes, money and documents that she can leave at a friend's house in case she needs to make a quick escape. 
"We have moved from the era where 'what happens in the house stays in the house,'" Robinson said. "Everyone can do something," she said, whether it is posting palm cards with hotline numbers or calling a hotline, condensing the information about resources and repeating it back to a victim at a crucial moment.
"The scope of domestic violence means we can all be first responders if we have the right education," adds the CAWC website.
Each Chicago Police Department district has its own method of outreach, targeted to their community, Robinson said. During October, which is Domestic Violence Awareness Month, some will provide domestic violence handouts paired with dog walks where people also receive information about animal abuse. Some outreach has a spiritual overtone. Others connect with women at spas. Still others provide resource information in conjunction with breast cancer awareness, which reaches women whose partners might attack them for attending a domestic violence seminar.
CAWC has its own Greenhouse Shelter on the Northwest Side, which was the first to admit sons up to age 18. The shelter is not a dorm but offers individual rooms shared by a family. The typical length of stay is 120 days; some victims need just a brief interlude, others extended time.
Every now and then, CAWC will hear back about a success – or a failure. Sometimes the victims will describe a move to another city, another state, or even another country. It's their way of putting the crisis behind them.