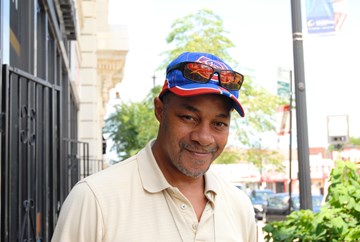 By: Caris Bing
March 20, 2017
I came to StreetWise in 1995, and I'm now a veteran of 22 years. It was time to get control of my life. My friends told me about this opportunity where I could be my own boss and make money on my own time. They led me to StreetWise, and I haven't looked back since. From the start, StreetWise's presence in my life has been steady and supportive. When I need them the most, StreetWise is there for me. StreetWise helped me invest in myself and find stable employment.
What I love about StreetWise is that they take you in however you are. Whatever stage of your life you're in, whatever struggles you're going through, StreetWise will invest in you so you can invest in yourself. This is the positive energy of Streetwise that brings vendors like myself in.  I figured out how to make StreetWise work for me, and 22 years later I'm shining like a star. Currently, I'm a maintenance man for Cornerstone Shelter. With the professional work ethic I developed at StreetWise, I was able to work my way up at my current job and got moved to the larger facility where I've been employed for the last six months. StreetWise truly gives you the tools you need to succeed in life; you just have to put the time and effort in.
I now volunteer at StreetWise as part of the Quality Assurance Team where I check in with and recruit new vendors. I've been at StreetWise long enough to be able to approach vendors and guide them through the program so they can be successful like I was. I see myself as a kind of counselor for younger vendors that are going through struggles. I can share my story with them and better understand their problems. I always remind vendors the importance of investing time in StreetWise in order to achieve what they want in life. Work hard now, and it will pay off when you need it most.
My biggest piece of advice to vendors is to try and take it one day at a time. Life is not going to change overnight. The magazine will sell itself, but your attitude is what keeps customers coming back. StreetWise is about developing personal relationships with customers and making them feel safe and happy. As long as you maintain a persistent and positive attitude, customers will stay loyal to you. Let customers see your growth. My customers gave me a chance and believed in me. It made me start believing myself. It won't always be easy, but don't get discouraged. You have to have patience, and God will guide you forward.
Though I'm not currently a vendor, I still have a big stake in StreetWise. If it weren't for this organization, who knows where I'd be today. If I fall down, I know StreetWise will support me. If something goes wrong, the door will always be open for me because I have put so much time and love into the organization. My mom recently passed away and my brothers and sisters at StreetWise are supporting me through this hard time. StreetWise helped me get the funds together to arrange a beautiful funeral for her. I felt like I couldn't do this all by myself, but God made it work for me and I'm grateful He brought me to StreetWise. I know I will always have a home here.