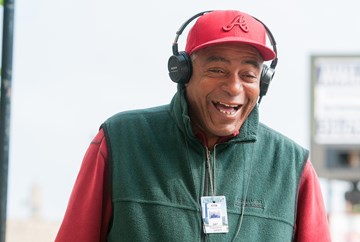 By: Dave Hamilton
February 7, 2017
Age: 63
Location of vendor's pitch: Walgreens at Wilson & Clark and Starbucks at Clark & Dickens
What are your wishes for 2017?
I got to learn how to deal with Trump and his administration and what we're going to do while we are going through 2017.
What do you hope to achieve, personally, in 2017?
StreetWise is a top priority for me—getting magazines and selling them and being able to keep on and keep making the customers satisfied with the product we produce. The big thing is going to be getting interested in my customers and my customers getting interested in me and promoting the magazine the best way I can because sales are very important and tie into how you communicate with your customers.
What do you think your government could do to tackle homelessness in the next year?
You have to add on a job force, if you can. Some homeless people, a job can be the answer to their problems. Other homeless people need a more intense program like StreetWise where they have to generate their own hours and learn how to work and have a work schedule and people trust in them, they have to learn how to people-trust again. It's a lot of different things we have to deal with because there are so many different types of homeless people. Some need to go through drug programs, alcohol programs. Others probably need to deal with their social contact problems that they have, psychology.
What are your hopes for your street paper in the next year?
For the next generation to learn and have more experience in dealing with customers, all types of customers.
What are your fears about 2017?
That we go to war with Iran or North Korea or something that is going to take away from the vendor force, that people 17 and up would be forced into that type of matter.
Where would you like to be this time next year?
I'll be at StreetWise, doing what I do. Dealing with a walker, dealing with physical therapy, getting back on my feet and working with my stroke conditions and taking my medications the right way and listening to my doctor and really knowing what this man is telling me and how I'm going to be obedient and let this thing work for me.
What would your message be to street paper readers for the new year?
Look forward to a magazine that is going to be more diverse and dealing with different issues.